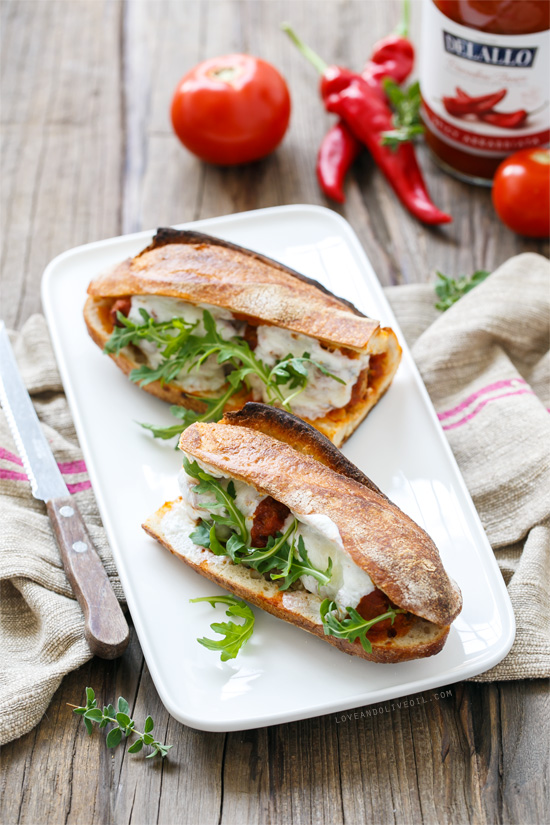 These sandwiches… what can I say?
They're beautiful.
Inside and out.
The meatballs themselves are so incredibly tender, made from a mix of ground beef, bison, and pork and freshly made breadcrumbs. They'd be fabulous on their own or perched atop a mound of fresh spaghetti. But nestled inside a cocoon of crusty baguette, and topped with melted fresh mozzarella cheese and bright baby arugula, these sandwiches have everything you'd ever want in a sandwich. And then some.
If you prefer to make homemade tomato sauce from scratch for this, go for it; but a good quality tomato sauce will save you time and still bring plenty of flavor to the party. We loved the spicy kick that the Arrabbiata sauce brought to the party, but you could certainly use one of DeLallo's 4 other sauce flavors instead.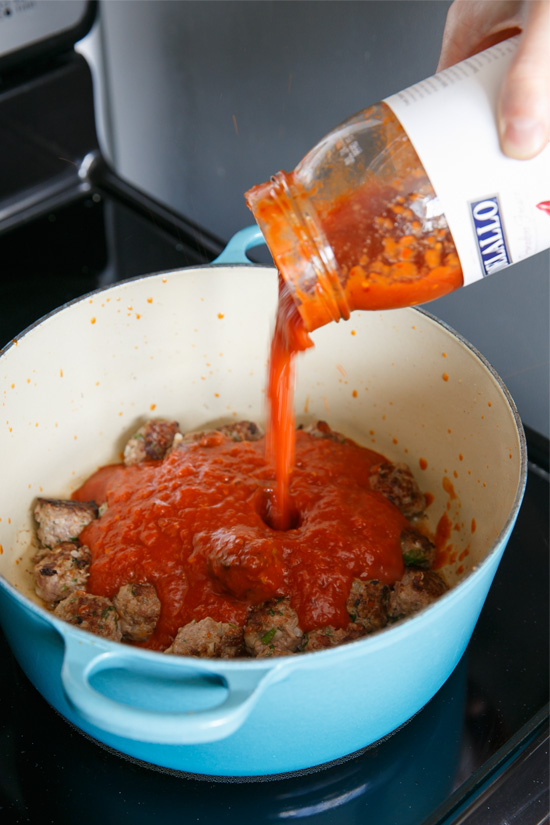 A word of warning: this makes a'lotta meat'a bolls. We cooked half of them, and froze the rest. And half still gave us a good 2 1/2 meals worth of sandwiches. Actually, I think the other half are still in the freezer (we're so bad about freezing-and-forgetting!) If you do make the full batch I'd recommend using two large saucepans so you don't have to cook like 400 batches.
Spicy Italian Meatball Sandwiches
This recipe makes about 50 deliciously tender meatballs, which will give you about 8-10 sandwiches overall. However, since that's more sandwiches than is really practical, we suggest freezing half your meatballs for later use.
Ingredients:
1 1/2 pounds ground meat (we used equal parts ground beef, bison, and pork)
1 large egg
3/4 cup whole milk
1 cup freshly made breadcrumbs
1/4 cup fresh chopped parsley
1 tablespoon fresh chopped oregano
1 medium onion, finely chopped (about 1 1/4 cups chopped)
2 garlic cloves, finely chopped
1 teaspoon whole fennel seed
3/4 teaspoon kosher salt
1/2 teaspoon freshly ground black pepper
2 jars DeLallo® Pomodoro Fresco Spicy Arrabbiata Sauce
2 long crusty baguette
2 8-ounce balls fresh mozzarella, sliced
baby arugula, for topping
Directions:
Place meat in a large bowl. Whisk egg and milk together in a small bowl, then add to meat along with breadcrumbs, parsley, oregano, onion, garlic, fennel, and salt and pepper. Gently fold and mix with your hands or a large rubber spatula until ingredients are evenly distributed (do not overmix or your meatballs will be tough).
Scoop dough by the tablespoonful, rolling into 1-inch balls. If you want to get specific, each meatball should weigh approximately 3/4 ounce.
Place the meatballs on two lightly greased and foil-lined baking sheets. At this point, unless you plan to cook all the meatballs immediately, we recommend freezing half of the meatballs for later use (in which case, halve the remaining ingredients for just 4 sandwiches). Thaw overnight in the refrigerator before cooking.
Heat a large, heavy-bottomed saucepan over medium-high heat (or use two saucepans if cooking the entire batch of meatballs). Add a splash of oil if necessary (just enough to prevent sticking in a stainless or enameled saucepan). When hot, add 10-15 meatballs to the pan. Take care not to overcrowd the pan, otherwise the meatballs will not brown properly. Cook until golden brown on the bottom, about 5 minutes, then flip and cook for another 3-5 minutes or until browned and mostly cooked through. Transfer to a plate and repeat with remaining meatballs in batches as necessary.
Return all meatballs to saucepan and place over medium heat. Add enough sauce to cover the meatballs, then simmer for about 20 minutes or until sauce is thickened and meatballs are completely cooked through.
Preheat broiler to high. Line a clean baking sheet with aluminum foil.
To assemble sandwiches, cut baguette into 4 or 5 even pieces (depending on length), then cut a horizontal slit in each piece, leaving a small 'hinge' still attached. Dig out some of the excess bread from the inside of each piece, making somewhat of a 'trough' for the meatballs.
Fill sandwiches with meatballs, about 5 meatballs each, and arrange sandwiches, meatball side up, on prepared baking sheet. Top with a few spoonfuls of sauce and sliced cheese. Broil for 2-3 minutes or until cheese is melted and bubbly.
Serve warm, topped with baby arugula (if desired).
Did you make this recipe?
Let us know what you think!
Leave a Comment below or share a photo and tag me on Instagram with the hashtag #loveandoliveoil.
Disclosure: This post was created as part of an ongoing partnership with DeLallo Foods. As always, all opinions written are purely our own. We're incredibly grateful for opportunities like these that allow us to continue sharing delicious recipes with you, so thank you for supporting us and the brands we love.