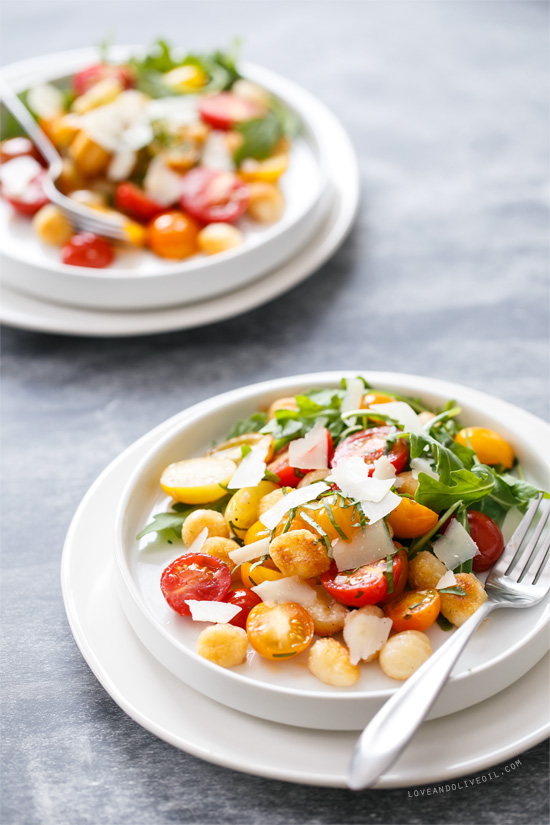 Let's end tomato season with a bang.
No, not that kind of bang. Because I originally wanted to deep fry some gnocchi until it was light and crispy (I was going to call this my gnocchi panzanella and swap crispy gnocchi for toasted bread cubes). Turns out that's not quite as easy as it sounds. Believe me, watch the video. You'll understand why at about the 1:25 mark.
It's like a gnocchi grenade!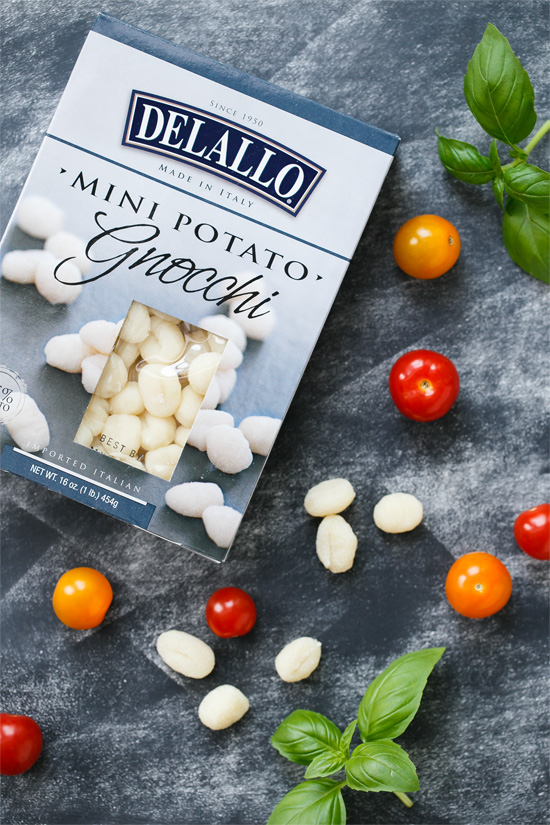 On to plan B.
Instead, let's pan fry some adorable mini gnocchi. Just one side until it's crispy and golden brown, but the other side and center is still delicate and soft. Then let's toss the warm gnocchi with some heirloom cherry tomatoes, softened just to the point where their juices start to burst.
Now that's how to end tomato season with a (figurative, not literal) bang.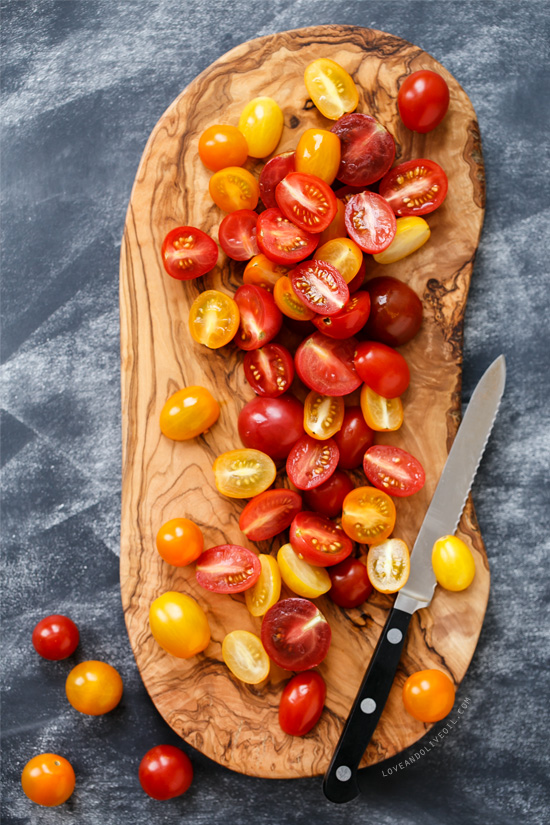 Served on a bed of arugula, this salad is light, fresh, and bright, but also hearty and filling enough that you can call it a meal on its own.
It's the perfect farewell to summer, an ode to the sweet cherry tomatoes that I can so easily eat as if they were cherries, by the handful. For after a summertime full of perfectly sweet and flavorful market tomatoes, the grocery-store variety just isn't the same.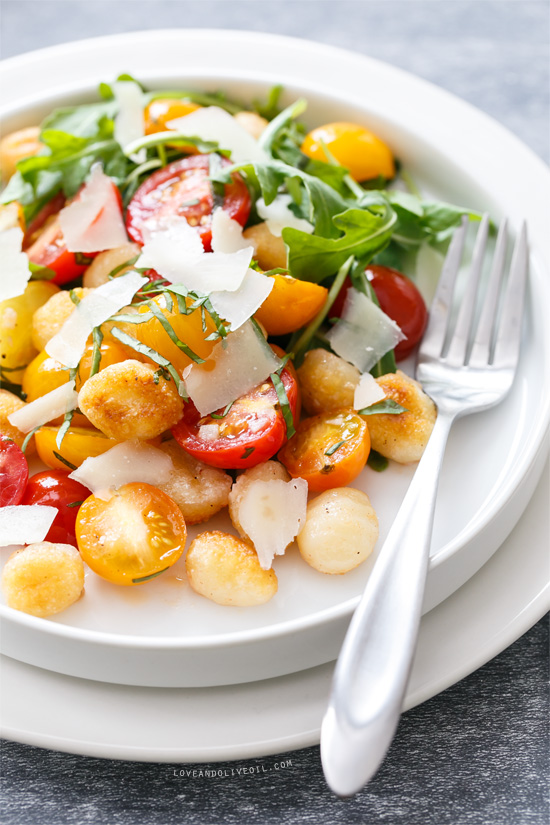 We are very fortunate to have worked with some incredible brands over the years, and DeLallo Foods (maker of said mini gnocchi) is no exception. Just last week they flew us up to their headquarters outside of Pittsburgh (which, I have to say, is actually a surprisingly cool city. I had no idea.)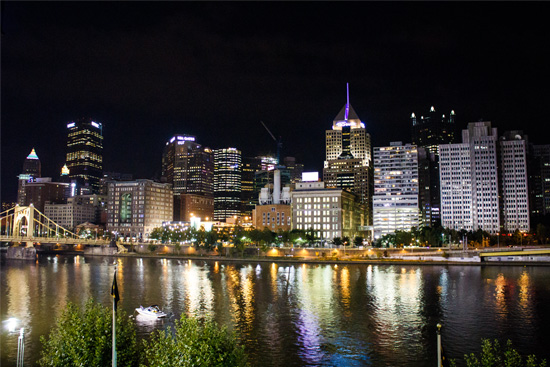 In addition to treating us to an amazing dinner at Butcher and the Rye, as well as a Pirates baseball game, we got to see DeLallo's original storefront (albeit quite a bit larger than it was when it first opened in 1954). We stayed in the original family home on the grounds behind the store (again, quite a bit larger than it used to be, with a stunning, I mean stunning, kitchen that they now use for recipe development, photography and video.)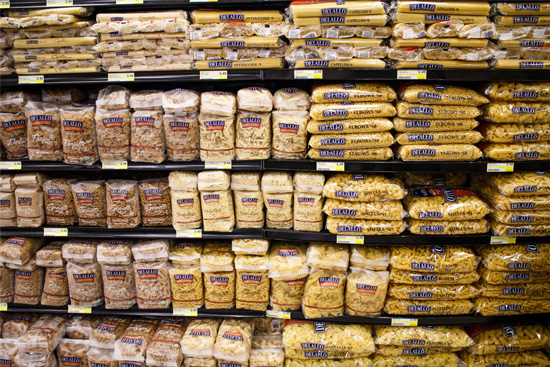 Let me tell you, these people know their food, and their passion for it shows. Anthony DeLallo, grandson to George, toured us through each section of the store, stopping to talk about the products that he works so closely with on a daily basis.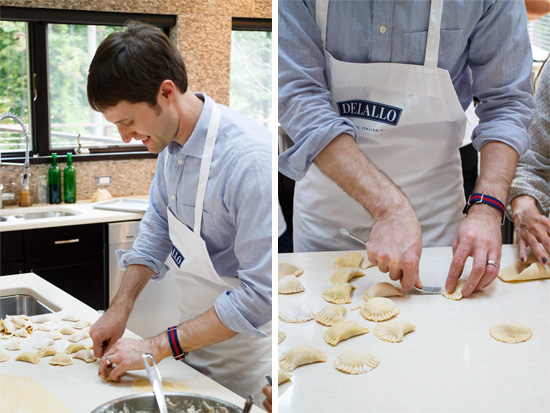 As if we hadn't sampled enough at their store (hello, pastry case and cookie plates) we returned to the house and began to prepare an incredible lunch of homemade mushroom ravioli, doused in sage butter sauce and dusted with parmesan cheese. By the time we were done with THAT, it was just about time for a "light" dinner of homemade pizza. Clearly, in this family-run business, food is love, and there was more than enough of it to go around.
Don't believe me? Check out this cute video they made of our visit:
[responsive_vimeo http://vimeo.com/108117567]
As cheesy as it sounds, by the time we left (stuffed and happy), we truly felt like part of the family, and for that we could not be more grateful.
Warm Gnocchi and Heirloom Tomato Salad
Ingredients:
8 ounces (1/2 box) Delallo® mini potato gnocchi
2 tablespoons olive oil
1 pound heirloom cherry tomatoes, halved
2 garlic cloves, minched
1 tablespoon red wine vinegar
1 tablespoon finely chopped fresh basil
salt and freshly ground black pepper, to taste
baby arugula
freshly shaved Pecorino cheese, for garnish
Directions:
Bring a large pot of salted water to a boil. Add gnocchi and cook for about 3 mintues or until gnocchi float to the surface (note: regular sized gnocchi may need a minute or two more). Drain and place on a paper towel-lined plate to dry.
Heat oil in a large nonstick skillet over medium-high heat. Add dried gnocchi and cook, without flipping, for 5 to 7 minutes or until golden brown and crispy on one side. Transfer to a bowl and set aside; return skillet to medium heat.
Add garlic to skillet and sautée until fragrant, about 30 seconds. Add tomatoes and cook until just warmed, 1 minute. Add vinegar and season with salt and pepper. Add gnocchi back to skillet along with fresh basil; toss to coat.
Serve warm on a bed of baby arugula and topped with shaved Pecornio cheese.
Did you make this recipe?
Let us know what you think!
Leave a Comment below or share a photo and tag me on Instagram with the hashtag #loveandoliveoil.
Disclosure: This post was created as part of an ongoing partnership with DeLallo Foods. As always, all opinions written are purely our own. We're incredibly grateful for opportunities like these that allow us to continue sharing delicious recipes with you, so thank you for supporting us and the brands we love.