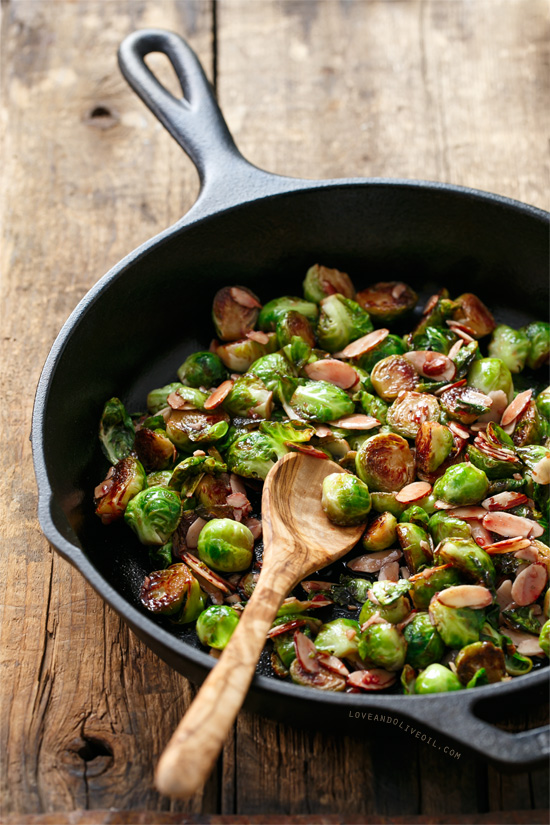 I thought I had Brussels sprouts down. I though I'd already discovered the definitive recipe, the one Brussels sprout recipe to end them all. And don't get me wrong, they're damn delicious. Even haters would gobble them up without a second thought.
And then I made these, and everything I thought I knew about Brussels sprouts got turned on its head.
Because, let me tell you, these may just be the best. Brussels. Sprouts. Ever.
And that's not a claim I take lightly.
In part 2 of our partnership with the Cherry Marketing Institute, we're exploring tart cherries in all their glory. If you missed it, I first used frozen tart cherries in this classic cherry pie. For these humble little veggies, however, we're using tart cherry juice which is readily available almost anywhere in the country.
Hooray for accessible recipes!
But let's talk about these Brussels sprouts for a second (and remember, it's Brussels, like the city, not brussel. One Brussels sprout. A plate full of Brussels sprouts. Confusing, yes. But delicious too).
The tart cherry juice is perhaps the perfect companion to the sometimes bitter brassica. By thickening the juice with a little brown sugar and a splash of sriracha for spice, you end up with a thick and syrupy glaze that's tart, sweet, and intensely flavored. Close your eyes and you might even mistake its fruitiness for an aged balsamic vinegar.
The sweet/tart/spicy combination amps up the flavor of the sprouts and cancels out any/all bitterness. Sautéed until golden brown and crispy on the bottoms and perfectly tender in the middles (no gross mushy Brussels in this household), then covered in a sweet sticky glaze and tossed with crunchy sliced almonds for a textural contrast that borders on perfection.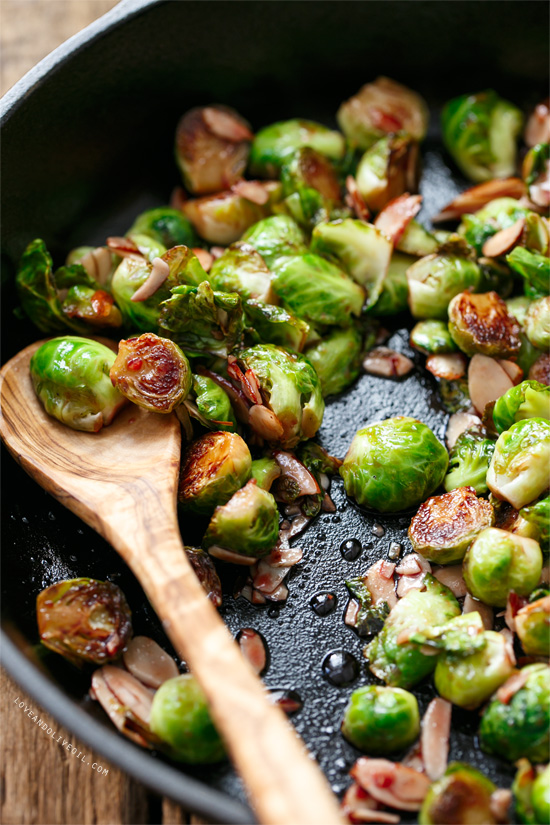 Don't wait until Thanksgiving to make this one (but whether you're a plan-a-header or not, you'll want to be adding this to your turkey day menu STAT).
Tart Cherry-Glazed Brussels Sprouts
Ingredients:
3/4 cup tart cherry juice
1 1/2 tablespoons packed light brown sugar
1/2 teaspoon sriracha hot sauce (or to taste)
3 tablespoons olive oil
12 ounces Brussels sprouts, trimmed and halved
2 garlic cloves, minced
salt and pepper, to taste
1/3 cup sliced almonds
Directions:
To prepare glaze, combine cherry juice, brown sugar, and sriracha in a small saucepan. Cook over medium-high heat, stirring regularly to prevent scorching, until significantly reduced and liquid is thick and syrupy, about 15 minutes. Remove from heat.
Heat oil in a large non-stick skillet over medium-high heat. Add Brussels sprouts and toss to coat with oil, then turn with tongs so cut sides are facing down. Cook for 6 to 8 minutes or until bottoms are golden brown and sprouts are crisp-tender (slightly longer if your sprouts are very large).
Stir in garlic until fragrant, about 30 seconds. Season with salt and pepper. Remove from heat and immediately add glaze; gently toss until evenly coated. Stir in almonds. Serve warm.
Did you make this recipe?
Let us know what you think!
Leave a Comment below or share a photo and tag me on Instagram with the hashtag #loveandoliveoil.
Disclosure: This post was sponsored by the Cherry Marketing Institute. As always, all opinions written are purely our own. We're incredibly grateful for opportunities like these that allow us to continue sharing delicious recipes with you, so thank you for supporting us and the brands we love.