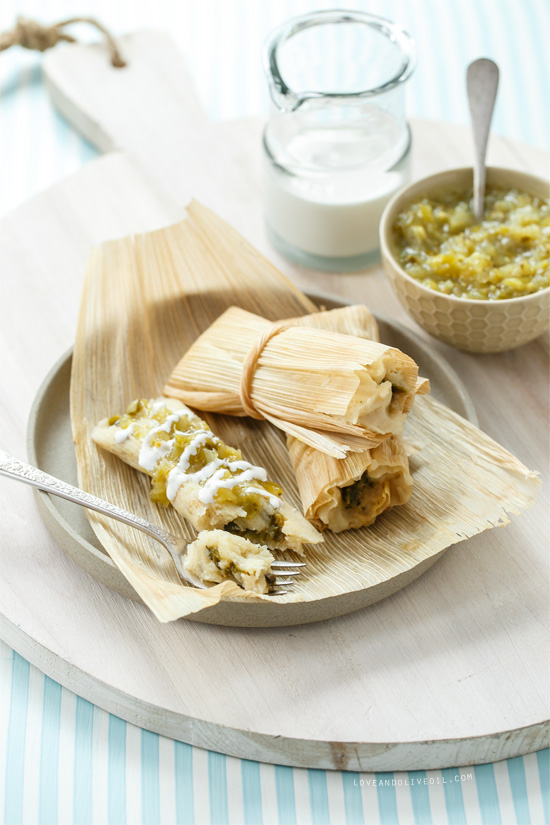 Lesson #1: Just because a recipe is on the internet does not mean you can trust it. There's nothing more disappointing then following a recipe from a source you THINK is trustworthy (I'm looking at you, PBS) only to discover there is clearly something missing. And I'm talking about 2-3 CUPS of liquid, not minor by any means. Needless to say, my first batch of tamales was barely edible. The dough, being more the consistency of cookie dough instead of peanut butter, was thick and pasty and none too appetizing. We ate them anyway. But we did not enjoy them.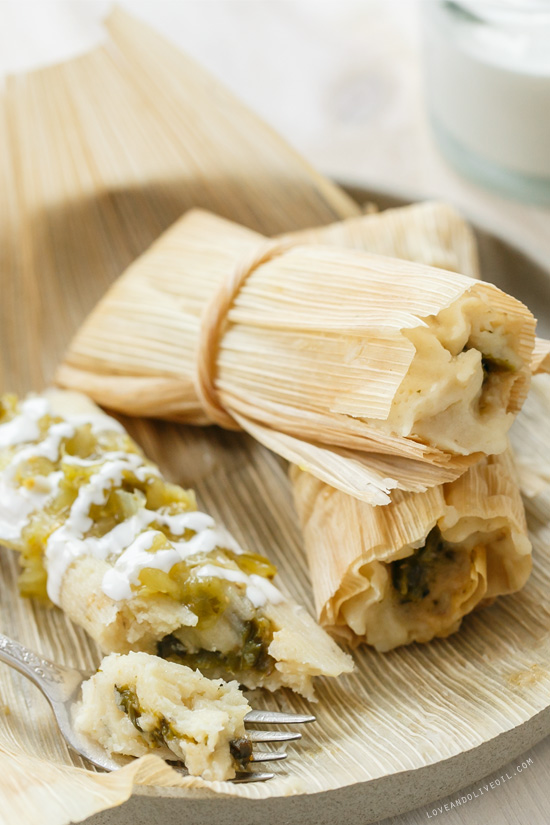 Yvette to the rescue. I should have just started with her recipe to begin with. I tell you, the girl knows her stuff. You should totally buy her cookbook.
Making the recipe the right way involved hunting down freshly prepared masa (Nashville folk: La Hacienda grocery on Nolensville Road has big ol' bags of it!) but it made all the difference. Fresh masa, good quality lard, a bit of chicken broth, baking powder, and seasoning… and a spoonful or two of homemade salsa verde for extra flavor (that was my addition – recipe coming soon!)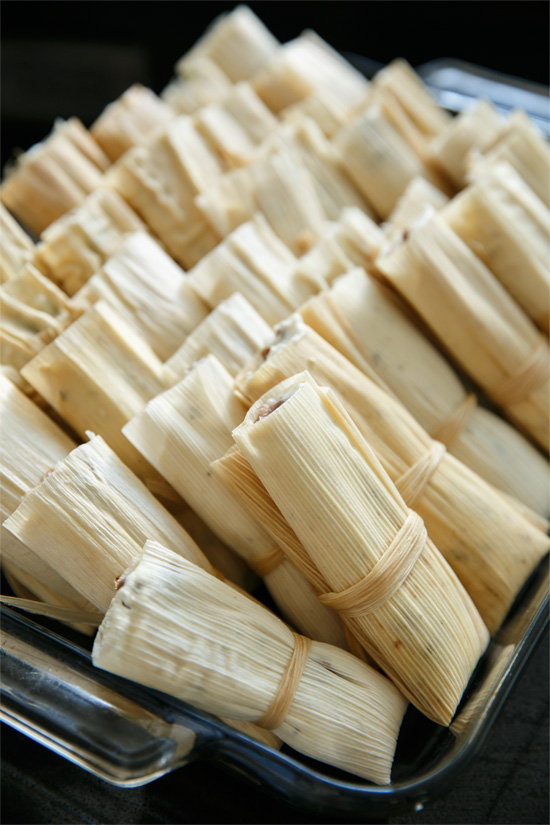 We filled our tamales with a mixture of blackened poblano peppers and cheese. But we ran out of filling part-way through the process, and, not wanting to waste the rest of the masa, did a bit of scrounging and came up with some refried black beans. And, in all honesty, we almost liked the bean-and-cheese tamales better than the poblanos.
Taylor generously donated his brew pot for the day. Usually he's totally stingy and nothing that hasn't been thoroughly doused in iodine can touch his precious brew pot (god forbid, contamination!) But the thing came with a steamer basket and was really the perfect vessel for steaming our tamales. I just hope his next batch of beer doesn't have any poblano undertones, or I may never get such a privilege again.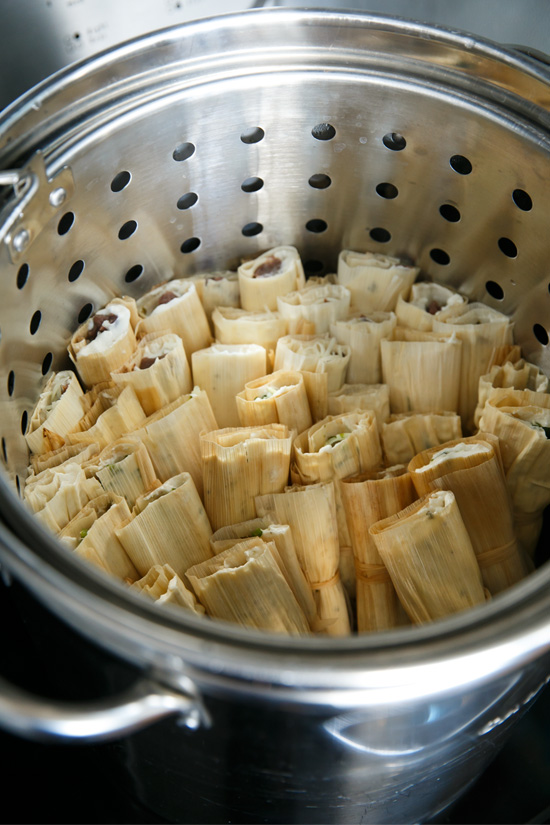 Tamales take a long time to make. I won't lie. They're not necessarily HARD to make, just time consuming, filling and folding dozens of corn husks. You'll want to set aside a good 3 hours of time to make them, or longer depending what kind of delicious stuff you fill them with (something like shredded pork will take a good deal longer than our blackened poblanos).
BUT – once you've made one gigantic batch, freeze what you can't eat within a day or two, and you'll be set for weeks. Frozen tamales can easily be re-warmed in your steamer in under 30 minutes. Think of it like an investment, a big chunk of time now in exchange for lots and lots (and lots) of quick dinners later.
Did I say LOTS? Considering one person can only reasonably eat about 3 tamales before they start feeling uncomfortable (they are surprisingly filling), one batch of tamales will feed the two of us for at least a half a dozen meals.
You can also make a double batch if you're feeling spry. Feed the whole neighborhood while you're at it!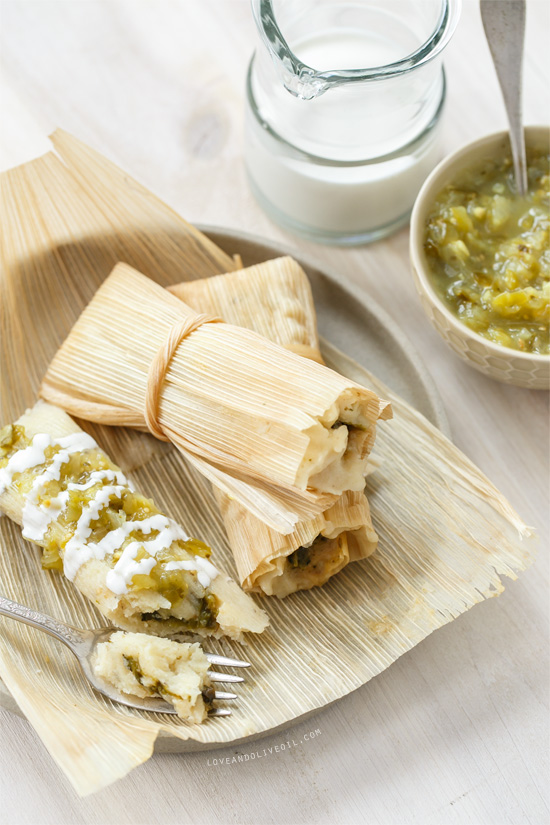 I'm not going to post how-to photos or anything here, because the last thing I claim to be is an expert in tamale making. While my tamales turned out quite well (if I do say so myself), I'm sure my technique is all wrong. If you're looking for a good visual jump start, check out Yvette's tamale video. You'll be whipping up tamales in no time!
I have to give props to Camilla, who was the only brave soul who took this challenge with me. She made Nacatamales, the Honduran version that is wrapped in banana leaves instead of corn husks. Pretty cool, huh?
Roasted Poblano and Cheese Tamales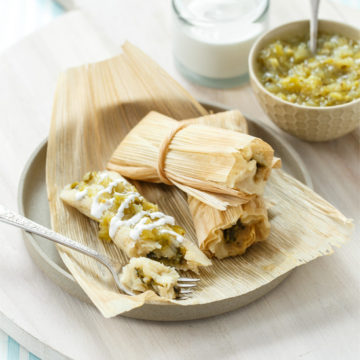 Ingredients:
For Masa:
1 pound lard
1 teaspoon baking powder
1 tablespoons salt
2 1/2 pounds fresh ground masa (unprepared) for tamales
1 to 1 1/2 cups chicken broth
1/4 cup salsa verde
For Filling:
4 large poblano chiles, quartered and seeded
2 cups shredded cheese (such as Manchego or Queso Fresco)
For Assembly:
dried corn husks
additional salsa verde, for serving
Mexican crema or sour cream, for serving
Directions:
Soften corn husks by covering with warm water for about an hour. Rinse well and drain before using.
Place lard in a large mixing bowl or the bowl of a stand mixer fitted with the flat beater attachment and beat until fluffy, scraping sides of the bowl as needed. Mix in baking powder and salt.
Add masa and mix until incorporated. Slowly add the broth and mix until dough is about the consistency of smooth peanut butter. Mix in salsa verde. To test if your masa is the right consistency, drop a teaspoon of it into a cup of warm water. If it floats, it is ready; if it sinks, add a little more lard to the dough and beat for another minute before testing again.
Place the wide end of the husk on the palm of your hand, narrow end is at the top. Starting at the middle of the husk spread 2 tablespoons of the masa with the back of a spoon in a rectangle or oval shape, using a downward motion towards the wide-bottom edge. Do not spread the masa to the ends; leave about a 2-inch border on the left and right sides of the husk.
Broil poblanos for 3 to 5 minutes per side or until blistered and blackened in spots. When cool enough to handle, finely chop chiles and combine with shredded cheese in a bowl. Set aside.
Place on corn husk on your work surface with the narrow end at the top. Spread about 2 tablespoons of the masa with the back of a spoon in a rectangle or oval shape, using a downward motion towards the wide-bottom edge. Leave about a 2-inch border on the left and right sides of the husk.
Spoon 1 to 2 tablespoons of your filling down the center of the masa. Fold both sides to the center; finish off by folding the pointed end of the husk towards you. If necessary, secure by tying a thin strip of corn husk around the tamal.
Fill a deep pot or tamale steamer with water. Set the steamer rack so it sits over, but not touching, the water. Arrange tamales in the steamer, resting upright with fold facing away from you to keep them from unfolding. Cover pot with a tightly fitting lid and place over high heat until water starts to boil. Lower heat and simmer for 1½ to 2 hours, until the corn husk comes off cleanly without sticking to the filling. If the filling is still sticky, re-cover and continue to cook until they are done.
Tamales can be enjoyed immediately, or frozen for later use. To reheat, place the frozen tamales in the steamer; cover and steam for 20-30 minutes or until heated through.
Did you make this recipe?
Let us know what you think!
Leave a Comment below or share a photo and tag me on Instagram with the hashtag #loveandoliveoil.