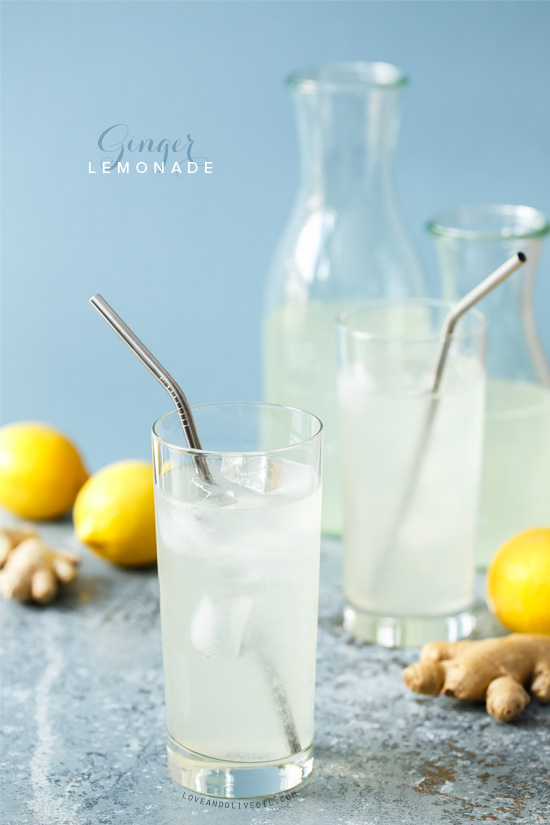 It should come at no surprise that I have a bit of an obsession with ginger. I've made it my personal mission to become well-versed in all things ginger ale/beer, ordering it whenever we go out. Other people order fancy cocktails and wine, I order ginger beer. At least it's more exciting than water (what can I say, I'm a cheap date).
I'll admit, I totally judge a restaurant by the quality of the ginger ale they serve, even the nicest joints get a black mark in my book when I'm forced to drink Canada Dry.
The top 3 of the moment? My favorite is without a doubt Fever Tree, followed by Gosling's, then a tie between Bundaberg and Maine Root for third (a gingery world tour, of sorts, made in the UK, Australia, Bermuda, and Maine, respectively). Maybe one of these days I'll do a post about my favorite ginger beers. If you like your ginger pure and strong and spicy, you'll love these ginger beers. Mix them with rum if you have to, but when it comes to ginger I'm a total purist.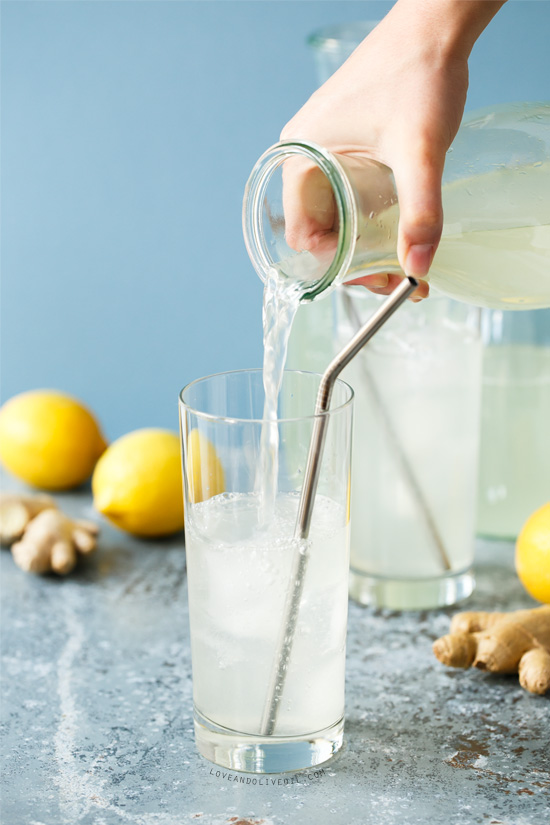 This ginger lemonade stems from my deep seated love for ginger. The ginger flavor is much lighter than my favorite spicy ginger beers, but I didn't want it to overpower the lemon in this case, as this is first and foremost lemonade, with ginger, and not the other way around.
That said, if you love spicy ginger to the extreme, might I recommend adding a bit of ginger juice at the end? If you have a juicer this will be easy, otherwise, puree a chunk of semi-frozen ginger in your blender or food processor, then strain it through a fine mesh sieve. The extra spice will clear your sinuses in no time.
Also, in case you were curious about the pieces I've used in these photos, the carafes in the background are Weck juice jars (1L and 1/2L sizes – this recipe will fill two 1L jars perfectly). I just bought these awesome stainless steel drinking straws which are perhaps my new favorite thing. So much cooler than paper.
(Psst! This post contains affiliate links. If you happen to buy something mentioned here, I will get a percentage. Just so you know, it'll probably go right back to amazon for some awesome ingredient or prop that I'll use in another delicious recipe. What goes around, comes around, I guess. Thanks in advance!)
Ginger Lemonade
For a stronger ginger flavor add a tablespoon or two of fresh ginger juice (run through a juicer or puréed and then strained).
Ingredients:
7 cups filtered or spring water, divided
1 cup granulated sugar
3-inch piece fresh ginger, peeled and coarsely chopped
2/3 cup lemon juice (from 6-8 lemons)
Directions:
In a saucepan, combine 1 cup water with sugar and chopped ginger. Bring to a boil over medium-high heat. Simmer for 5 minutes then remove from heat; cover and let steep for 30 minutes. Transfer to a heat-proof container or mason jar and refrigerate until completely cool.
In a 2 quart pitcher, combine lemon juice and cooled sugar syrup. Add remaining 6 cups of water and stir well. Serve chilled over ice.
Did you make this recipe?
Let us know what you think!
Leave a Comment below or share a photo and tag me on Instagram with the hashtag #loveandoliveoil.