Mornings are boring. Cereal is boring. Yogurt is boring. Unfortunately I rarely have, or want to devote, enough time to make something for breakfast that is not boring. This recipe is literally ready in minutes, and just might change my mind about boring yogurt once and for all.
This recipe was inspired by a dish served at the Alchemy restaurant in Ashland, Oregon, where I stayed during a blogger event last fall. The restaurant served the most amazing breakfasts, and the seemingly simple pot of yogurt they brought out was no exception. Not just ordinary yogurt, it had a layer of crunchy brûléed sugar on top. I mean, talk about brilliant. I love me some creme brûlée, and to put the same caramelized sugar topping on yogurt? Life changing.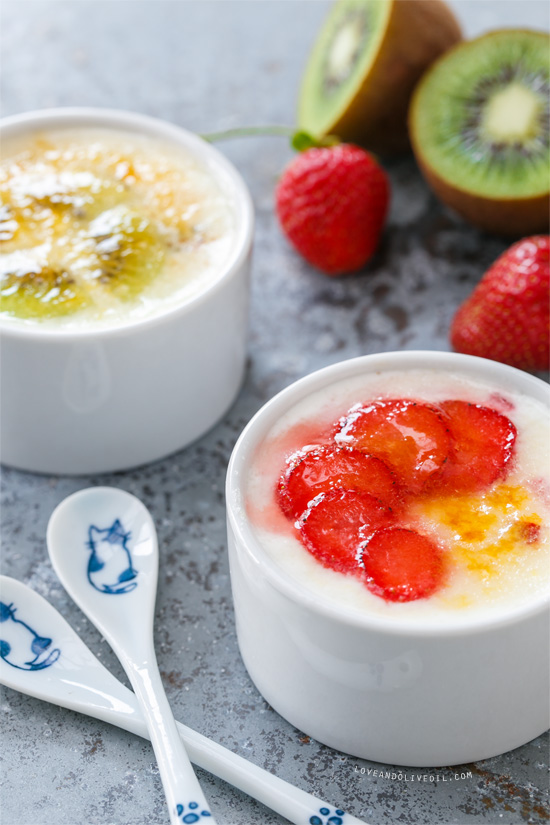 Granted, yogurt doesn't brûlée quite as easily as baked custard, especially if you use one of the looser European style yogurts (as I did). Greek yogurt, with its firm texture, might caramelize more easily. Regardless of which kind of yogurt you use, you may have to torch a few thin layers of sugar before it starts to really caramelize.
Also, brûlée has far too many accent marks. That many in one word should be illegal. Ok, I realize it's only two but it seems like more because I never know which marks go where and how to make them on my computer keyboard. Thank you Google and copy/paste for ensuring my brûlée is properly accented.
Now… what can I brûlée next…
Brûléed Yogurt with Fresh Fruit
Sweetened vanilla yogurt mixed with fresh fruit and a crunchy caramelized sugar topping will make your morning delightful.
Ingredients:
1/2 cup plain yogurt (use your favorite kind, such as Greek or European)
1/4 teaspoon vanilla extract
1 teaspoon honey (or more to taste)
1/4 cup chopped strawberries or kiwi fruit
2 strawberries or 1 kiwi fruit, very thinly sliced
2 tablespoons granulated sugar
Directions:
In a bowl, combine yogurt, vanilla, and honey. Fold in chopped fruit. Divide yogurt among two 6 ounce ramekins.
Arrange sliced fruit on top of yogurt. Sprinkle 1 tablespoon sugar evenly over top of each ramekin. With a kitchen torch, heat the surface of the yogurt, moving slowly but constantly, until sugar melts and starts to caramelize. If sugar isn't caramelizing but just soaking into the yogurt, let cool for a few minutes, then sprinkle with more sugar and torch again. Repeat until you've built up a layer of sugar and then it should caramelize. Serve immediately.
Did you make this recipe?
Let us know what you think!
Leave a Comment below or share a photo and tag me on Instagram with the hashtag #loveandoliveoil.