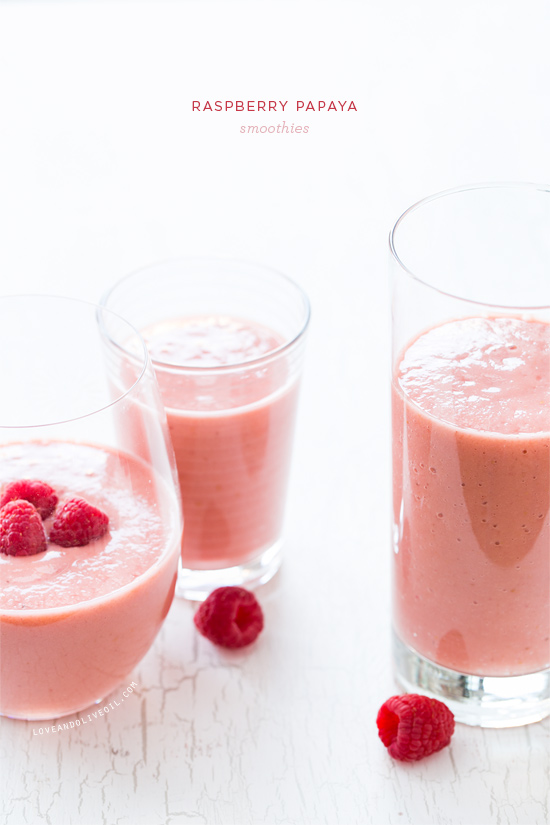 I fall in and out of love with smoothies on a regular basis. And I think I've determined that the best way to stay "in" love with them is to mix it up as often as possible. Sometimes having the same combination even two days in a row makes me want to banish those particular fruits from ever getting near the blender again. Or at least a few weeks.
Now that you mention it, I'm surprised I haven't gotten sick of Taylor by now, and traded him in for a different flavor.
I kid, of course. Husbands are not smoothies, silly!
I've been trying to do more with papaya, despite it not being one of my favorites. The flavor is just eh, and the smell, well, I won't describe what I think it smells like. But it's good for you, like, really good for you, apparently, and so I've been doing what I can to make it more palatable.
That's where the raspberries come in. Talk about a flavorful fruit: bright and astringent and a champ at covering up any papaya non-flavor. With a splash of lime juice for tang, this smoothie is a real winner.
It's almost satisfying enough to be a meal on its own, or, you know, with a bag of potato chips and a couple of cookies on the site. Does that defeat the point?
Raspberry Papaya Smoothies
Ingredients:
1 ripe banana
6 ounces raspberry yogurt
1 cup (6 ounces) chopped fresh papaya
3/4 cup (3 ounces) fresh or frozen raspberries
1/2 cup almond milk
2 tablespoons lime juice
Directions:
Combine all ingredients in a blender; purée on high speed until smooth. Add a few ice cubes and blend until it reaches your desired consistency.
Did you make this recipe?
Let us know what you think!
Leave a Comment below or share a photo and tag me on Instagram with the hashtag #loveandoliveoil.