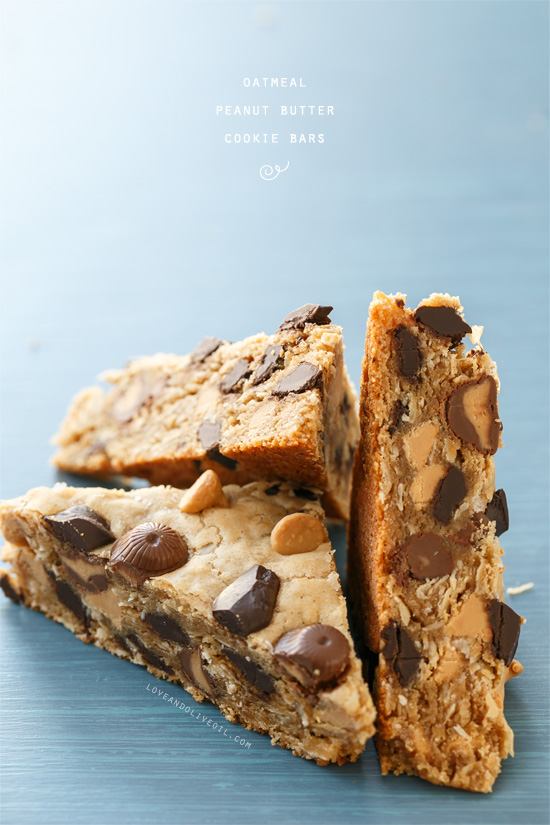 Is there a feeling worse than the hole that overtakes your soul when you are craving a decadent peanut butter dessert, only to discover you are fresh out of peanut butter?
I didn't even have any peanuts on hand to make my own (believe me, I thought of that).
And sorry, but peanut butter cravings simply cannot be quelled by almond butter (too bad, as we had upwards of 4 jars. Approaching hoarder status, I am aware).
Luckily I made up for it the next weekend. These bars have enough peanut butter for THREE weekends worth of cravings, with peanut butter, peanut butter chips, and mini peanut butter cups mixed in.
I'll admit, I was underwhelmed after the first bite. It tasted like a slightly dry and boring peanut butter cookie. I even debated whether they were worthy of consumption by other food bloggers. If I hadn't run out of time, I might have thrown something else together to bring to the party at the last minute.
But then I bit in to one of the center pieces, and solidified once and for all the fact that I am a soft center kind of girl. Not under-baked, but soft and chewy, with more chips and candy bits than the edges.
I've realized that, much like brownies, there are two kinds of bar-cookie eaters: those who like to live on the edges, all brown and crispy, and then there's the softies like me, preferring the nearly dough-like softness that only the center-most pieces deliver.
Oatmeal Peanut Butter Cookie Bars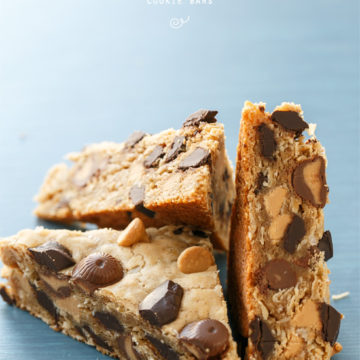 Ingredients:
2 1/4 cups all-purpose flour
1 1/2 cups old fashioned oats
3/4 teaspoon baking powder
1/4 teaspoon baking soda
1/2 teaspoon fine sea salt
3/4 cup (1 1/2 sticks) unsalted butter, melted
2 cups packed light brown sugar
3/4 cup creamy peanut butter, room temperature
2 large eggs
2 teaspoons vanilla extract
1 cup semisweet chocolate chips
1 cup peanut butter chips
2/3 cup mini peanut butter cups (or peanut butter M&Ms)
1/2 teaspoon flake sea salt (such as Maldon), for sprinkling
Directions:
Preheat oven to 350 degrees F. Line a 13-by-9-inch baking pan with parchment paper.
In a bowl, whisk together flour, oats, baking powder, baking soda, and salt; set aside.
In a large bowl, combine melted butter, brown sugar and peanut butter and stir until smooth. Whisk in eggs and vanilla. Fold in dry ingredients until just incorporated, then stir in chocolate and peanut butter chips and peanut butter cups, reserving a few tablespoons of each for the top (optional, but makes for extra pretty bars).
Press dough into prepared pan. Scatter remaining chips and peanut butter cups on top, then sprinkle with sea salt.
Bake for 25 to 28 minutes or until edges are lightly browned and center is just set. Do not overbake. Remove from oven and let cool to room temperature before lifting out of the pan and slicing into squares, rectangles, or triangles. Bars will keep, stored in an airtight container, for up to 5 days.
Did you make this recipe?
Let us know what you think!
Leave a Comment below or share a photo and tag me on Instagram with the hashtag #loveandoliveoil.