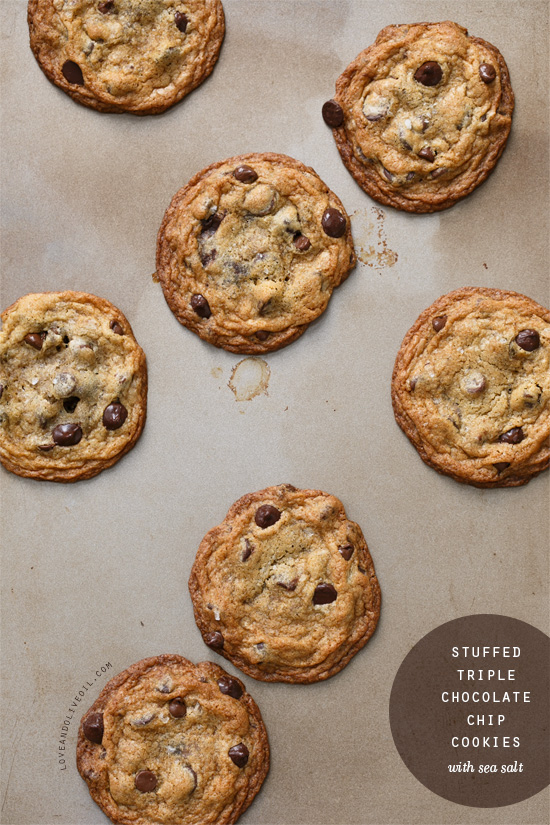 Forget sugarplums… I've had cookies dancing around my head for weeks (can you blame me?) To be more specific, stuffed chocolate chip cookies: perfectly chewy and sprinkled with sea salt. The dancing continued into the wee hours of the night, and let's just say it was going to remain a problem until I did something about it.
So here we are, facing another long-winded recipe name.
Do you blame me though? I couldn't ignore the salt, because that's what makes these cookies pop. I couldn't cut the 'stuffed' moniker, because that's what makes these cookies so surprisingly delicious. And the triple chocolate part? Let's blame that on the multiple partial bags of chocolate chips leftover from other baking projects. One bag alone wasn't enough for a batch, so I used all 3: dark, semisweet, and milk. Hence, triple.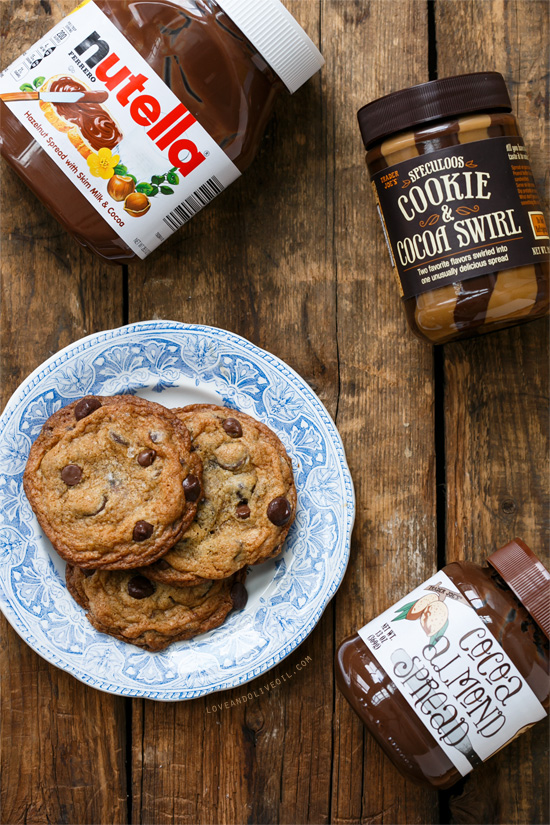 But what to stuff them with? Indecision is a cruel beast. Alas, since I couldn't decide which delicious filling I wanted to stuff inside these cookies, I did what I usually do in such circumstances: I decided not to decide and instead used all three.
Surprise!
Which delicious spread will yours contain? Nutella? Or maybe Speculoos Cookie & Cocoa Swirl? Or Cocoa Almond spread (basically an almond version of Nutella, and hoo boy is it dangerous, better take that spoon away, stat!) From the outside, they look like unassuming (albiet delicious) chocolate chip cookies. But after the first few bites you hit the jackpot: a nugget of warm and gooey goodness in the center. Like a present. Only chewier.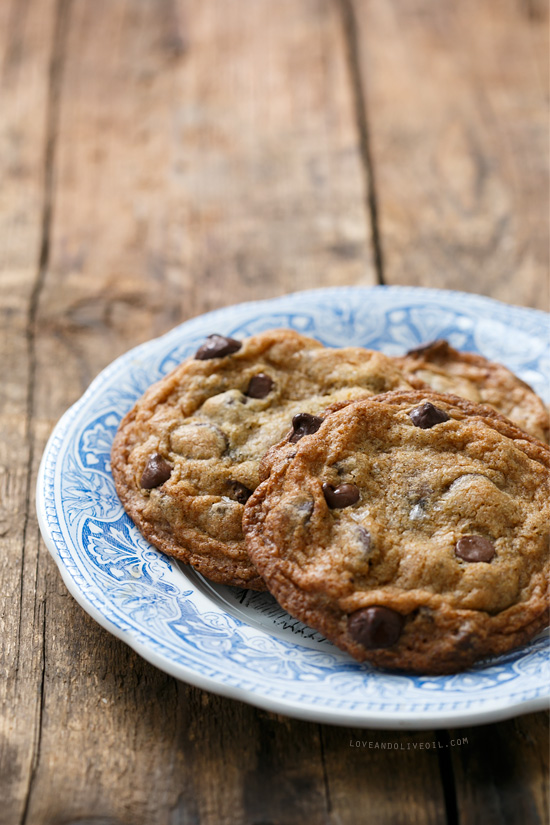 The cookie itself is based on Alice's Chocolate Chip Cookie recipe, and it's pretty darn perfect. I used dark brown sugar to enhance the chewiness, sprinkled them with additional sea salt, and used a blend of chips. Next time I might increase the flour ever so slightly just to give them a bit more support in the center (they spread a bit too much for my tastes).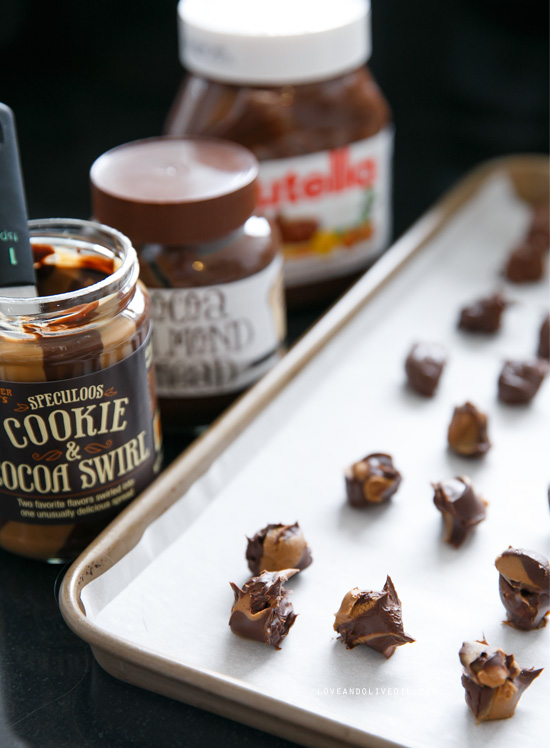 To ease in the stuffing process, I dropped dollops of each filling onto a parchment-lined cookie sheet and froze them. It's much easier to stuff a ball of sticky cookie dough with something firm and frozen than something ooey and gooey. Trust me.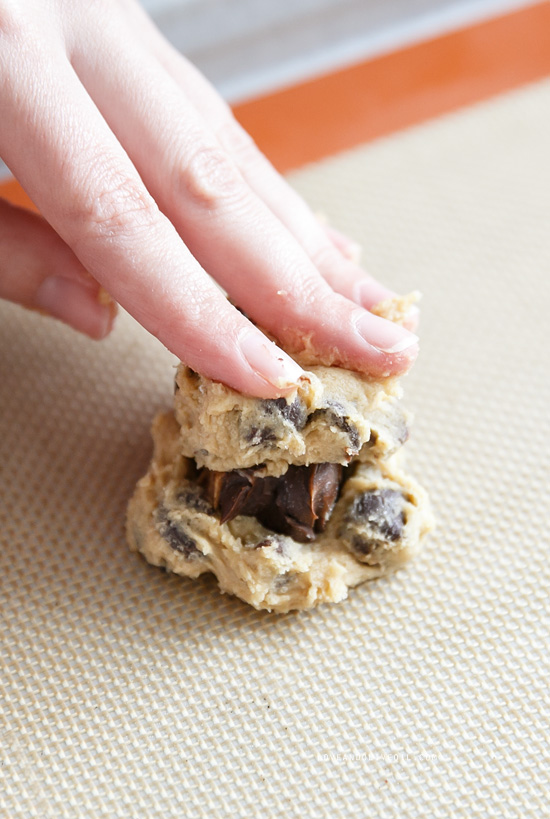 To stuff the cookies, scoop out about 1 1/2 to 2 tablespoons of dough (a medium cookie scoop is perfect), split it in half, press a frozen filling piece into the bottom half, then press the remaining half of dough on top. Smoosh it down and around the filling entirely. They'll be big and awkward, but they'll bake up beautifully.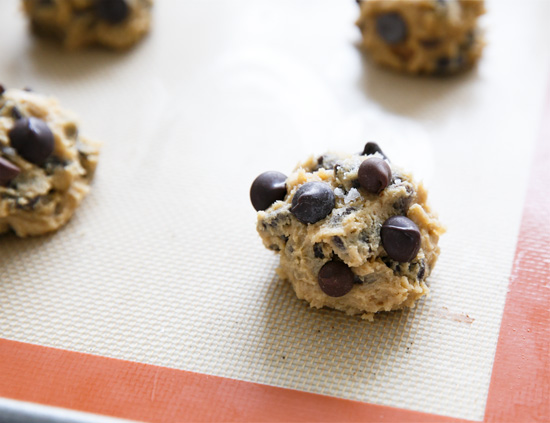 Picture-perfect cookie trick: press a few chocolate chips on the tops and sides of the cookies before they go into the oven. It's the secret to getting visible chips on the top of the cookie.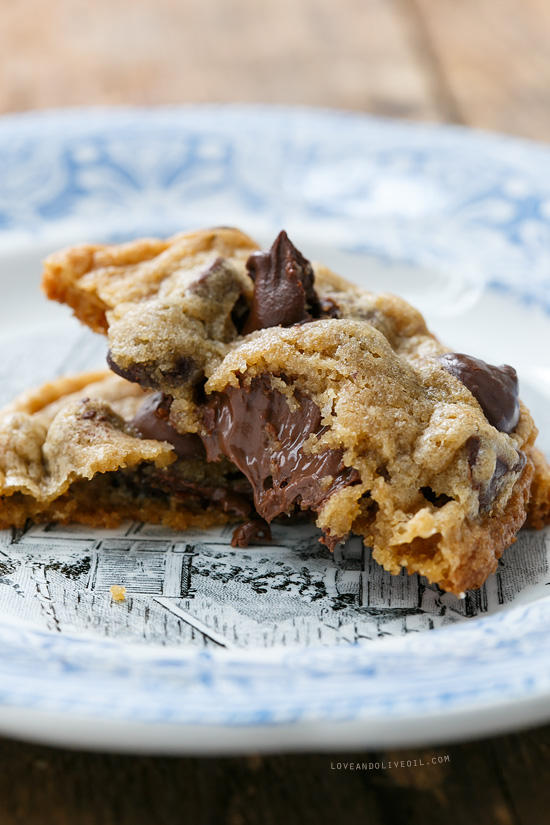 That's the money shot. This one is Nutella, I do believe. The Cocoa Almond was probably my favorite. The cookie butter dissolves a bit more into the rest of the cookie and thus isn't as obvious as a filling. I imagine you could use peanut butter or straight almond butter too if that's what you fancy, but I shouldn't have to tell you I'm all about the chocolate.
Stuffed Triple Chocolate Chip Cookies with Sea Salt
Ingredients:
1/2 cup Nutella, cookie butter, or filling of your choice
1 cup (2 sticks) salted butter, room temperature
1/2 cup granulated sugar
1 1/2 cups packed dark brown sugar
2 large eggs
2 teaspoons vanilla extract
12 ounces (about 2 3/4 cups) all-purpose flour
1/2 teaspoon fine sea salt
1 teaspoons baking soda
1 1/2 teaspoons baking powder
1 cup dark chocolate chips
3/4 cup semi-sweet chocolate chips
1/2 cup milk chocolate chips
flake sea salt (such as Maldon), for sprinkling
Directions:
Preheat oven to 375 degrees F. Line two baking sheets with parchment paper or a silicone mat.
Dollop 1/2 teaspoon spoonfulls of filling onto a parchment-lined baking sheet. Freeze for at least 15 minutes or until firm.
Cream butter, sugar, and brown sugar for approximately 3 minutes on medium-high speed until very light and fluffy. Add eggs and vanilla and beat until completely combined. Add baking soda, baking powder, salt, and flour and beat on low speed until fully incorporated. Stir in chocolate chips. It's not required, but can be helpful to chill the dough for 15 to 20 minutes before stuffing.
Scoop a heaping tablespoon of dough (or use a medium cookie scoop). Divide and place one half of dough ball on prepared baking sheet. Press a dollop of frozen filling into the center, then top with other half of dough. Press to seal in the filling. Arrange on baking sheet with at least 2 inches of space between cookies (you won't get as many cookies per sheet as you might normally, they spread quite a bit). Sprinkle tops with flake sea salt.
Bake for 11 to 12 minutes minutes or until centers are just set and the edges are golden brown. Remove from oven and let cool on cookie sheets for 2 minutes, then transfer to a wire rack to cool completely.
Did you make this recipe?
Let us know what you think!
Leave a Comment below or share a photo and tag me on Instagram with the hashtag #loveandoliveoil.