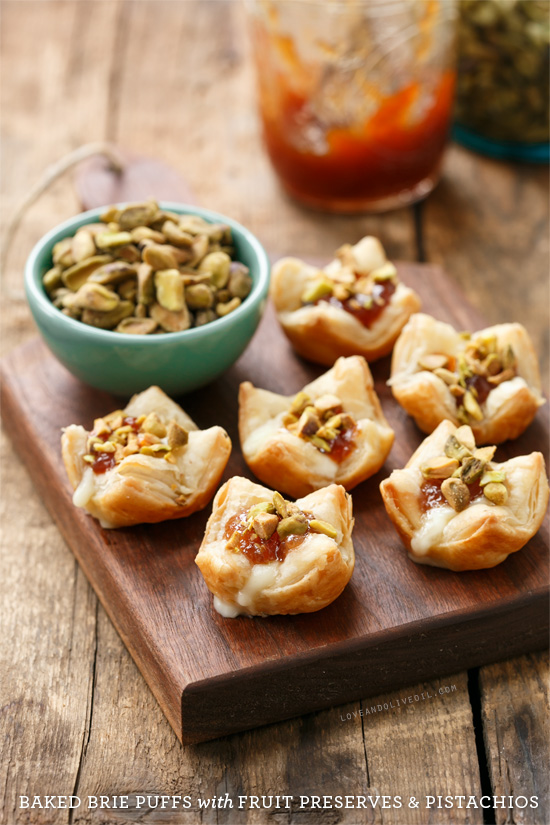 Let the chaos begin… the annual scramble to fill the bellies of visiting friends and family while keeping them occupied and smiling with just the right amount of buzz (enough to be jovial but not belligerent, that's the key). It's precisely times like these that quick, last-minute appetizers, like these baked brie puffs, will save your behind again and again.
Not that we are entertaining scores of guests this year; in reality it'll be just us for a very low-key Christmas. But sometimes keeping Taylor happy and fed is like dealing with a dozen hungry people, nay, children. So I get it, I really do. I've learned that a good beer and a plate full of morsels in front of him will usually keep him content. Even better if Home Alone is on, which he could watch over and over again (that's basic Marriage 101 for you right there).
This recipe was inspired by Sandy's Mango Cherry Apple Brie, a dish I've been fortunate enough to savor twice now in Sandy's delightful company. In her version, she tops a sizable wheel of brie with two kinds of fruit preserves and pistachios, and bakes it until it oozes. Needless to say, it's beyond amazing.
This is a bite-sized version of that concept, with the 'cracker' built right in. It's melty and sweet, crunchy and buttery. And most of all, easy. So incredibly easy.
The beauty of these puffs is how easy they are to prepare. Literally 10 minutes of prep to roll and cut the pastry, and another 15 minutes until they're ready to eat. You can use any flavor of jam you like; I used a mix of apricot and fig for this batch, but I think peach, raspberry, or even orange marmalade would be lovely too.
The holidays do not have to be stressful. We're all about the low-key in our household, with the belief that Christmas dinner doesn't have to be a huge to-do. In fact, we're not even sure what we're going to cook yet. How's that for being casual about it?
Tell me, what's on your holiday menu this year? I need ideas, because there's a difference between being low-key and being stupid, like waiting until Tuesday afternoon to go to the store. If it's anything like it was the week before Thanksgiving, I'll do all I can to avoid that scene. Crowds mess with my holiday zen.
Baked Brie Puffs with Fruit Preserves and Pistachios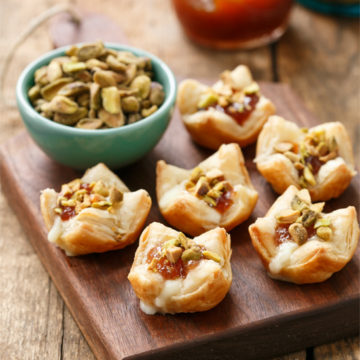 Ingredients:
1 sheet puff pastry, thawed
2 ounces brie cheese, cut into 1/2-inch cubes
3 tabelspoons fruit preserves (such as apricot, fig, or marmalade)
3 tablespoons shelled pistachios, chopped
Directions:
Preheat oven to 375 degrees F. You'll also need a 24-cup mini muffin tin.
On a lightly floured surface, roll pastry into a 12-by-12-inch square (slightly larger than the initial size of the sheet). Cut into 25 squares. Gently ease each square into a mini muffin cup.
Bake for 10 minutes or until puffed. Press the center of each square down with the round end of a wooden spoon. Bake for 3-5 minutes more or until corners are just starting to brown.
Place a piece of cheese into each cup. Top with 1/4 teaspoon of fruit preserves and a sprinkle of chopped pistachios.
Return to oven and bake until cheese is melted and bubbly and pastry is light golden brown, about 3-5 minutes. Remove from oven and let cool for 5 minutes before removing from muffin tin. Serve warm.
Did you make this recipe?
Let us know what you think!
Leave a Comment below or share a photo and tag me on Instagram with the hashtag #loveandoliveoil.