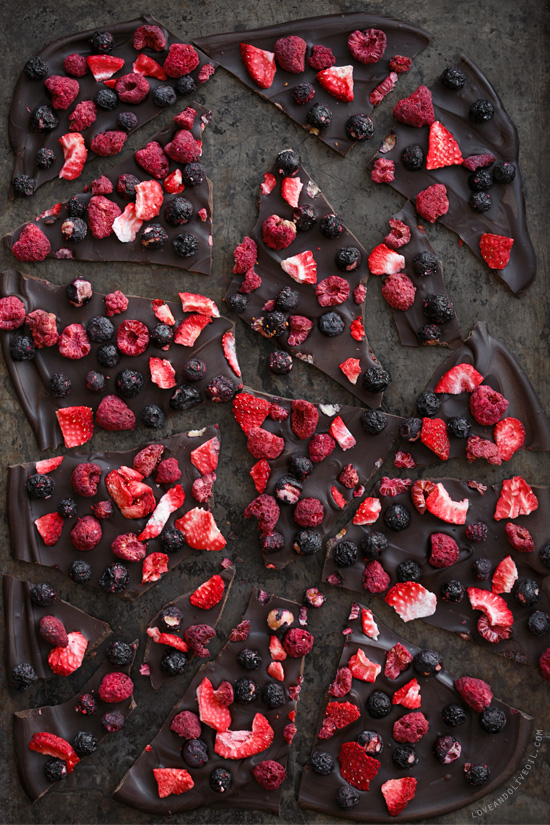 Bark is a candy that has no regard for perfection; the rough, jagged edges and irregularly scattered toppings are part of the appeal.
It's a great cabinet-cleaner recipe too. Perfect for those days when you're frantically trying to clean out the pantry before your inlaws arrive, and those three random bags of freeze-dried fruit seem destined for the trash can. Not to mention to overflowing chocolate tub, with partial bars and half-wrapped bits and scraps from recipes past.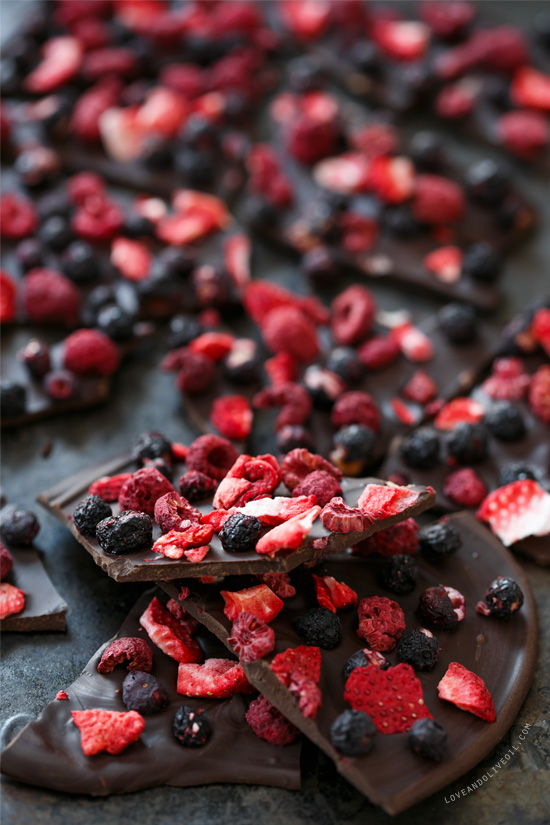 As it turns out, freeze-dried fruit makes for a truly wonderful candy. Fresh freeze-dried fruit (oxymoron, much? By 'fresh' I mean still sealed in the unopened package) is surprisingly light and crispy, unlike the heavy, sticky nature of dried fruit, giving this bark a unique tart crunch.
Simply melt your chocolate, as gently as humanly possible (I personally love my little chocolate melter – no more burned and seized chocolate!) then spread and sprinkle with bits of freeze dried fruit. I used a combination of blueberries, raspberries, and strawberries (Trader Joe's sells a wonderful assorment of fruit) but I've also seen such delicacies as freeze-dried pomegranate seeds and elderberries online. I've used freeze-dried fruit before, ground up into homemade pixie sticks, meringues, or macarons. It's also great in cereal (you know, if you find yourself with more on hand than you can use).
I think the astronauts were on to something here…
Fruity Chocolate Bark
Ingredients:
8 ounces good quality, dark chocolate (70-80%), very finely chopped
1 cup assorted freeze dried fruit, large pieces roughly chopped
Directions:
In a microwave, double boiler, or chocolate melter, gently melt chocolate on the lowest possible heat setting. Stir regularly, removing from heat as needed. The goal here is to keep the temperature under 90 degrees, above which the chocolate will lose its temper. Be patient, keep stirring, and even with on and off low heat the chocolate will melt eventually.
Once melted and smooth, pour chocolate onto a baking sheet lined with parchment paper. Spread into an even layer (it will not cover the entire pan, just spread it until it's as thick as you want your final bark to be).
Sprinkle evenly with freeze-dried fruit. Let dry, uncovered at room temperature, for 1 to 2 hours or until set. Break into serving size pieces.
Because of the nature of freeze-dried fruit, this particular bark is best enjoyed within a day or two, as the fruit will begin to soften once exposed to humidity. The bark is good for up to a week, however, the fruit just might be a bit softer after a few days out in the open.
Did you make this recipe?
Let us know what you think!
Leave a Comment below or share a photo and tag me on Instagram with the hashtag #loveandoliveoil.