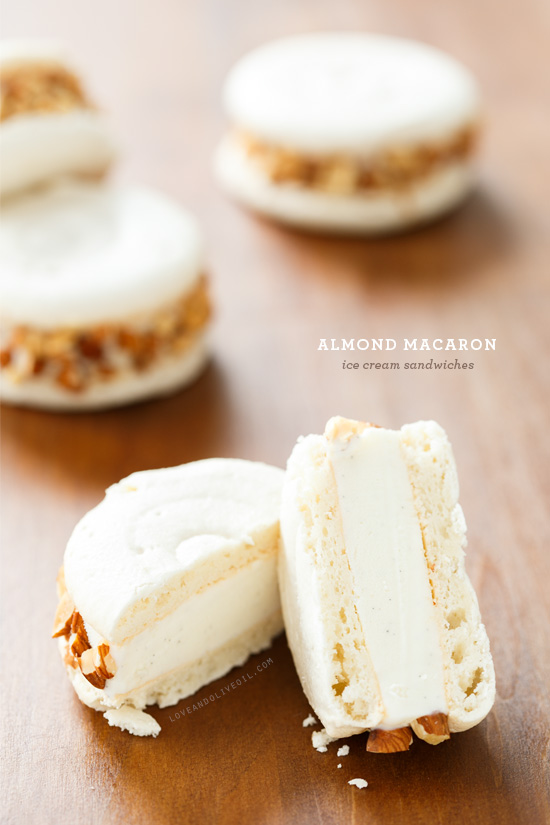 You guysssssss.
You know I like almond, and you know I love macarons. But did you know that macarons are perhaps the best cookies for ice cream sandwiches?
Like, ever.
Soft and chewy, even when frozen solid. Pillowy softness that yields perfectly with each and every bite, and no rogue ice cream squishing out the edges (a common annoyance when you mix ice cream and crunchy cookies).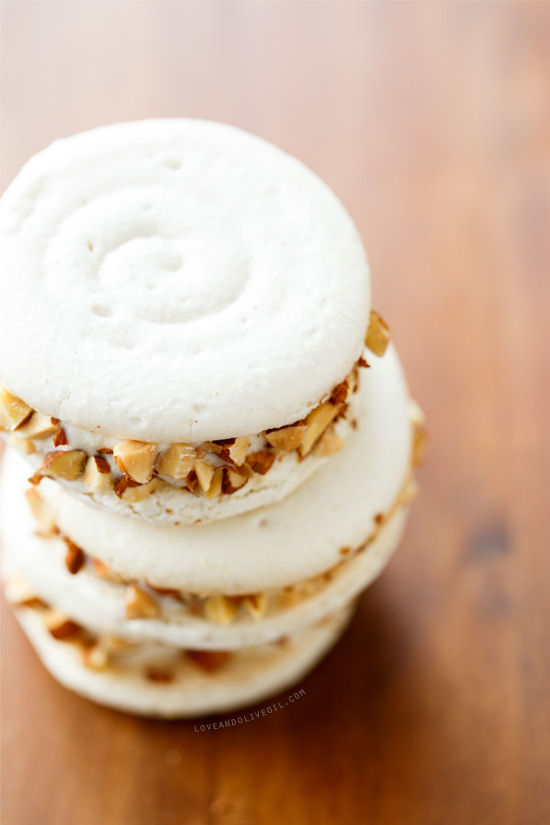 Lighter-than-air cookies, creamy almond-scented ice cream, and crunchy almonds – if heaven had a taste and texture, this would be it.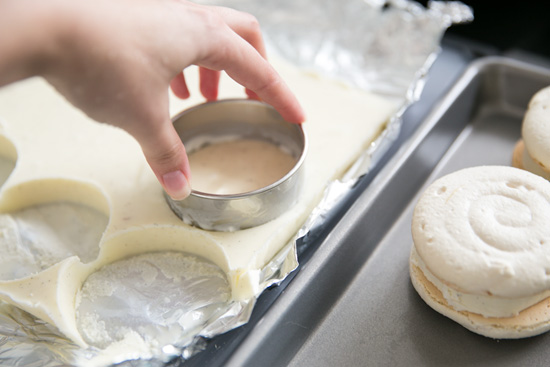 The base recipe comes from Jeni's Splendid Ice Creams at Home. I adapted the recipe slightly to make more, smaller sandwiches (even these are big enough for two). The cookies themselves are fairly foolproof, since the typical measure of macaron-perfection isn't required. They are quite fragile, however, and so I recommend using the cookie-cutter method described below to assemble them.
If you haven't made one of Jeni's ice creams before, they are different than your typical custard-base ice creams. Rather than rely on egg for creaminess, the recipe uses a bit of cornstarch, corn syrup, and cream cheese to create the ideal ice cream texture without the extra richness. The vanilla is crisp and clean, the hint of almond shines. And if you shudder at the thought of tempering eggs, well, with this recipe you don't have to. No tempering required. And I like her ice water bath method, but I'd still advise refrigerating the base for at least a few hours to really cool it down.
While I chose to do a basic almond flavored macaron filled with vanilla bean and almond ice cream (I told you I love almond), the flavor possibilities here are really endless. Both for the cookies (remember the macaron challenge? ANY of those cookie flavors would be divine super-sized and filled with ice cream!) but also the ice cream itself.
I can't even.
Almond Macaron Ice Cream Sandwiches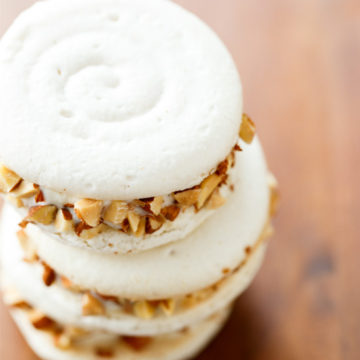 Ingredients:
For Cookies:
8 ounces almond flour or very finely ground almonds
2 1/2 cups powdered sugar
3/4 cup egg whites (from 6 to 7 large eggs), room temperature
1/4 teaspoon fine sea salt
1/2 cup plus 2 tablespoons granulated sugar
For Ice Cream:
2 cups whole milk, divided
4 teaspoons cornstarch
3 tablespoons cream cheese, softened
seeds from 1/2 vanilla bean or 1/2 teaspoon vanilla extract
1/8 teaspoon fine sea salt
1 1/4 cups heavy cream
2/3 cup granulated sugar
2 tablespoons light corn syrup
1/2 teaspoon almond extract
1 cup coarsely chopped almonds (if desired, for garnish)
Directions:
For cookies, line two large baking sheets with parchment paper. Trace 2 1/2 to 3 inch circles on the parchment using a round cookie cutter or drinking glass. Flip over the parchment so that the pencil lines are on the bottom.
In a food processor, combine almond flour and powdered sugar and pulse until evenly incorporated. Sift mixture through a fine mesh sieve, discarding any large bits remaining.
In a large metal mixing bowl or the bowl of a stand mixer, whisk eggs and salt until frothy. With the mixer running on low, slowly add the sugar, about 1 tablespoon at a time, then increase the speed to medium-high and beat until egg whites are shiny and hold medium peaks, about 5 minutes.
Fold the almond mixture into egg whites, one-third at a time, until just combined and no dry ingredients remain. At this point you can also add food coloring if you want more colorful cookies.
Transfer half of the mixture to a large piping bag fitted with a 1/2-inch round tip. Starting in the center and working your way out, pipe spirals of batter inside each traced circle. Refill your piping bag as needed and continue to pipe remaining cookies. Let cookies sit, uncovered, for 30 minutes to dry.
Meanwhile, preheat oven to 300 degrees F.
Bake for 18 to 20 minutes or until cookies have risen slightly and bottoms are just barely golden brown. Remove from oven and let cool completely before releasing from baking sheets.  Freeze cookies for at least 1 hour (or up to 1 month) prior to assembling sandwiches.
To prepare ice cream, mix 2 tablespoons of the milk with cornstarch in a small bowl; set aside. In a medium bowl, whisk cream cheese, vanilla bean, and salt until smooth (if using extract, wait to add it until the very end). Prepare an ice bath by filling a large bowl with ice water and set aside.
Combine remaining milk, cream, sugar, and corn syrup in a saucepan set over medium-high heat, stirring occasionally, until it begins to boil. Let boil for 4 minutes, then remove from heat. Whisk in cornstarch mixture. Return to a boil and cook until slightly thickened, about 1 minute. Pour hot cream mixture into cream cheese mixture and whisk until smooth.
Pour ice cream base into a gallon-sized zip-top freezer bag and seal. Submerge bag into ice bath and let sit, adding more ice as necessary, until completely cooled, about 30 minutes. At this point the ice cream base can be churned immediately or refrigerated overnight if needed.
Before churning, line a 9-by-9-inch square baking pan with parchment paper or aluminum foil and place in the freezer.
Pour chilled base mixture into the canister of an ice cream maker and churn according to manufacturer's instructions. When ice cream is thick and creamy, spread into an even layer in prepared pan. Press a layer of parchment paper or plastic wrap on the surface, then freeze until frozen solid, at least 3 hours or overnight.
To assemble, place half of macarons flat side up on a work surface. Carefully lift out block of ice cream from baking pan and place on a cutting board. Cut out equal sized rounds using the same cookie cutter or drinking class that you used to trace the cookie templates. Place one round on each cookie. Top with a second cookie and gently press (careful, cookies are fragile!) to adhere. Roll edges in chopped almonds, if desired. Wrap each sandwich in waxed paper or plastic wrap and freeze at least 1 hour or until ready to serve.
Did you make this recipe?
Let us know what you think!
Leave a Comment below or share a photo and tag me on Instagram with the hashtag #loveandoliveoil.