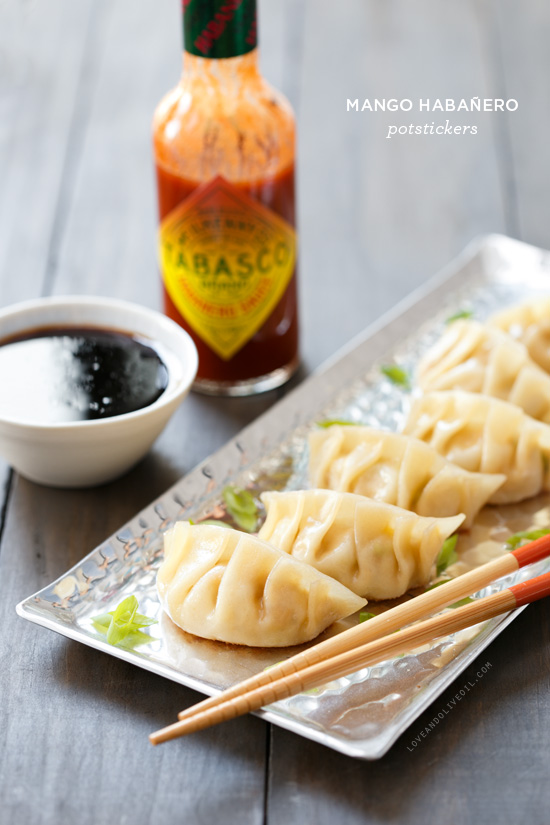 Taylor could put hot sauce on anything. Sriracha and chili sauce, most definitely, but most of all TABASCO® sauce. On everything, in everything, and lick it off his fingers when he's done.
That's my spicy boy.
So when TABASCO® came knocking with promise of hot-and-happy recipes and a trip to tour the TABASCO® home-base in Louisiana? We decided that Taylor was the right man for the job.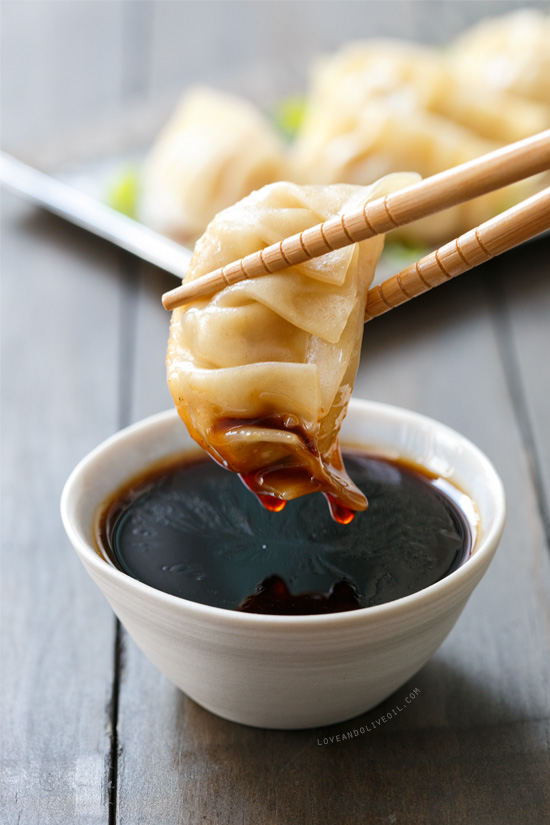 Taylor will be back to share his first bayou experience with you shortly, but for now I thought we'd start with a little warm up.
You know, prepare your palettes for the heat to come.
While exploring the full range of the TABASCO® line, we both fell in love with the Habanero sauce. Sweet and wonderfully spicy, the ingredients list mango, banana, and papaya purees, the sweet of the fruit playing perfectly with the painful spice of the habanero peppers.
It was pulling directly from those ingredients that we came up with this recipe for mango habanero pot stickers.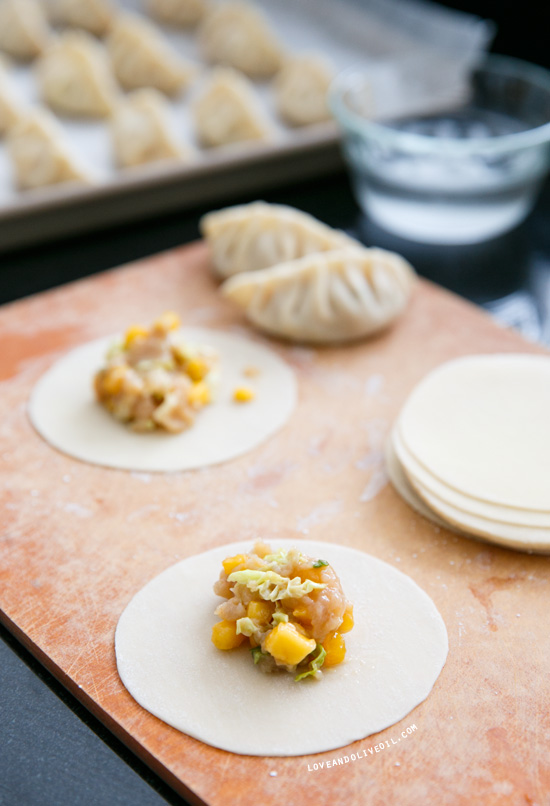 The filling features ground chicken (but turkey or pork would work beautifully as well) with chunks of sweet mango and crunchy cabbage, wonton-wrapped and pan-fried and served with a sweet and spicy dipping sauce.
There's only two teaspoons of TABASCO® Habanero Sauce in this entire recipe (divided between the filling and the sauce), but being that it is one of Tabasco's most potent products, a little goes a long way.
Mango Habanero Potstickers
Ingredients:
For Dipping Sauce:
2 tablespoons soy sauce
1 teaspoon TABASCO® HABANERO SAUCE
4 tablespoons brown sugar
1/2 teaspoon sesame oil
1 1/2 teaspoon rice vinegar
For Pot Stickers:
1/2 pound ground pork, chicken, or turkey
2 green onions, thinly sliced (about 1/4 cup sliced)
1 tablespoon minced fresh ginger
3 garlic cloves, finely chopped (about 2 teaspoons chopped)
1/2 tablespoon soy sauce
1/2 teaspoon sesame oil
1 teaspoon TABASCO® HABANERO SAUCE
1/2 mango, very finely diced (about 1/2 cup diced)
3 large leaves napa cabbage, shredded (about 3/4 cup shredded)
36 round gyoza/wonton wrappers
2 to 3 tablespoons vegetable oil for frying, divided
Directions:
Combine soy sauce, habanero sauce, brown sugar, sesame oil, and rice vinegar in a small saucepan. Gently warm over medium heat for 2 to 3 minutes until sugar dissolves. Remove from heat and let cool.
In a bowl, combine ground meat, green onion, ginger, garlic, soy sauce, sesame oil, habanero sauce, mango, and cabbage. Mix until evenly incorporated.
To assemble, place one spoonful (about 1/2 tablespoon) of filling in the center of each wonton wrapper (do not overfill or they will not seal properly). Moisten the edges of the wrapper with water, then fold into a half-moon, pinching in the center to seal. Fold and pleat the outer layer 2 to 3 times on each side, with all pleats facing the center to create a crescent shape. Place on a baking sheet and repeat with remaining wrappers.
Preheat a large non-stick pan over medium-high heat. Working in batches, add 1 tablespoon of the vegetable oil to the pan. When oil is hot, but not smoking, arrange pot stickers in pan in a single layer. Cook until bottoms are browned, about 3 minutes. Reduce heat to medium-low and add 1/4 cup water; cover and let steam for 5 minutes or until water is absorbed. Repeat with remaining pot stickers.
Serve warm with dipping sauce.
Did you make this recipe?
Let us know what you think!
Leave a Comment below or share a photo and tag me on Instagram with the hashtag #loveandoliveoil.
Disclosure: This post was sponsored by TABASCO®. As always, all opinions written are purely our own. We're incredibly grateful for opportunities like these that allow us to continue sharing delicious recipes with you, so thank you for supporting us and the brands we love.