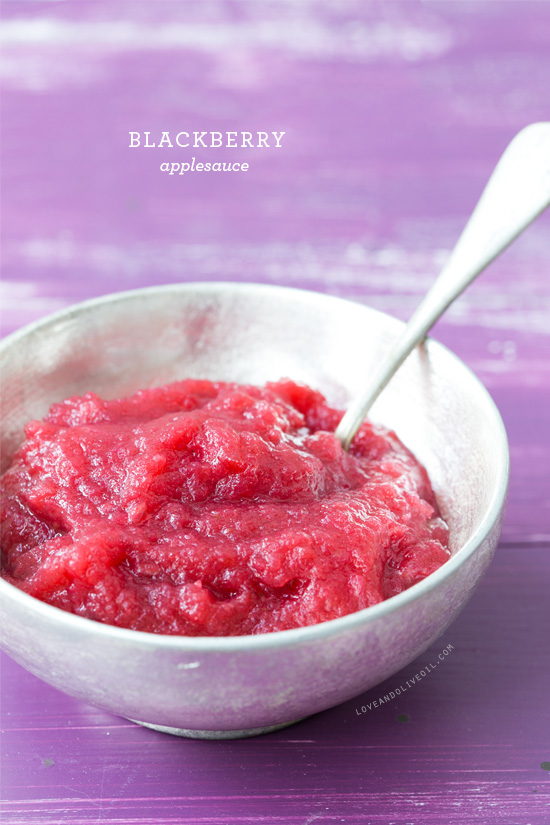 Fall meets summer. Summer meets fall.
Homemade applesauce is one thing, and I've thoroughly enjoyed the batch I made last year. But even with cinnamon, applesauce is always sort of plain (in fact, it's one of my 'safe' foods when I'm feeling under the weather). Otherwise, I eat it with sour cream on my latkes and that's about it. Guess I'm just not really an applesauce kind of person.
But take that plain old applesauce and throw in a few cups of frozen blackberries (smartly preserved earlier in the summer when I knew I had no time to deal with them) and you have a mind-blowing, life-altering, hot pink applesauce.
And is (naturally) hot pink food ever a bad thing?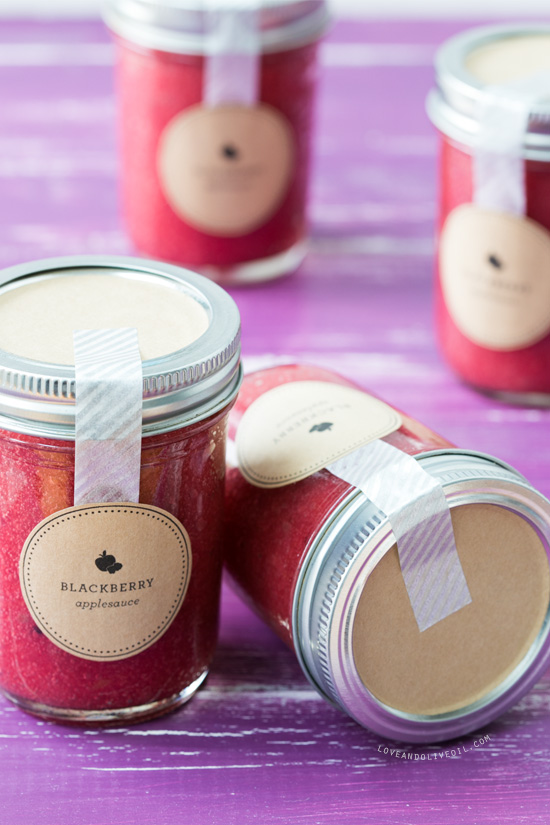 The blackberries give the sauce not only its gorgeous color, but also a unique tart flavor. Vibrant and fruity and even more apple-y than regular applesauce (if you can believe it). The blackberries do warrant more sugar to counteract their tartness, but you can add as much or as little sugar as you want. How much will depend mainly on the sweetness of your apples. Seriously, grab a spoon, taste some, then add more sugar if you think it needs it, or not if you like it with a bit of pucker.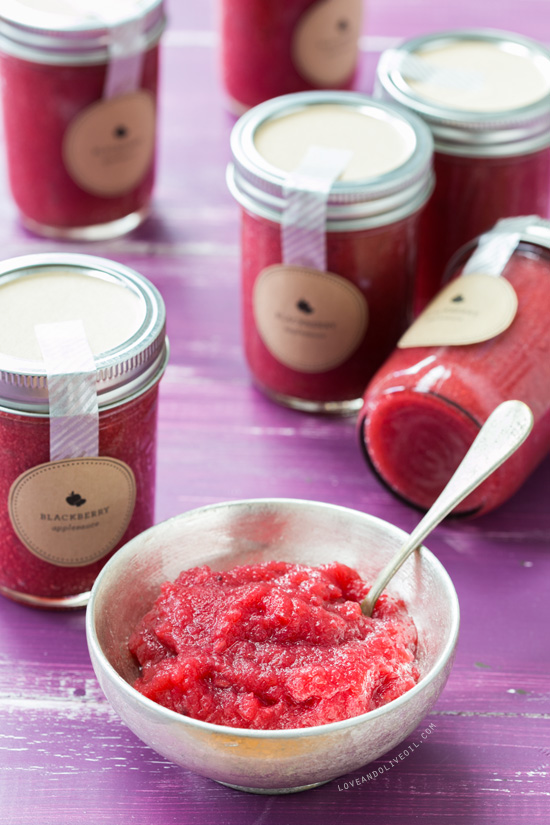 I used a mix of Golden Delicious and Rome apples for this sauce, the faint pink flesh of the Romes seemed to beg for a companion to enhance their delicate color.
The apples are local, coming from the same orchard as the blackberries earlier this summer. Tennessee is not Michigan, apples do grow here but not quite so abundantly, so local apples are most definitely something to be savored.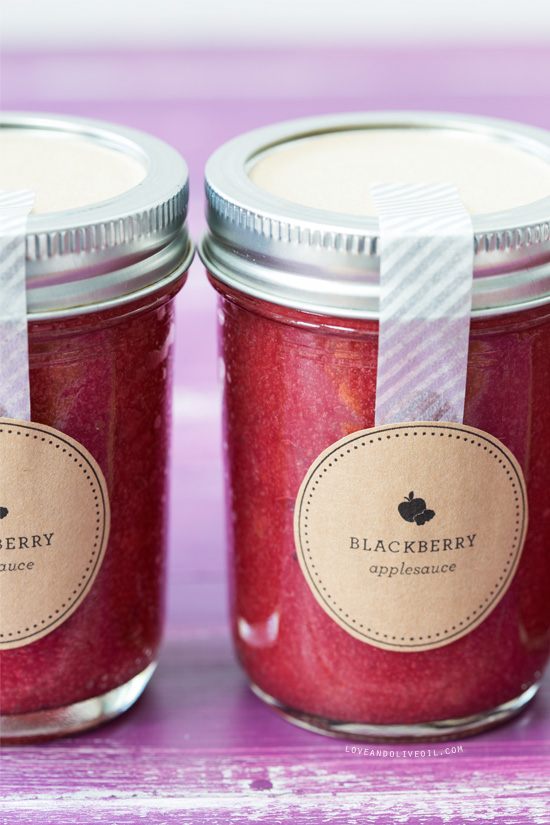 For the packaging I printed my design (and be sure to click through to the end of this post to download the free printable file for yourself!) onto kraft label paper, then stuck them to the jars along with a decorative strip of silver striped washi tape.
The jars I bought in bulk from SKS (I like these because they do not have any raised designs that interfere with the labels), but I used standard two-piece lids on them. As Marisa described in her great article on canning with hex jars and lug lids, the plastisol lining in the lug lids isn't suitable for longer processing times. I don't necessarily think 15 minutes is a long processing time, but I didn't want to risk it. I'll save those jars and lids for regular jams and jellies, and use the standard two-piece lids for anything, like this applesauce, that requires a longer boil. I put another circle of blank kraft label paper just to cover up the unattractive writing on the tops of the lids (why don't they sell unbranded ones? Seriously!)
Blackberry Applesauce
Ingredients:
5 pounds apples (a mixture of sweet apple varieties, such as Gala, Fuji, Rome, Golden Delicious, or Pink Lady will make the best applesauce)
1 lemon, juiced (about 3 tablespoons)
1/4 to 1/2 cup granulated sugar (more or less to taste)
8 ounces (2 cups) fresh or frozen blackberries
Directions:
Prepare canner and wash/sterilize 8 half-pint (or equivalent) mason jars. Keep jars in hot (not boiling) water until ready to use. Warm lids in hot (not boiling) water to sterilize and soften seal.
Core and quarter apples, removing any obvious bruises or blemishes. Place apples in a large, heavy saucepan filled with 1 inch of filtered tap or spring water. Cover and simmer over high heat until apples are soft, about 10 to 20 minutes (cooking time will depending on the variety and ripeness of your apples).
Meanwhile, cook blackberries in a small saucepan over medium heat until softened, about 5 to 10 minutes.
Run cooked apples and blackberries through a food mill*, discarding skins and seeds. Return mixture to saucepan and bring to a simmer. Add lemon juice, along with sugar to taste (the sweeter your apples, the less sugar you will need. Start with a little bit, then taste, and add more as desired).
Ladle hot sauce into jars, leaving 1/2-inch of headspace. Remove any air bubbles, and carefully wipe jar rims and threads. Center lids and screw on ring bands until fingertip-tight. Place jars in water bath, ensuring they are completely covered by at least 1-inch with water. Bring to a full rolling boil and process for 15 minutes (20 minutes if you are using larger pint jars). Uncover and remove from heat; let sit for 5 minutes to allow the pressure to equalize. Carefully lift jars from water and arrange on a wire rack. Let cool completely, undisturbed, for 12 to 24 hours. Check seals. Store jars in a cool, dark place for up to 1 year. Any unsealed jars should be refrigerated and used within 3 weeks.
*If you don't have a food mill, you'll want to peel your apples first before coring and cooking them. After cooking, mash with a potato masher for a chunkier sauce, or puree in a food processor or blender (in batches if necessary) for a smoother sauce. Mash and strain your blackberries through a fine mesh sieve to remove seeds.
Did you make this recipe?
Let us know what you think!
Leave a Comment below or share a photo and tag me on Instagram with the hashtag #loveandoliveoil.
Bonus! Because there's nothing more depressing than a naked jar. These pretty, rustic labels will make your jam as sweet on the outside as it is on the inside.
I'm offering these jam labels to you, free for personal use. Simply download the printable file, then print onto full-sheet sticker paper (I used a brown kraft label paper from onlinelabels.com, but you could use white or any color, really). Cut out the labels and apply directly to the the finished jars. These labels will fit on the sides or lids of most standard mason jars.
Disclaimer: Copyright Love & Olive Oil. For personal use only. If you post about or share these labels, please credit appropriately and do not link directly to the downloadable file but rather to this post. Please do not distribute these downloadable files. Thank you much!