I hereby dub thee: Learning to Fry: Full Moon(shine) Fever Doughnuts.
And if you got those references, you get a big high five from Taylor.
Taylor, of course, being the resident Tom Petty fan in our household.
So what do doughnuts have to do with Tom Petty? What, you don't immediately think of doughnuts when you blast The Best of Everything? I mean, Even the Losers can appreciate a good doughnut.
We were tasked with creating a Tom Petty-inspired recipe for the Music City Eats' blog. If you haven't heard, Music City Eats is a Nashville food, wine, and spirits festival happening this coming weekend in downtown Nashville. The festival really embraces Nashville's musical culture as much as its amazing food. Saturday's events culminate in Petty Fest, a musical tribute to Tom Petty (cue: Taylor giggling like a schoolgirl).
So. Tom Petty. Recipe. And Go.
Since Tom Petty's catalog isn't exactly ripe with food references, so we had to get creative. Hence the puns.
Learning to Fry… Learning to Fly. Get it? (Har har)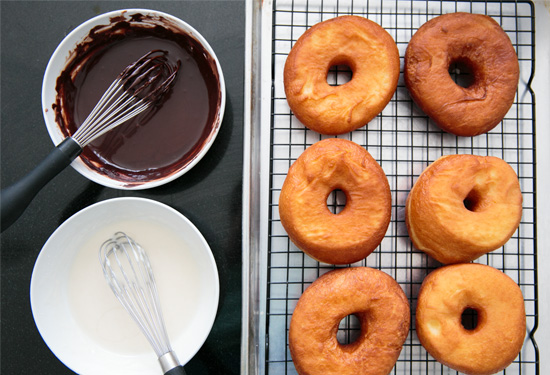 Puns aside, can you believe I'd never made doughnuts? I mean real raised, fried, and glazed doughnuts (baked doughnuts just aren't quite the same).
But don't be fooled, these beautiful deep-fried and golden brown lovelies aren't as innocent as they look. The glaze takes a cue from Petty's Southern Accents and Rebel roots with a moonshine-spiked glaze. Like hair of the dog(s on the run), only sweeter.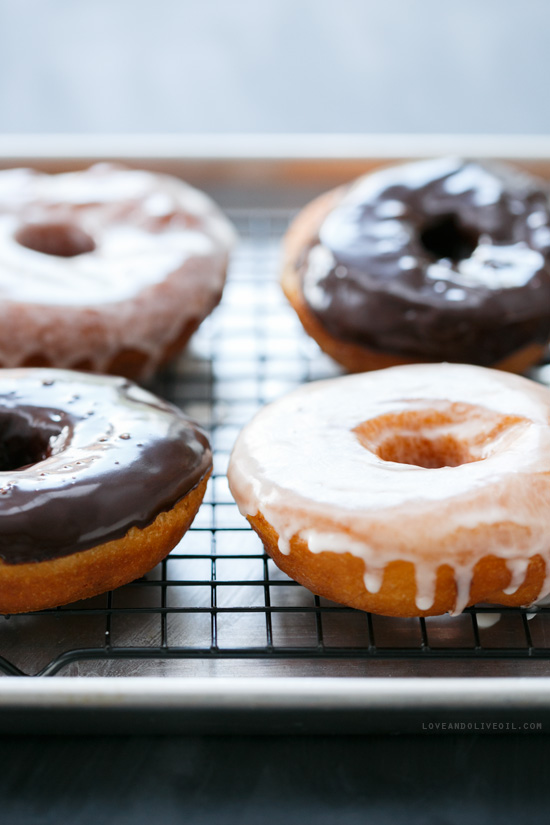 I did both chocolate and vanilla glazes, both generously spiked with moonshine. Moonshine is a high-proof, clear alcohol also known as white dog, white lightning, or stump juice. Yes, it has a tainted reputation, but there is plenty of legal moonshine available these days. Many new craft distillers sell moonshine, or white whiskey, when they are just starting out – to bring in some income while their whiskey comes of age. I used Buffalo Trace's "White Dog", which is basically bourbon that hasn't been aged in oak. Baby bourbon, if you will.
But boy does this baby have some bite.
I think Tom Petty would approve.
Moonshine-Glazed Doughnuts
Ingredients:
For Doughnuts:
1 cup whole milk, lukewarm
1/2 cup granulated sugar
2 1/4 teaspoons (one package) active dry yeast
2 whole eggs, lightly beaten
3/4 cup butter, melted and cooled
4 cups all-purpose flour
1 teaspoon salt
2 quarts vegetable oil, for frying
Chocolate Glaze:
1 cup powdered sugar
2 tablespoons cocoa powder
1 tablespoon moonshine
1-2 tablespoons water, as needed
For Vanilla Glaze:
1 cup powdered sugar
1 tablespoon moonshine
1/2 teaspoon vanilla extract
1-2 tablespoons water, as needed
Directions:
To prepare doughnuts, combine the warm milk and sugar in a small bowl. Stir in yeast, and let sit for 5 minutes or until foamy.
In a small bowl, whisk together the egg and melted butter and set aside.
Place flour and salt in a large mixing bowl or the bowl of the stand mixer fitted with a dough hook. Add the milk mixture and mix on low speed until flour is moistened, then increase the speed until dough comes together. Add egg mixture and mix on medium-high speed for approximately 10 minutes until dough is smooth and very stretchy, scraping down the bowl as needed. When it is done, the dough should make a slapping sound against the edge of the bowl. Transfer dough to a lightly-oiled bowl and cover with plastic wrap; place in the refrigerator overnight.
The next day, line two sheet pans with lightly-oiled parchment paper or silicone mats.
Turn out dough onto a lightly floured work surface. Gently roll the dough to a uniform 1/2-inch thickness. Cut out rounds using circle or doughnut cutters; arrange on the prepared tray, leaving room for them to expand. Place them in the warm place for about 1 hour or until they puffed. (Tip: if your kitchen is on the cold side, turn on your oven for 30 seconds, then turn it off, and place your sheet pans inside. The residual heat will create the perfect proofing environment)
Fill a large, heavy-bottomed pot with oil to a depth of at least 1 1/2 inches. Heat over medium heat until oil reaches 375 degrees F. Continue to monitor the temperature throughout the cooking process, adjusting heat as necessary. Line another sheet pan with paper towels, and set a metal cooling rack inside.
Gently lay the doughnuts in the hot oil, one at a time. Fry the doughnuts in batches of 2 or 3 (depending on the size of your pot) for 1 to 2 minutes per side, then flip and cook until evenly golden brown (they will get darker when you take them out of the oil). Transfer with tongs or a slotted spoon to prepared rack to cool. Repeat with remaining doughnuts.
To prepare glaze, sift powdered sugar (and cocoa powder if making chocolate version) into a bowl to remove any large clumps. Add moonshine and vanilla extract (for vanilla variation), along with 1 tablespoon water, and whisk until no dry sugar remains. Add additional water as needed, 1 teaspoon at a time, until glaze reaches desired consistency. The glaze should flow thickly off your whisk and melt back into itself in 2 to 3 seconds.
Dip tops of doughnuts, one at a time, into glaze. Invert and arrange on cooling rack until glaze sets. Repeat with remaining doughnuts. Doughnuts are best enjoyed fresh the day they are made.
Did you make this recipe?
Let us know what you think!
Leave a Comment below or share a photo and tag me on Instagram with the hashtag #loveandoliveoil.