Before we start, I have big news! Tune in this Sunday, July 14th at 12pm EST. I'll be appearing on QVC's In the Kitchen with David, promoting Breakfast for Dinner! (Nervous? me? gulp). I don't know precisely what time I'll be on yet, but the show runs from 12 to 3pm. If you follow me on twitter I will be share as soon as I know more specifically what time I'll be on.
Onward!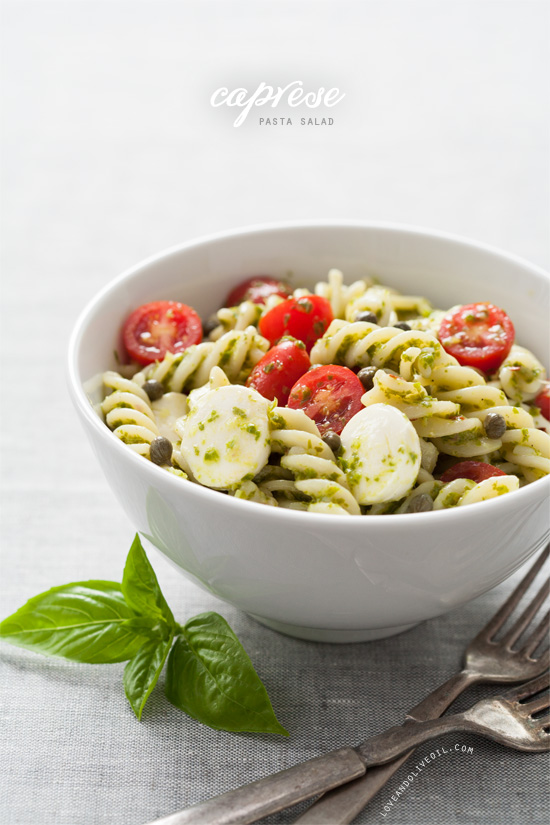 Pasta salad is under-appreciated. Rarely does it get the attention it deserves. It's always the 'eh' on the side of a juicy burger, the afterthought placed on the side of your plate because you don't have any other choice.
I mean really, can you honestly remember having any truly amazing, memorable pasta salads in your lifetime?
I think I've had maybe one, from a (now-closed) deli where I grew up, and even then it's more Taylor's memory of that pasta salad that I've latched on to, as I can't even recall what was in it. Some memory, huh?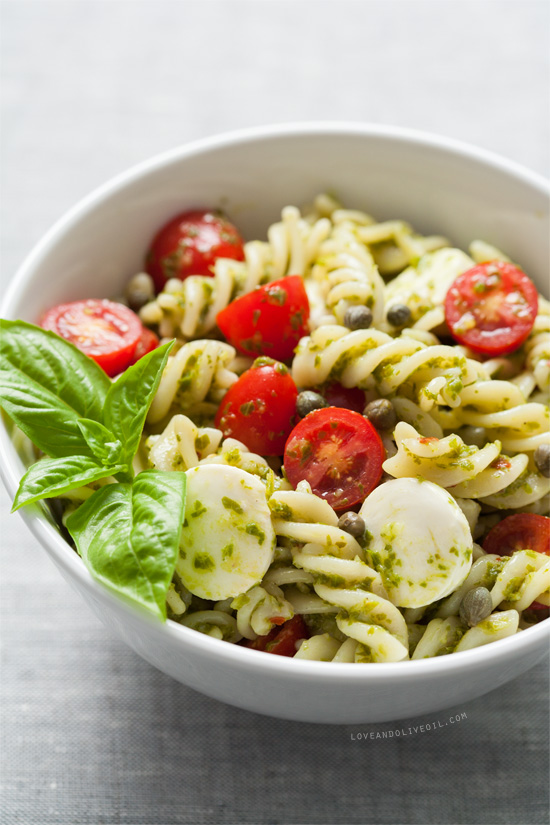 I'm dead set on changing that, and this caprese-inspired pasta salad is a sure start. It's got a tangy white-balsamic and basil dressing, and dotted with bright cherry tomatoes, creamy mozzarella, and salty capers to top it all off.
Pasta salad has a tendency to be very bland, and if you've ever tried to make it using a typical salad dressing you may have discovered that. So while straight out the food processor this dressing may seem overly pungent with white balsamic vinegar and shallot, once it's intermixed with the pasta the balance is just right.
And a note about white balsamic vinegar – sure, you could use regular balsamic, but the color is going to be rather muddy. The white balsamic doesn't have quite the same rich notes as your regular balsamic does, but it's got its own unique character and will keep the dressing bright and vibrant green.
Caprese Pasta Salad
Ingredients:
4 cups packed fresh basil leaves
1 pound fusilli pasta
1/2 cup plus 2 tablespoons extra virgin olive oil
1/2 cup white balsamic vinegar
1 shallot, chopped
1 teaspoon sea salt
1/4 teaspoon red pepper flakes
1/4 teaspoon freshly ground black pepper
8 ounces small mozzarella balls (ciliegine or bocconcini), halved
1 pint cherry tomatoes, halved
2 tablespoons capers, drained
Directions:
Bring a large pot of salted water to a rolling boil. Blanche basil leaves in boiling water for 30 seconds or until they turn bright green. Transfer to an ice water bath with a slotted spoon to stop the cooking, then drain, squeezing out any excess liquid.
Cook pasta according to package directions until just al dente. Drain and transfer to a large bowl to cool.
In the bowl of a food processor or blender, combine blanched basil leaves, olive oil, vinegar, shallot, salt, pepper flakes, and black pepper and pulse until uniform and very finely chopped. Pour dressing over pasta and stir until until evenly coated. Add mozzarella, tomatoes, and capers and toss to combine. Refrigerate until ready to serve. Salad will keep, covered in the refrigerator, for up to 3 days, although the basil will start to discolor slightly after the first day.
Did you make this recipe?
Let us know what you think!
Leave a Comment below or share a photo and tag me on Instagram with the hashtag #loveandoliveoil.