Is there such thing as burger-induced writer's block? If so, I have it.
Which doesn't make sense because these veggie burgers are nothing short of amazing and should inspire me to write epic poetry, let alone a simple blog post.
Alas, the words elude me. Like the thinking equivalent of talking with your mouth full. How about we just say these burgers left me speechless, and I'll simply tell you about them instead. Straight to the point and without all the fluff. Also: without any meat.
Quinoa, shredded carrot, cheese and breadcrumbs form a surprisingly substantial patty, which is then topped with fresh tomato, arugula, tart pickled red onions and soft, creamy goat cheese.
I put goat cheese on everything.
Just in case you didn't notice.
Quinoa Veggie Burgers with Pickled Red Onions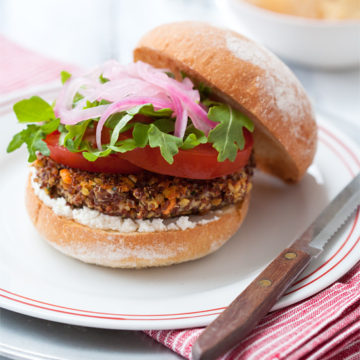 Ingredients:
For Pickled Onions:
1 medium red onion, thinly sliced (about 1 cup)
1/4 cup red wine vinegar or apple cider vinegar
1/2 cup warm water
1/2 tsp. sugar
Kosher salt
For Burgers:
2/3 cup quinoa
2 large eggs, lightly beaten
1 cup coarsely grated carrot
1/2 cup freshly grated Parmigiano-Reggiano cheese
1/4 cup chopped chives
3 small garlic cloves, minced
1/2 teaspoon kosher salt
1/4 teaspoon freshly ground pepper
1 cup breadcrumbs (freshly made from bread if you can)
1/4 cup extra-virgin olive oil
For Topping:
1/2 cup soft goat cheese
1 tomato, sliced
handful fresh arugula
6 large or 12 slider-sized burger buns, split and lightly toasted
Directions:
For pickled onions, place onion slices in a medium bowl. Pour vinegar and warm water over onion. Stir in sugar and season with a pinch of salt; let stand for about 30 minutes or until slightly pickled. Drain and set aside. (Onions can be pickled up to 2 days ahead and stored, covered in the refrigerator.)
Meanwhile, in a medium saucepan, cook the quinoa in boiling water until just tender, about 10 minutes (or according to your package instructions). Drain and spread on a baking sheet to cool.
In a bowl, combine eggs, carrot, cheese, chives, garlic, salt, and pepper. Mix in the cooled quinoa and bread crumbs. Let stand for 10 minutes.
Form quinoa into 1/2-inch-thick patties; you should get about 12 slider-sized patties or 6 larger ones. Place on a lightly oiled platter.
In a large nonstick skillet, heat 1 tablespoon of the oil. Add half of the patties and cook until golden brown, about 3 to 5 minutes. Flip and cook for 3 to 5 minutes more or until crisp, adding more oil as needed. Repeat with the remaining patties and oil.
To assemble, spread 1 to 2 tablespoons of goat cheese onto the bottom of each burger bun, then top with burger patty, tomato slices, arugula, and pickled onions.
Did you make this recipe?
Let us know what you think!
Leave a Comment below or share a photo and tag me on Instagram with the hashtag #loveandoliveoil.