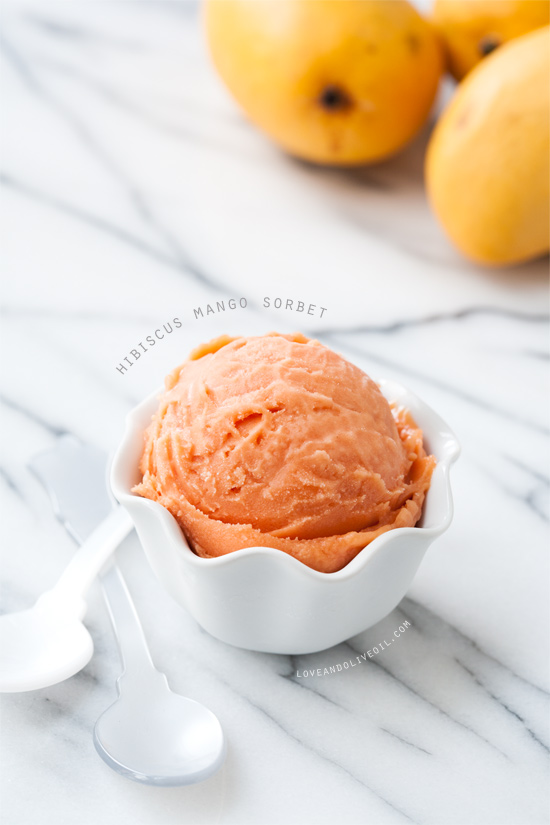 When life gives you mangoes…
Lots of gorgeously golden, sweet and juicy mangoes…
Make sorbet.
Clearly.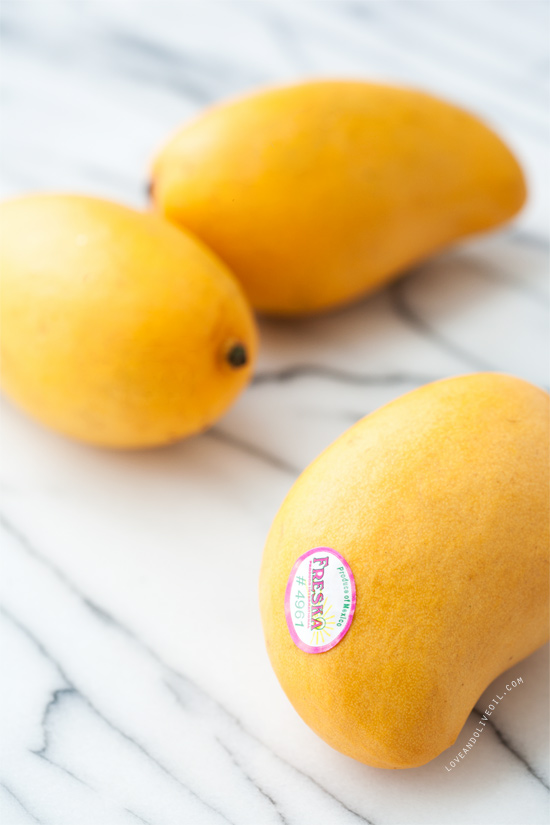 In what could only be described as kismet, I also happened to have a large quantity of dried hibiscus flowers on hand (the original purpose for which I will share later this week). It was all I could do not to make mango-hibiscus everything (macarons! sorbet! jam! hooray!) I don't know why, maybe because they both remind me of tropical places, but the two just work together. While I didn't get to the jam (turns out 16 mangoes disappear quicker than you think they will), this sorbet was an excellent use of my surplus.
The flavor is primarily mango, ripe and fragrant and with a perfectly creamy texture. But the underlying notes of the hibiscus, floral and fruity and vibrant, linger on the back of your tongue. It's really quite delightful, and I'm not usually one to delight in the idea of sorbet (give me rich and creamy ice cream over sorbet any day). But this sorbet, well, I'd make an exception for this one.
Hibiscus Mango Sorbet
Ingredients:
1/2 ounce (15 grams or about 1/3 cup) dried hibiscus flowers*
2/3 cup sugar
2/3 cup water
2-3 large, ripe Champagne or regular mangoes
1/4 cup freshly squeezed lime juice (from 2-3 limes)
*Dried hibiscus flowers, also called Jamaica flowers, are available at some natural foods stores and at Latin markets, or available online (I purchased mine from Nuts.com).
Directions:
In a small saucepan, combine hibiscus flowers, sugar, and water. Bring to a boil, then reduce heat and simmer for 5 minutes. Strain liquid, discarding flowers, and set aside to cool.
Peel the mangoes and remove the flesh from the pit. Chop into large chunks and place it in a blender along with the hibiscus sugar mixture and lime juice. Squeeze the mango pits and skins over the blender to extract as much juice as possible. Puree until smooth. Transfer to a bowl and cover with plastic wrap; refrigerate for a few hours (or overnight) until completely chilled, then churn in an ice cream maker according to manufacturer's instructions. When sorbet is the consistency of a thick slushy, transfer to a freezer-safe container and place in the freezer for at least 4 hours or overnight to allow the sorbet to freeze completely. Let soften slightly before scooping.
Did you make this recipe?
Let us know what you think!
Leave a Comment below or share a photo and tag me on Instagram with the hashtag #loveandoliveoil.