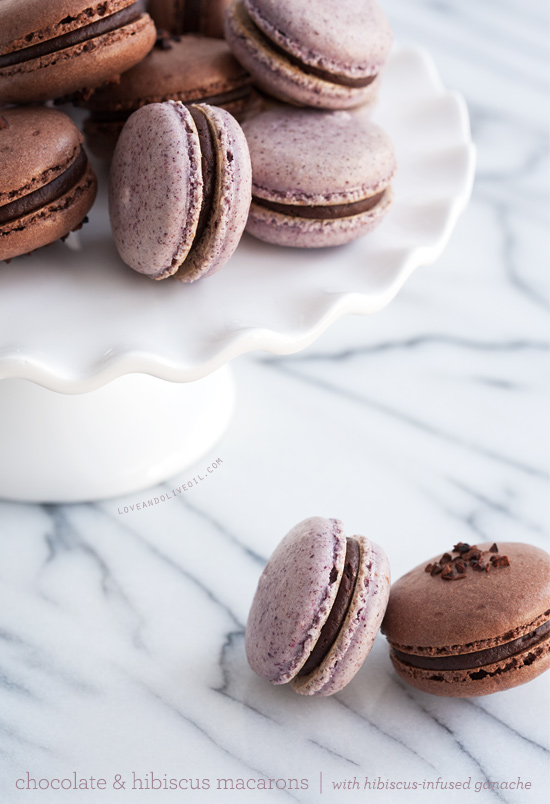 You guys.
I was seriously worried I was going to fail my own challenge.
Is that even allowed?
I've made 6 batches since I first announced this month's kitchen challenge. Batch #1 (just a small test batch) was surprisingly successful. I'll chalk it up to beginners luck.
Last weekend's attempts, though, were disastrous. Frustrating. Infuriating.
Why did this happen? Who knows. I may have over-whipped my meringue. The few drops of gel food coloring could have destroyed them. I probably over-mixed and under-baked at least two of the three batches. My sour mood was mirrored in the cracks and hollows of the failed cookies.
In the end, after 3 miserable failures, I quit for the day, resigned to the fact that I might fail my own challenge. What kind of example would that set? But I was prepared to raise the white flag and declare defeat.
But, here we are, the day before my (self-imposed) deadline, and I figured I'd give it one more try. I invited my good friend Tabitha over for expertise and moral support (I swear she's my macaron lucky charm). And sure enough, two batches came out of the oven looking mighty fine and tasting even better.
I have a suspicious feeling that my debacle last weekend may have been caused by moist almond flour. It seemed like the only factor that had changed between the semi-successful batch the weekend before (when my flour was brand new and fresh) and the disasters the next (when my almond flour had been stored in the freezer, thus coming out with a bit of condensation).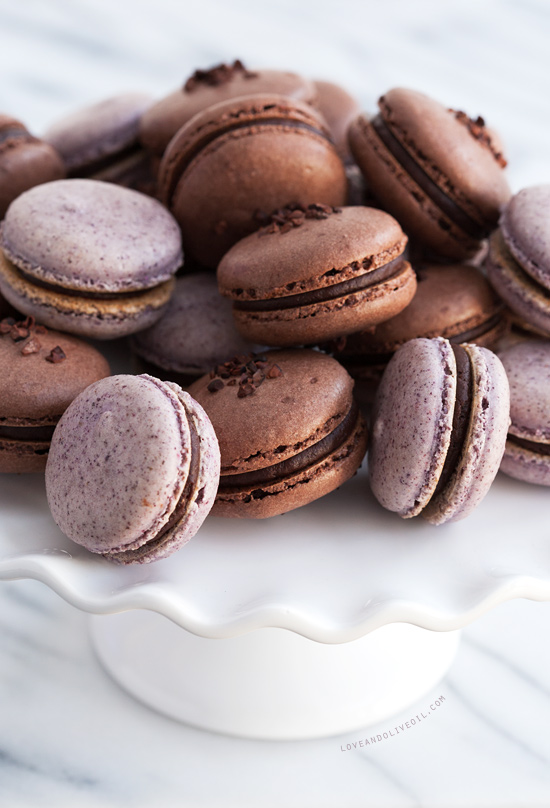 So this time, I spread out the flour on a cookie sheet and baked it for about 30 minutes at 170 degrees. Just enough to dry it out but not so hot that it toasted or cooked the flour.
Was that the key? Was that the only reason I failed so miserably before? All I know is, this weekend, it worked. And I'm giddy with the results. Next weekend? Who knows.
I refused to give up on my hibiscus macarons, which incorporated some dried hibiscus flowers that had been finely ground in a coffee grinder. A similar method can be used to incorporate freeze-dried fruit, or any flavored powder, really. I will say that even the failures tasted incredible. Tart and fruity, the hibiscus flavor comes through loud and clear. It also gives the cookies a charming speckled purple shell without the need for any food coloring at all (although you can add a bit of pink or purple coloring if you want a more vibrant cookie).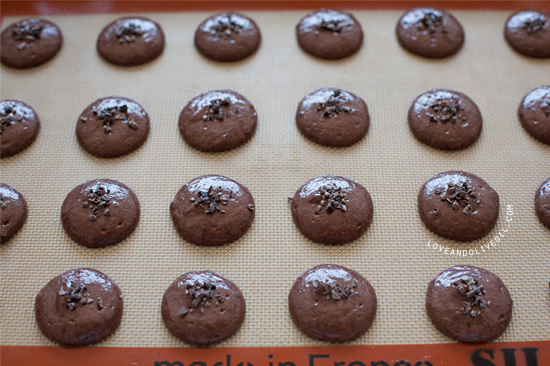 I did the chocolate batch partly because Naomi told me that sometimes chocolate macarons are easier. Something about the extra fat in the cocoa powder, or something. But for those of you who may have had a bit of trouble with your macarons, give a chocolate batch a try; you may have better luck. They basically taste like bite-sized brownie clouds. I topped mine with some cocoa nibs for a bit of texture (and to hide some of the lumps).
For my filling, I went with a simple ganache, which I infused with more hibiscus flowers (yes, I admit I have a problem). The resulting ganache is rich and floral. I could definitely see myself using this infusion technique (basically steeping the dried flowers in the cream as it heats) to make a hibiscus-flavored version of just about any dessert that incorporates milk or cream in some way.
Click through to get my recipe and see the incredibly creative submissions from readers!
Chocolate & Hibiscus Macarons with Hibiscus-Infused Ganache
I had the most success with the French macaron recipe from I Love Macarons, but use whatever macaron recipe you like best. The instructions here are more for my own reference and helpful for adapting your own recipe.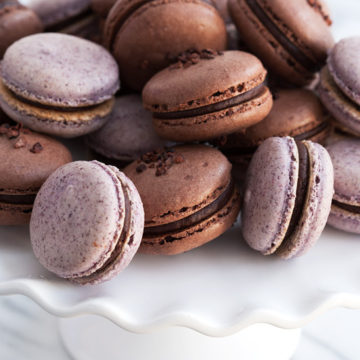 Ingredients:
For Hibiscus Macarons:
15 grams (1/2 ounce or about 1/3 cup) dried hibiscus flowers
1 tablespoon granulated sugar
85 grams almond flour or finely ground almonds
150 grams powdered sugar
90 grams egg whites (from about 3 large eggs), room temperature
50 grams superfine or granulated sugar
For Chocolate Macarons:
60 grams almond flour or finely ground almonds
150 grams powdered sugar
25 grams (about 3 tablespoons) dark or dutch-processed cocoa powder
90 grams egg whites (from about 3 large eggs), room temperature
50 grams superfine or granulated sugar
cocoa nibs, for topping (optional)
For Hibiscus Ganache:
1 bar (3.5 ounces) dark or bittersweet chocolate, very finely chopped
2/3 cup heavy cream
1/4 cup dried hibiscus flowers
Directions:
In a clean coffee grinder, grind hibiscus flowers with sugar until it forms a fine powder. You can also do this by hand with a mortar and pestle. Basically, you want the hibiscus as fine as possible. You can also use the (cleaned) coffee grinder to make superfine sugar, simply pulse granulated sugar until fine and powdery.
In a food processor, combine almond flour, powdered sugar, and hibiscus or cocoa powder; pulse for 20 to 30 seconds until evenly distributed. Sift at least once through a fine mesh sieve, discarding any larger particles.
Place egg whites in a clean metal mixing bowl or the bowl of a stand mixer. Mix on medium speed until frothy, then slowly add superfine sugar, a little bit at a time with the mixer on medium speed, scraping down the side of the bowl periodically. When all the sugar has been added, increase speed to medium high and whip until meringue is firm and glossy and forms medium-stiff peaks.
Pour half of the almond flour mixture into the meringue and stir, folding and scraping a few times until no dry flour remains. Add the remaining flour and mix, folding and spreading the batter against the sides of the bowl about 15 to 20 times or just until the meringue and flour are incorporated and the batter falls off the spatula in thick ribbons. Do not overmix.
Transfer the batter to a large piping bag fitted with a 1/2-inch-round tip, twisting the end of the bag to prevent the batter from leaking. Pipe small circles onto a parchment or silicone-mat-lined baking sheet, leaving about 1-inch of space between them.
Rap the baking sheet firmly on the counter, then smack the bottom of the baking sheet multiple times with your hand to remove any remaining air bubbles. If any pointy 'tips' still remain, you can gently press them down with a lightly moistened fingertip. Sprinkle with cocoa nibs (if using), and set aside to dry.
Preheat oven to 375 degrees F. When macarons are dry (you should be able to just barely touch the surface of the cookies with a dry finger without them sticking), stack the baking sheet on top of another empty baking sheet (this will help them bake more evenly). Reduce the oven temperature to 350 degrees F and bake for 15 to 18 minutes. With the hibiscus macarons especially, keep an eye on them to make sure they do not brown. Remove from oven and let cool completely on a wire rack, then remove from baking sheets.
For ganache filling, place chocolate in a heat-proof bowl and set aside. Heat cream and hibiscus flowers in a small saucepan over medium heat until it starts to steam. Remove from heat, cover, and let steep for 5 minutes. Strain cream through a fine mesh sieve, pressing out as much leftover cream as you can. Discard flowers. Return hot pink cream to medium heat until it just starts to steam. Pour over chopped chocolate and let sit for 30 seconds, then stir until chocolate is melted and mixture is smooth.
Let cool to room temperature, stirring occasionally, then refrigerate until slightly thickened, 15 to 20 minutes. If the ganache has hardened too much you can re-warm it gently in a double boiler or in the microwave on half power.
Transfer ganache to a piping bag fitted with a round tip. Pipe dollops of ganache onto half of cookies, then top with remaining cookies and press to spread ganache to edges.
Macarons will keep, refrigerated in an airtight container, for up to a week. They can also be frozen (filled or unfilled) for up to 1 month.
Did you make this recipe?
Let us know what you think!
Leave a Comment below or share a photo and tag me on Instagram with the hashtag #loveandoliveoil.
And now, for your lovely creations!
The thing I loved most about this challenge was the room for creativity. The basic cookie was just a starting point, and the flavor possibilities are truly endless. You made tiramisu, malted chocolate, and funfetti macarons. Raspberry and lemon and chocolate and more chocolate. This must be why we get along so well.
I'm seriously impressed and y'all deserve a major round of applause!
Although it seems there were varying levels of success with these finicky cookies (much like my own experience), the good news is, I don't think anyone made a bad tasting macaron. And isn't that the true measure of success?
Bravo!
And stay tuned… I'll be announcing next month's Kitchen Challenge on May 1st!