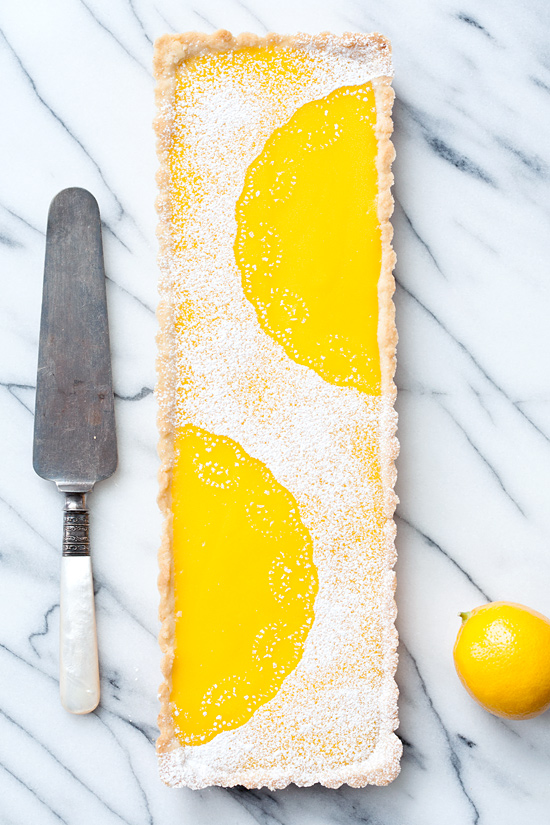 I'm not usually a lemon kind of girl. Dessert, to me, is chocolate, chocolate, and more chocolate. Fruit tarts, lemon bars, and fruity crumbles on restaurant menus will always be skipped over in favor of the rich chocolate cakes and caramel custards. Maybe I'm missing out, but I'm never disappointed.
To be honest I was quite tempted to turn this into a chocolate lemon tart. An unusual combination, maybe, but it sounded intriguing and certainly more my style than plain old lemon.
However, I felt that my last precious Meyer lemons of the season deserved a more fitting send-off, a tribute that highlighted their vibrant yellow color and tart-sweet flavor, instead of being drowned in chocolate.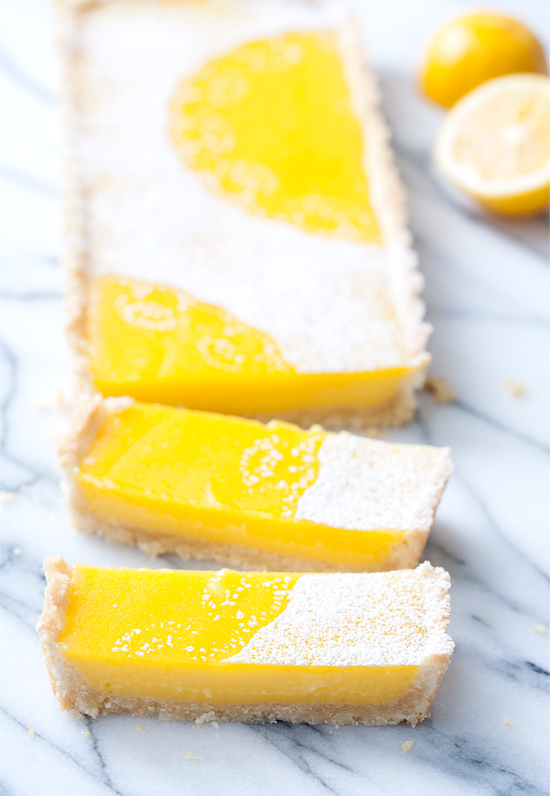 I'll admit, this tart satisfies even the most devout chocolate-lover. It's delightfully tart and lusciously creamy. I added a bit of a twist with the macadamia nut shortbread crust, which adds a buttery richness that compliments the vibrant lemon filling perfectly. Not to mention it circumvents the need for a temperamental pastry crust.
Granted, I probably won't make a habit out of replacing my beloved chocolate desserts with lighter, fruitier ones, but in this case, it was a nice change of pace.
Meyer Lemon Macadamia Nut Tart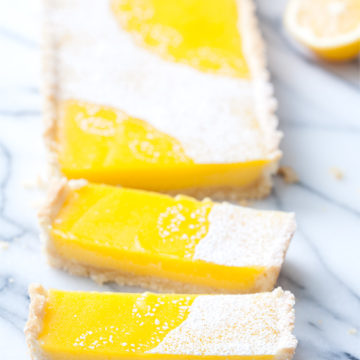 Ingredients:
For Crust:
1/2 cup macadamia nuts
1 cup flour
1/3 cup powdered sugar
1/2 cup (1 stick) unsalted butter, cut into cubes
1 tablespoon cold water
For Filling:
7 large egg yolks
2 large eggs
1 cup (7 ounces) sugar
1/2 cup grated fresh Meyer lemon zest (from 4 to 5 lemons)
2/3 cup fresh Meyer lemon juice (from 4 to 5 lemons)
Pinch salt
4 tablespoons (1/2 stick) unsalted butter, cut into 4 pieces
3 tablespoons heavy cream, chilled
Directions:
Preheat oven to 375 degrees F.
To prepare the crust, place macadamia nuts in the bowl of a food processor; pulse until finely ground. Add flour and sugar and pulse until combined. Sprinkle cubes of butter over top. Pulse until just combined; drizzle in water and pulse one or two more times or until evenly moistened. Dough will be crumbly, but should come together when pinched with your fingers.
Dump dough into a 9-inch-round or 4-by-15-inch rectangle tart pan with removable bottom. Firmly press dough into the bottom and up the sides of the pan. Bake for 11 to 13 minutes or until edges are lightly golden brown. Remove from oven and place on a wire rack to cool slightly while you prepare the filling.
In a medium saucepan, whisk together the eggs and egg yolks. Whisk in the sugar until combined, followed by the lemon zest, lemon juice, and salt. Add the butter and cook over medium-low heat, stirring constantly, until the mixture thickens slightly and reaches 170 degrees, about 5 minutes. Pour the mixture through a fine-mesh strainer and into a heat-proof bowl; stir in the heavy cream.
Pour the filling mixture into the warm tart shell. Place on a baking sheet and bake until the filling is shiny and opaque and the center jiggles slightly when shaken, about 10 to 15 minutes. Remove from oven and allow to cool completely to room temperature, about 1 1/2 hours, then refrigerate until ready to serve.
Did you make this recipe?
Let us know what you think!
Leave a Comment below or share a photo and tag me on Instagram with the hashtag #loveandoliveoil.