It's crunch time people. The final days where stuffing your face with christmas cookies is still socially acceptable.
Milk it for all it's worth.
I'll admit I've made some pretty darn delicious cookies this year, but these may just be the best of the lot.
I first came across the elusive Mint Truffle Kiss during our excursion to Hershey's kitchens. Where better to find these magical bites than where they were born? Anyway, a bag came home with me, although at the time I didn't quite realize what I had discovered. I was, I think, expecting more of a minty flavored chocolate rather than a creme-de-menthe filled confection. They're like Andes mints in the shape of Kisses. Once I realized this, well, let's just say that bag didn't last long.
Two Krogers, a Walgreens, and a Publix later… I had four more bags. And don't be surprised if I make another run before they disappear for good.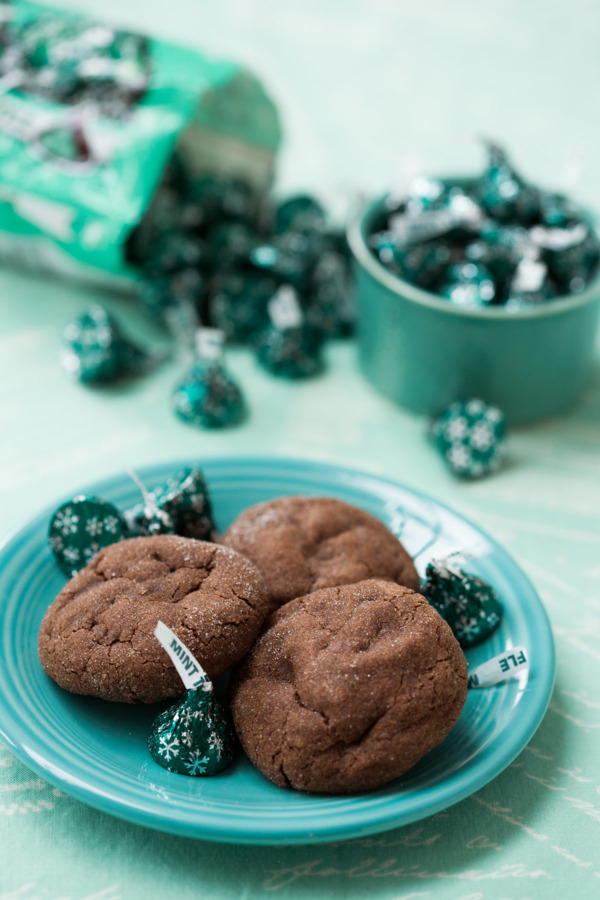 I knew that I had to turn some of these Kisses into the ultimate Christmas cookie.
The cookie base I used is basically a soft chocolate sugar cookie. I'm not one to add cream cheese willy nilly to things (in fact, you could call me somewhat cream cheese averse,) but there isn't a hint of it in the final cookie other than a delicate, pillowy texture that stays soft for days (not that they'll last that long, but still).


I first set out to make a chocolate mint version of the classic Peanut Butter Blossom, but soon discovered that stuffing the cookies was where it's at. They look all innocent on the outside, and then BAM! Mint truffle EXPLOSION.
Sorry for the outburst. I think all the sugar has gone to my head.
Chocolate Mint Truffle Cookies
Soft chocolate sugar cookie recipe stuffed with mint truffle kisses for an unexpected minty surprise!
Ingredients:
1 3/4 cups all-purpose flour
3/4 cup cocoa powder
1 teaspoon baking powder
1/2 teaspoon baking soda
1/2 teaspoon salt
1 1/2 cups granulated sugar, plus more for rolling
1/4 cup (2 ounces) regular cream cheese, room temperature
6 tablespoons (3/4 stick) unsalted butter, melted
1/4 cup vegetable oil
1 large egg
2 tablespoons whole milk
1 teaspoon vanilla
36 Hershey's Mint Truffle Kisses, unwrapped
Directions:
Preheat oven to 350 degrees F. Line a baking sheet with a silicone mat or parchment paper.
In a bowl, whisk together flour, cocoa powder, baking powder, baking soda, and salt. Set aside.
Combine 1 1/2 cups sugar, cream cheese and melted butter in a large bowl and whisk until mixture forms a smooth paste. Whisk in oil. Add egg, milk, and vanilla extract and stir until smooth. Fold in flour mixture until all flour is incorporated and no dry ingredients remain.
Pour 1/4 cup or so of sugar into a small bowl. Dough will be soft, but should still be workable. If not, refrigerate it for 15 to 20 minutes until it is. Use a medium cookie scoop to portion out about 2 tablespoons of dough. Press a kiss in the center, shape into a ball around it, then roll in sugar to coat. Arrange on prepared baking sheet, leaving about 2 inches of space between each cookie.
Bake for 11 to 13 minutes, until cookies are set and cracked. Cool on the baking sheet for 3 minutes, then transfer to a wire rack to cool completely. Store in an airtight container at room temperature for up to 1 week.
Did you make this recipe?
Let us know what you think!
Leave a Comment below or share a photo and tag me on Instagram with the hashtag #loveandoliveoil.