I'm at it again.
Hey, it's almost the end of the season and I've still got empty jars.
I did a tomato jam last year too: that version had a sweet and spicy combination of peaches and peppers in with the tomatoes. It was more like a fancy ketchup than an honest to goodness jam.
This one, however, is jam through and through.
It treats the tomato like the fruit it really is.
If you closed your eyes and ate a spoonful you almost wouldn't guess it was tomato. Some oddly savory strawberry or something. So yes, it's very sweet, which puts it in an odd middle-ground between fruit preserves and tomato sauce. It could really go either way.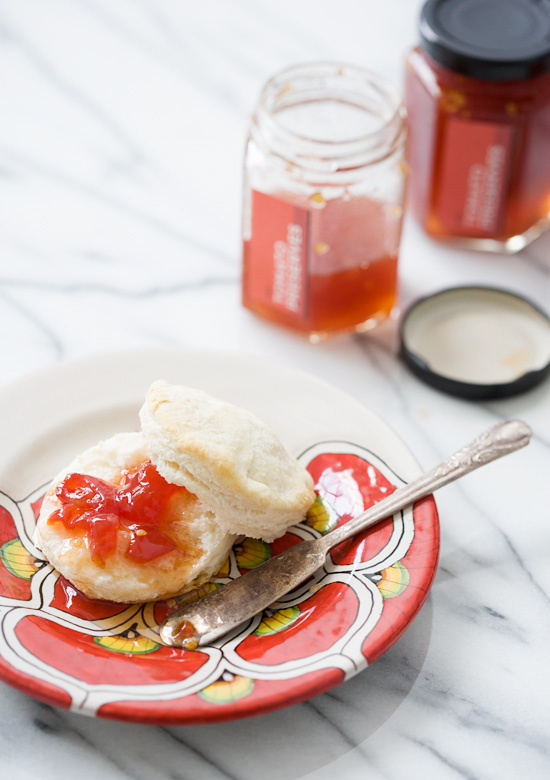 Spread it on a biscuit.
Or better yet, spread it on a biscuit, top it with some bacon and arugula, and call it the fanciest BLT you ever did see (and subsequently eat).
Tomato jam makes the ultimate grilled cheese – it's like having your soup and sandwich in one deliciously toasty package.
And, a burger? How good would these be slathered on a juicy burger?
Unreal.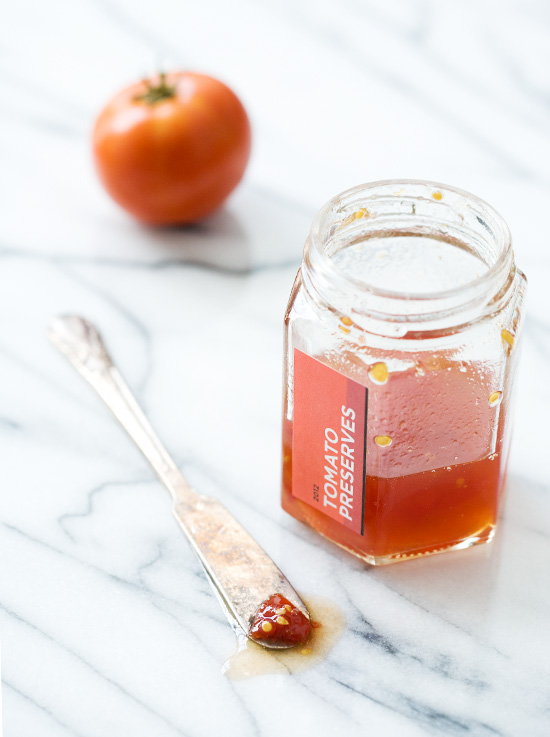 For what it's worth, this is a pretty loose jam, too. Much like the peach lavender jam from earlier this summer. Any and all pectin in this comes from the lemons. So maybe I didn't cook it long enough or maybe I should have thrown in another lemon for good measure, but it is nice not to have to deal with pectin for once. Next year, though, I may play with the texture a bit. This has big chunks of almost jewel-like tomato and tomato skins floating in a sweet jammy syrup. A quick run through a food mill might make it more of a smooth, tomato-jam-butter type spread. But however you prepare it, you won't be disappointed.
Be sure to click through for the recipe and free printable labels! Yippee!
Tomato Preserves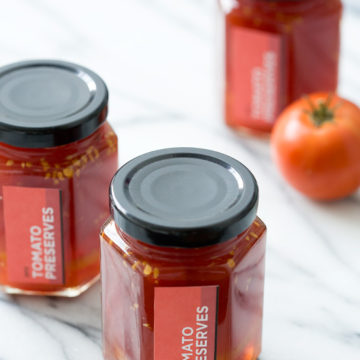 Ingredients:
1 tablespoon mixed pickling spices*
1 (1/2-inch) piece fresh ginger, peeled
4 cups sugar
2 medium lemons, seeded and thinly sliced
3/4 cup water
2 pounds small tomatoes, chopped
*If you don't have any mixed pickling spices, a combination of cinnamon sticks, peppercorns, whole cloves, bay leaf, mustard seeds, whole allspice, whole coriander, and maybe some whole dill, juniper berries, cardamom, or caraway seeds in a similar quantity will work just fine. Whole spices are preferable because you want to be able to remove them from the syrup before canning.
Directions:
Tie spices and fresh ginger in a square of cheesecloth, creating a spice bag.
In a large non-reactive saucepan, combine sugar, lemon slices, water, and spice bag and bring to a boil over high heat, stirring until sugar is dissolved. Reduce heat to medium-high and boil gently for 15 minutes. Add tomatoes and simmer, stirring occasionally, until tomatoes become transparent, about 20 minutes. Remove from heat, cover and let stand 12 to 18 hours in a cool place.
Prepare canner and wash/sterilize 6 half-pint mason (or equivalent) jars. Keep jars in hot (not boiling) water until ready to use.
Pour mixture through a fine mesh sieve to separate syrup, or use a slotted spoon to remove solids and set aside. Discard spice bag. Bring syrup to a boil over high heat, stirring constantly. Boil hard for about 3 minutes, or until thickened. Return tomatoes and lemon to syrup; return to a boil and boil hard for 1 minute. Remove from heat and skim foam (if necessary).
Carefully place one lemon slice in the bottom of each jar. Ladle hot jam on top, leaving 1/4-inch of headspace. Wipe jar rims and threads. Screw on lids and rings. Process in a boiling water bath for 20 minutes. Remove from water and let cool completely, 12 to 24 hours. Check seals. Any unsealed jars should be refrigerated and used within 3 weeks.
Did you make this recipe?
Let us know what you think!
Leave a Comment below or share a photo and tag me on Instagram with the hashtag #loveandoliveoil.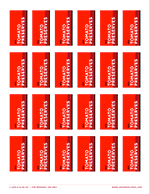 Bonus! I probably don't need to tell you this jam is gorgeous on its own. But add a label and it makes it look like you bought it in a fancy gourmet food store. Can you say, fabulous gift? I for one love giving homemade jam in lieu of wine or nick-knacks during the holidays.
I'm offering these modern jar labels to you, free for personal use. Simply download the printable file, then print onto full-sheet sticker paper (which can be purchased online at OnlineLabels.comor locally at most office supply stores). Cut out the rectangles and apply directly to the the finished jars. These labels should fit most standard mason jars, although if you can find smooth sided jars (ie ones without raised designs on them) that work the best. Curious about the hexagon jars I've used? I ordered them online at SKS Bottle (the 6oz size).
Disclaimer: Copyright Love & Olive Oil. For personal use only. If you post about or share these labels, please credit appropriately and do not link directly to the downloadable file but rather to this post. Please do not distribute these downloadable files. Thank you much!