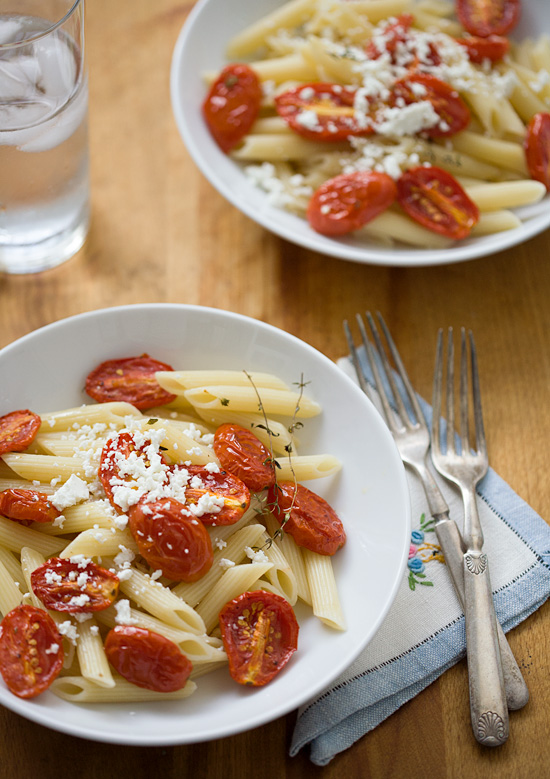 End of season tomatoes seem to get smaller and smaller. The big, juicy pineapples and Cherokee purples from June and July have disappeared, making way for dozens of petite salad tomatoes. These tomatoes, also known as Romas, are fleshier than beefsteak tomatoes which makes them ideal for homemade tomato sauce (more flesh and less juice make for higher yields and thicker sauce). But that takes time. And when you've got an overflowing bowl of over-ripe tomatoes sitting on the hutch and three hungry cats yelling at you and a pile of laundry and a full email box and final edits due on your book the next day and a mess of a living room and dust and cat hair covering every surface, time is the only thing you don't have. Surely not enough time to make a big batch of homemade tomato sauce.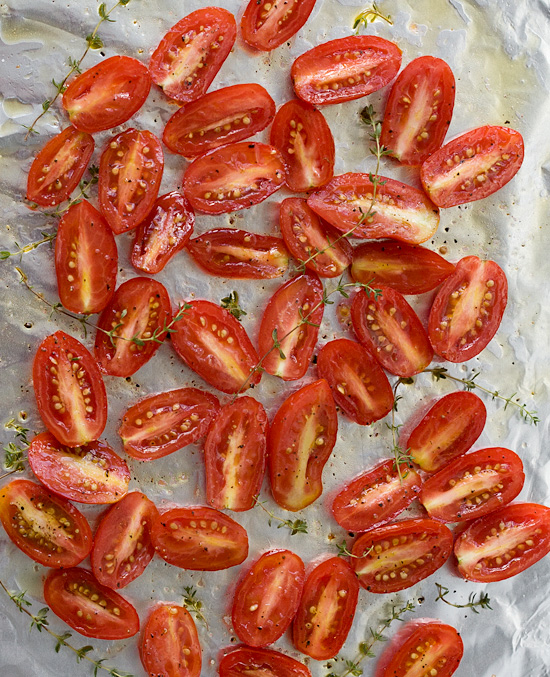 Time for plan B.
Roasting brings out the best in these little gems. They shrivel and bubble and sizzle and shrink, the heat only intensifying the flavors. I threw in some sprigs of fresh thyme, but any herb would do; you could also roast them with whole cloves of garlic or slices of onion or shallot too. Put them on top of some pasta and you have yourself a dinner in no time.
Because, really, who needs tomato sauce anyway?
Roasted Tomato Penne with Goat Cheese
Ingredients:
12 ounces roma tomatoes, trimmed and halved (quartered if large)
1/4 cup olive oil
3 sprigs fresh thyme
salt and pepper, to taste
1 pound penne pasta, cooked according to package directions
1/3 cup goat cheese
Directions:
Preheat oven to 375 degrees F. Line a baking sheet with aluminum foil or parchment paper.
Toss halved tomatoes with olive oil, thyme, salt and pepper. Arrange on prepared baking sheet in a single layer, cut side facing up. Roast for 25 to 30 minutes or until tomatoes are shriveled and juicy.
Divide pasta among serving bowls. Top with tomatoes and crumbled goat cheese and serve.
Did you make this recipe?
Let us know what you think!
Leave a Comment below or share a photo and tag me on Instagram with the hashtag #loveandoliveoil.