Be sure to pick up a copy of today's Tennessean, where this recipe for Homemade Applesauce (excerpted below) is featured in my monthly blogs column. And don't forget to click through to the end of this post where you can download some adorable labels for your newly-canned applesauce!
It's hard to think of fall and not think of applesauce, despite the heat that still reminds us we are not through with summer just yet. But there is no ignoring the fact that apple season is upon us nonetheless. The markets are overflowing with Galas, Golden Delicious, and Pink Ladies just waiting to be peeled, processed, and pureed with sugar and spice and everything nice.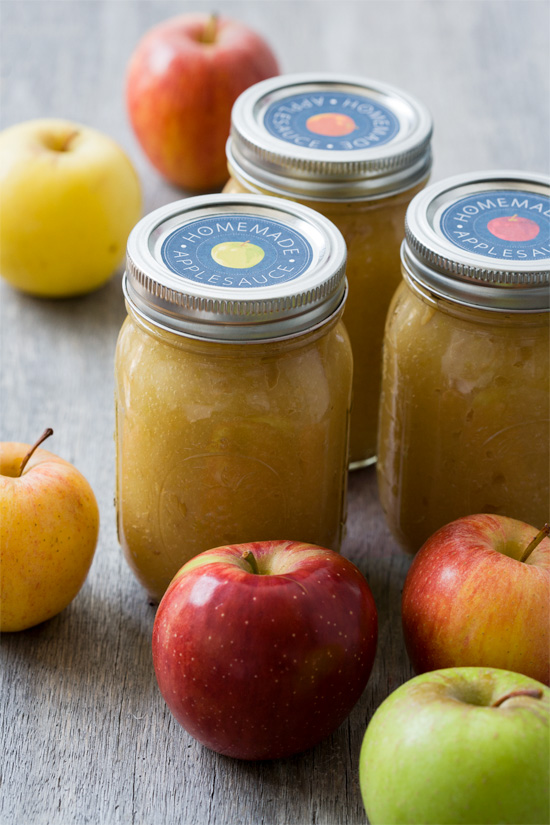 Homemade applesauce is a great introduction into canning if you haven't done it before. There is no complicated cooking procedure and you don't have to worry about gel-tests or pectin. Just core, cook, and process. You'll want to give yourself a solid 2 to 3 hour block of free time with no interruptions during the process, especially if this is your first time canning. But the result will be eight gorgeous jars of homemade applesauce.
If you can bring yourself to part with them, homemade applesauce makes a wonderful hostess gift or token of appreciation during the holidays. But no one will blame you if you decide to hoard the entire batch all to yourself. It's so good, you may never buy store bought again!
Going Local? There are multiple orchards in middle tennessee where you can purchase local apples or, better yet, pick your own. For applesauce, windfall apples (also known as "seconds" or "culls") are the most economical option if you can find them. While they may not be the prettiest apples, but no one will know the difference but your wallet.
Homemade Applesauce
Ingredients:
12 pounds apples (a mixture of sweet apple varieties, such as Gala, Fuji, Rome, Golden Delicious, or Pink Lady will make the best applesauce)
2 lemons, juiced (about 4 tablespoons)
1/2 to 1 cup granulated sugar (more or less to taste)
1 teaspoon cinnamon (optional, to taste)
Other spices as desired, such as nutmeg, allspice, or cloves (optional)
Directions:
Prepare canner and wash/sterilize 8 pint-size mason jars. Keep jars in hot (not boiling) water until ready to use. Warm lids in hot (not boiling) water to sterilize and soften seal.
Core and quarter apples, removing any obvious bruises or blemishes. Place apples in a large, heavy saucepan filled with 1 inch of filtered tap or spring water. Cover and simmer over high heat until apples are soft, about 10 to 20 minutes (cooking time will depending on the variety and ripeness of your apples).
Run cooked apples through a food mill to remove skins and seeds. Return to saucepan and bring to a simmer. Add lemon juice, along with sugar and spices to taste (the sweeter your apples, the less sugar you will need. Start with a little bit, then taste, and add more as desired).
Ladle hot sauce into jars, leaving 1/2-inch of headspace. Remove any air bubbles, and carefully wipe jar rims and threads. Center lids and screw on ring bands until fingertip-tight. Place jars in water bath, ensuring they are completely covered by at least 1-inch with water. Bring to a full rolling boil and process for 20 minutes. Uncover and remove from heat; let sit for 5 minutes to allow the pressure to equalize. Carefully lift jars from water and arrange on a wire rack. Let cool completely, undisturbed, for 12 to 24 hours. Check seals. Store jars in a cool, dark place for up to 1 year. Any unsealed jars should be refrigerated and used within 3 weeks.
**No food mill? No problem. While a food mill is the quickest and easiest way to make applesauce, you can do it without one. You'll want to peel your apples first before coring and cooking them. After cooking, mash with a potato masher for a chunkier sauce, or puree in a food processor or blender (in batches if necessary) for a smoother sauce.
Did you make this recipe?
Let us know what you think!
Leave a Comment below or share a photo and tag me on Instagram with the hashtag #loveandoliveoil.
Bonus! Take your homemade applesauce up a notch with gorgeous labels. Simply download the printable file, then print onto full-sheet sticker paper (which can be purchased online at OnlineLabels.com or locally at most office supply stores). Cut out the circles and apply directly to the lids of the finished jars. These labels are perfectly sized for standard canning jar lids.
Disclaimer: Copyright Love & Olive Oil. For personal use only. If you post about or share these labels, please credit appropriately and do not link directly to the downloadable file but rather to this post. Please do not distribute these downloadable files. Thank you much!