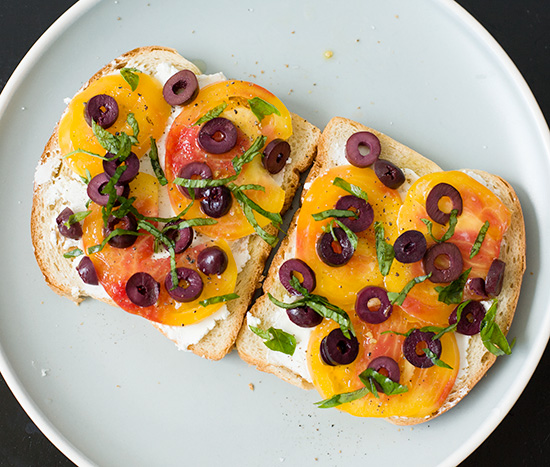 I've said it before and I'll say it again. There are few things that can compare to the Tennessee tomato. It's one of the few things that makes the heat and humidity of summer bearable.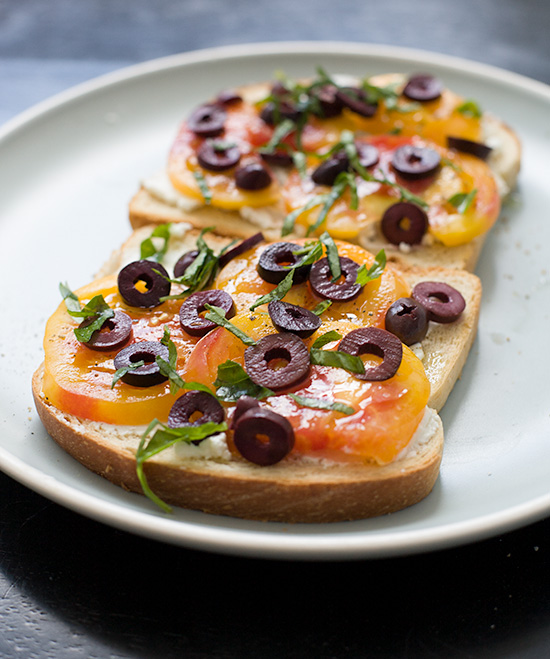 So much of our lives are spent waiting. Waiting for the weekend. Waiting for the next paycheck. Waiting for the fall and cooler weather.
But what if you just took a breath, forced yourself to slow down, to appreciate what you have in this very moment.
It's not hard to do when you're savoring the perfect simplicity of this tomato sandwich. No amount of heat can ruin the fact that this moment is pretty darn spectacular.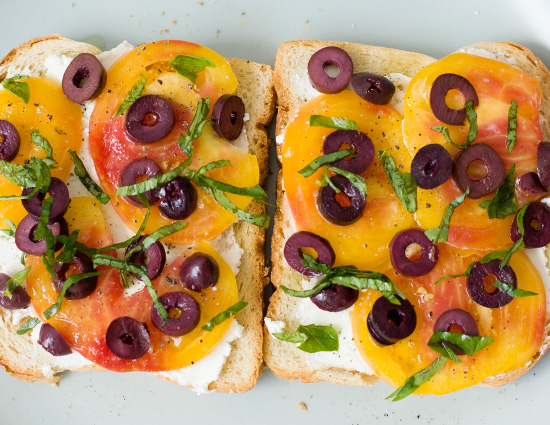 I'd argue that there is no more perfect lunch. Lightly toasted bread spread with tangy goat cheese, topped with slices of juicy heirloom tomatoes, and dotted with slices of briny kalamata olives and ribbons of fresh basil.
You could use mozzarella cheese. You could add garlic and capers or a drizzle of balsamic vinegar. The only critical element is the tomato: it must be one of those tomatoes that makes your eyes roll back in your head. The kind you'd bite in to like an apple if no one was watching. Homegrown. Perfectly ripe. Gnarly and wrinkly and ugly in its beauty. Red, green, yellow, purple, or orange or any shade in between. Maybe you grow them in your backyard (color me green with envy) or maybe you buy them at your local farmer's market. Either way, this sandwich can only be as extraordinary as the tomato it showcases.
Open-Faced Heirloom Tomato Sandwiches
Ingredients:
4 slices sandwich or crusty bread, lightly toasted
1/2 cup goat cheese, room temperature
2 medium heirloom tomatoes (about 1 lb), cored and sliced
10 kalamata olives, pitted and sliced
1 handful fresh basil leaves, sliced into thin ribbons
extra virgin olive oil
salt and freshly ground black pepper, to taste
Directions:
To assemble sandwiches, spread goat cheese evenly over toasted bread. Arrange a single layer of tomato slices on top. Sprinkle with olives and basil; drizzle with olive oil and season to taste with salt and pepper.
Did you make this recipe?
Let us know what you think!
Leave a Comment below or share a photo and tag me on Instagram with the hashtag #loveandoliveoil.