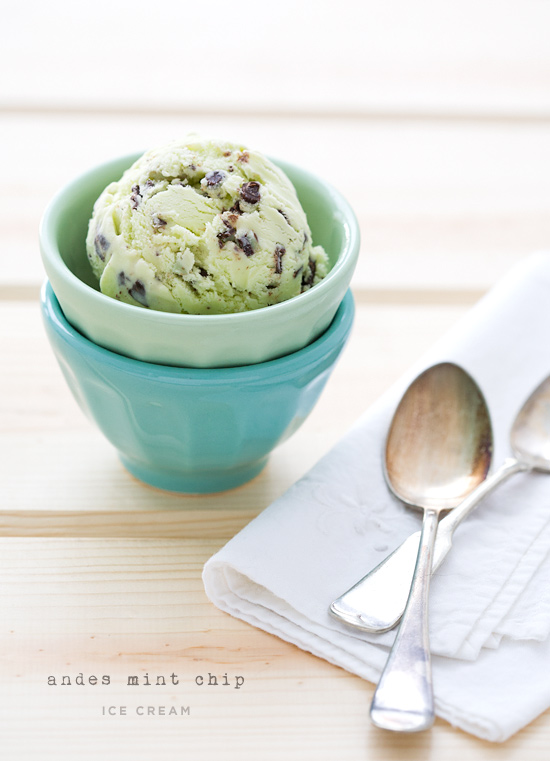 There is mint, and then there is creme de menthe. Do not confuse the two, for other than a lingering freshness and tongue-tingling sensation, they are as different as two different mints can be.
What is creme de menthe? Think Andes mints. It's a much creamier mint flavor, not nearly as sharp or spicy, that pretty much requires a pairing with dark chocolate.
This ice cream makes creme de menthe even cooler. Literally. The pale green ice cream is speckled with Andes mint baking chips for a double dose of minty sweetness.
Taylor found these Andes mint baking chips at Walmart. I don't know about you but Andes mints have always been one of my favorite treats. I could easily eat an entire box in one sitting. Restaurants that delivered Andes mints with your check instead of the stupid little starlight mints always got extra points in my book. So it was no surprise that these chips made me very excited. I enjoyed the first bag so much that I sent Taylor back to get more. On a Saturday afternoon. Cruel, I know. I don't know if there's such thing as a good time to go to Walmart, but Saturday afternoon has got to be the worst. Sorry, dear, but I hope the ice cream was worth it!
If you can't find the baking chips, make your own by chopping up some Andes mints yourself.
To further flavor the ice cream I used a few drops of creme de menthe flavoring oil, but you could use straight up creme de menthe (available in liquor stores) as well. Go easy on it, the last thing you want is ice cream that tastes like mouthwash.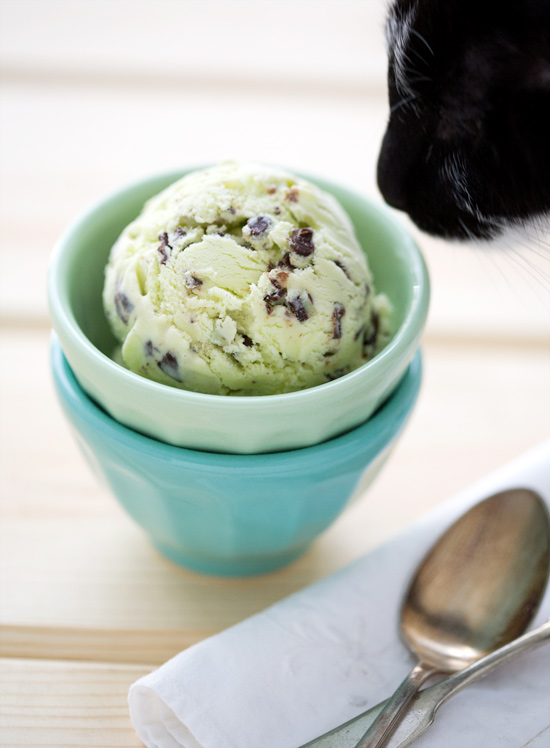 Such is life.
If you think this ice cream is pretty fantastic as is, just wait until you see what I did with it (you know, other than stuffing my face). It's worth the wait, I promise.
Creme de Menthe Chip Ice Cream
Ingredients:
2 cups heavy cream, divided
1 cup whole milk
2/3 cup granulated sugar
Pinch salt
4 egg yolks
1/2 teaspoon vanilla extract
3 to 4 drops creme de menthe flavoring oil, or 1 tablespoon creme de menthe liquor
3 to 4 drops green food coloring (optional)
1 cup Andes mint chips or chopped Andes mints
Directions:
Pour 1 cup of the heavy cream into a medium heatproof bowl and nest it inside a larger bowl of ice water; set aside.
In a saucepan, combine the remaining 1 cup heavy cream, milk, sugar, and salt. Cook gently over medium heat, stirring frequently, until sugars have dissolved and mixture starts to steam. Remove from heat.
In a small bowl, whisk egg yolks. Slowly whisk in some of the warm cream mixture, 1/3 cup at a time, until about half of the cream mixture has been incorporated and egg mixture is warm to the touch. (Be sure to gradually whisk in the warm cream; you want to temper the eggs, not cook them.)
Pour egg mixture back into saucepan and return to medium heat, stirring constantly, until mixture thickens slightly and coats the back of a spatula, about 5 to 7 minutes, or until it reaches approximately 165ºF to 170ºF. Do not let it boil. Pour mixture through a fine-mesh sieve into the nested bowl of cold cream, discarding any solids left behind. Add vanilla, creme de menthe, and food coloring (if using) and stir until mixture is cool.
Cover bowl with plastic wrap, carefully pressing it onto the surface of the cream mixture to prevent a skin from forming. Refrigerate until completely chilled, at least 3 hours or preferably overnight.
Churn ice cream according to manufacturer's instructions. When ice cream is the consistency of soft-serve, stir in chips and transfer to a freezer safe container; freeze overnight or until firm.
Did you make this recipe?
Let us know what you think!
Leave a Comment below or share a photo and tag me on Instagram with the hashtag #loveandoliveoil.