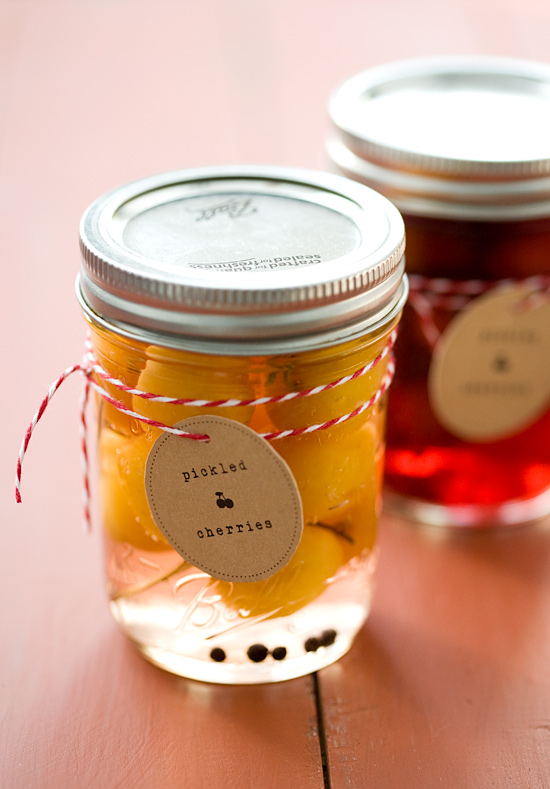 A surplus of cherries is a problem I'm not used to having. But alas, I was faced with a few pounds of cherries, more than we could eat before they went bad.
As I flipped through my canning books looking for a cherry jam recipe, something else caught my eye.
Pickled cherries.
It sounded both bizarre and intriguing at the same time. I'd heard of people pickling fruit but had never actually tried it.
And since our busy schedules left very little time for a typical batch of canning, the fact that the pickle could be made and canned in under 20 minutes was extra appealing.
And look, ma, pits! The cherries are pickled whole so the stray-pit-problem was no longer an issue.
I made two batches, one with sweet Bing cherries and spiced with cinnamon, cloves, and star anise. The other soaked the Rainier cherries in a vinegar brine with black peppercorns and bay leaf. The flavor differences were subtle, but one came out tasting (as Taylor put it) "like Christmas," while the other was a tad more savory.
As for what to do with them, I had a sheet of leftover puff pastry dough, which I cut into rounds and formed into cups. Filled with goat cheese and topped with chopped pickled cherries, they made for an unusually delicious appetizer. The cherries come out of the brine tasting both tart and sweet, like an amplified version of the fresh fruit we love so much. I think they'd also be stellar tossed in a salad or thinly sliced on a juicy burger.
Pickled fruit – who knew?
(Psst! Download the printable labels for this jam here!)
Pickled Sweet Cherries
Ingredients:
Version 1 – Spiced Brine:
1 3/4 cups white vinegar
1 3/4 cups granulated sugar
3/4 cup water
2 cinnamon sticks (about 4-inches long)
2 teaspoons whole cloves
2 whole star anise
2 pounds dark sweet cherries with stems
Version 2 – Savory Brine:
1 3/4 cups white vinegar
1 3/4 cups granulated sugar
3/4 cup water
black peppercorns (4 to 5 per half-pint jar)
bay leaves (one per jar)
2 pounds Rainier sweet cherries with stems
Directions:
Prepare canner and wash/sterilize 4 to 5 half-pint mason (or equivalent) jars. Keep jars in hot (not boiling) water until ready to use. Warm lids in hot (not boiling) water to sterilize and soften seal.
Combine vinegar, sugar, water, and spices in a small saucepan. Bring to a boil; reduce heat and boil gently, uncovered, for 10 minutes.
Remove hot jars from canner and pack cherries into jars. Pour hot brine over cherries to within 1/2-inch of rim. Wipe jar rims and threads. Screw on lids and rings. Process in a boiling water bath for 10 minutes (for half-pint jars, process 15 minutes for larger pint jars). Remove from water and let cool completely, 12 to 24 hours. Check seals. Any unsealed jars should be refrigerated and used within 3 weeks.
Did you make this recipe?
Let us know what you think!
Leave a Comment below or share a photo and tag me on Instagram with the hashtag #loveandoliveoil.