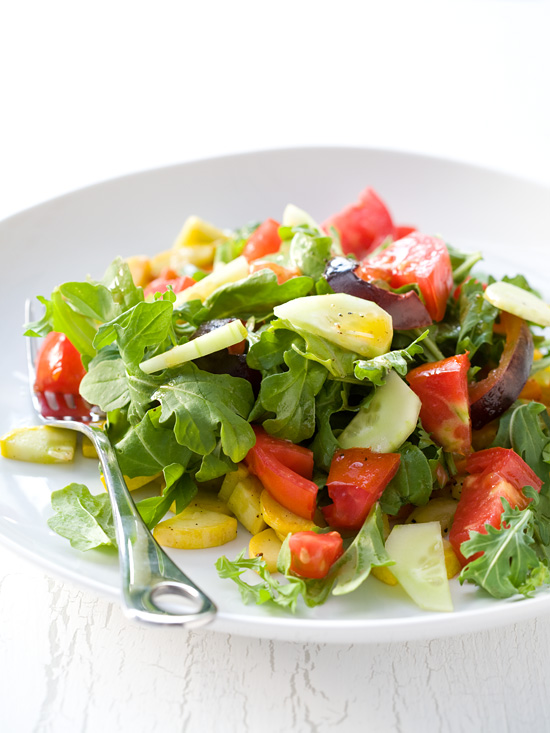 May as well just rename this blog "Sweets & Salads," because that is what it has become.
I have to say you're not the only one who's noticed that I've been short on posting lately. Let's just say that we're in the final push to finish the photography for Book #2. And when each shot takes, on average, 3 hours, and leaves us with more than enough leftover food for lunch and dinner each day, not much time (or stomach space) is left for new recipes.
Soon. I promise.
This was another one of Taylor's brilliant salads. The man has a knack, I tell you. A humble bundle of CSA veggies quickly become a masterpiece on a bed of greens. I sat down, took one look at this bowl (unstyled, mind you), and immediately grabbed my camera. My husband: the salad whisperer.
It's got warm squash and carrots, fresh cucumber, and tomatoes so ripe they could burst. Top it with some freshly shaved parmesan and you have yourself one heck of a salad.
CSA Salad
Ingredients:
1 tablespoon olive oil
2 yellow squash, chopped
2 large carrots, chopped
1 small cucumber, sliced
1 large tomato, chopped
4 cups arugula
freshly grated parmesan cheese, for topping (optional)
For Dressing:
3 tablespoons olive oil
1 tablespoon sherry vinegar
1 teaspoon agave or honey
salt and pepper, to taste
Directions:
Preheat a splash of olive oil in a skillet over medium heat. Add squash and carrots and saute until tender, 4 to 5 minutes. Season with salt and pepper.
For dressing, whisk together olive oil, vinegar, and agave until incorporated. Season with salt and pepper. Toss with arugula and divide among serving bowls. Top with sauteed squash and carrots, cucumber, tomato, and parmesan (if desired).
Did you make this recipe?
Let us know what you think!
Leave a Comment below or share a photo and tag me on Instagram with the hashtag #loveandoliveoil.