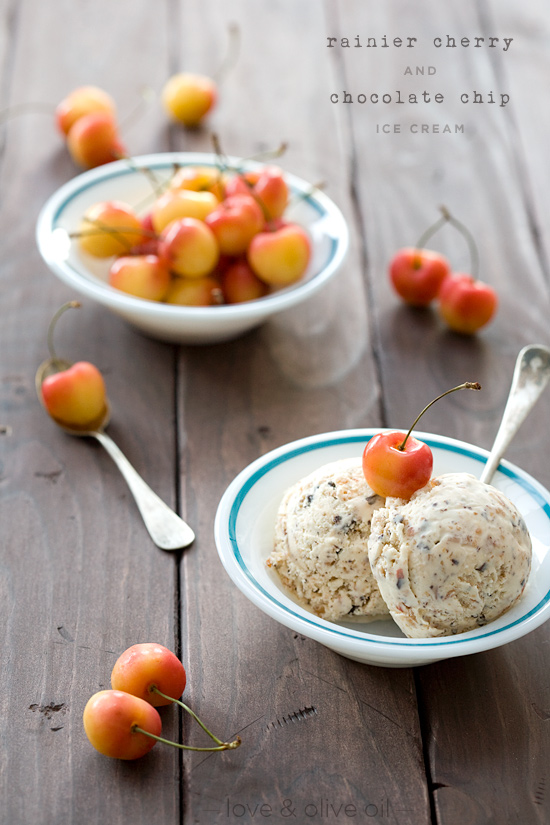 We've just returned from a week-long trip to Colorado.
The magical land where the fruit stands line the mountain roads like mile markers; ramshackle shacks and buildings with hand-painted signs, heralding the juicy treasures within.
I'm not knocking Tennessee or anything, but being surrounded by such a bounty of fruit that is often expensive and hard to come by at home, my eyes go wide and my head starts spinning.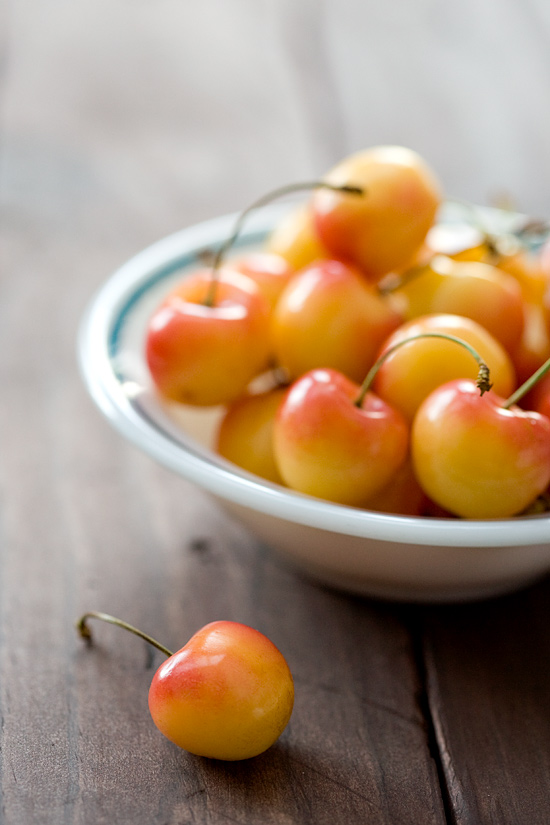 I've been known to "smuggle" fruit home from Colorado before. Last time, it was apricots, which found their way into cookies, jam, and even pizza. This year, however, it was all about the cherries.
I was too late for the pie cherries, but we just so happened to be visiting during the peak of sweet cherry season. Driving the back roads through the orchards, I couldn't help but oogle the ripe red fruit hanging from the trees.
All the while stuffing my face with as many as my stomach could take, I was scheming. Figuring out how I could get the most fruit possible home with me, and crossing my fingers that TSA wouldn't decide that cherries too closely resemble a "gel."
Before I get to this ice cream recipe, a quick disclaimer: I hereby renounce any responsibility for dental expenses accrued as a result of consuming this ice cream, which may or may not contain pits.
Rewind. I made a batch of this super quick ice cream (I'm talking zero to ice cream in less than 30 minutes) at my mom's earlier this week, trying to use up some bruised cherries and a carton of cream.
I threw the cherries and cream into the food processor and flipped the switch. And there it was, the unmistakable sound of a pit. In the food processor.
Shit.
Out came the sieve, where I then attempted to strain out the chunks and ferret out the lone pit that had made it into my ice cream.
I strained. I searched. I stressed.
No pit to be found.
I left two containers of this ice cream back home, and (as far as I know) no one has broken a tooth. Maybe I was imagining things, and there really wasn't a pit after all.
Pit or no pit, this whim of a recipe turned out so good that I knew I had to recreate it as soon as I got home, if only to share with you (but really, I just wanted more for myself.) Think Cherry Garcia but with fresh Rainier cherries.
Now fast forward to last night. About 4 pounds of cherries (half Rainier and half Bing) had successfully navigated airport security with nary a bruise, tucked away in a cooler bag cleverly disguised as my purse.
Once again, I threw the (PITTED! I swear I pitted them) cherries into the food processor, hit the switch, and…
There it was. The unmistakable rattling of a PIT.
Shit. I did it again. Two batches in a row.
If you didn't know, I have a tainted history with stone fruit. I once made a Peach Gazpacho (infamously known as peach-pit soup) where a peach pit made its way into the blender. A true testament to the VitaMix, the pit was practically pulverized. But not enough so that it wasn't noticeable, in the form of tiny, rock-hard chunks that could very well have broken a tooth.
Oops.
Maybe I should stick to stone-less fruit from now on, before someone gets hurt.
Rainier Cherry Chocolate Chip Ice Cream
Ingredients:
1 1/2 cups heavy cream
1/2 cup almond milk
8 ounces sweet cherries (such as Rainier or Bing), pitted
3/4 cup granulated sugar
1/4 teaspoon vanilla extract
1/4 teaspoon almond extract
pinch salt
3 ounces dark chocolate, chopped
Directions:
Combine cream, almond milk, 6 ounces of cherries, sugar, vanilla extract, almond extract, and salt in the bowl of a food processor. Pulse until cherries are finely chopped. Add remaining cherries and pulse briefly until coarsely chopped.
Churn in an ice cream maker according to manufacturer's directions. At the very end, mix in chopped chocolate. Transfer to a freezer safe container and freeze until firm, at least 4 hours or overnight.
Did you make this recipe?
Let us know what you think!
Leave a Comment below or share a photo and tag me on Instagram with the hashtag #loveandoliveoil.