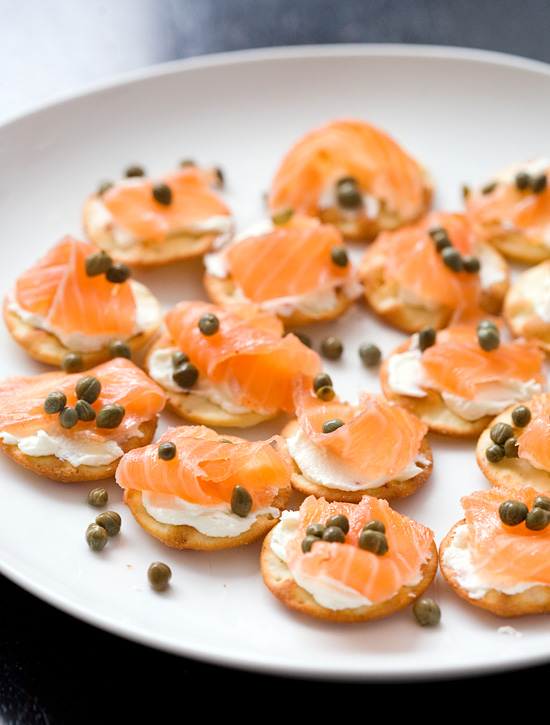 Gravlax is usually one of those "special occasion only" type of things.
Like Easter sunday. Or the rare brunch out. Or visiting grandma.
Grandma would always have a fresh package of lox waiting for me, to be draped on top of a toasted bagel with a smear of cream cheese.
Visiting grandma, every morning was like Sunday brunch.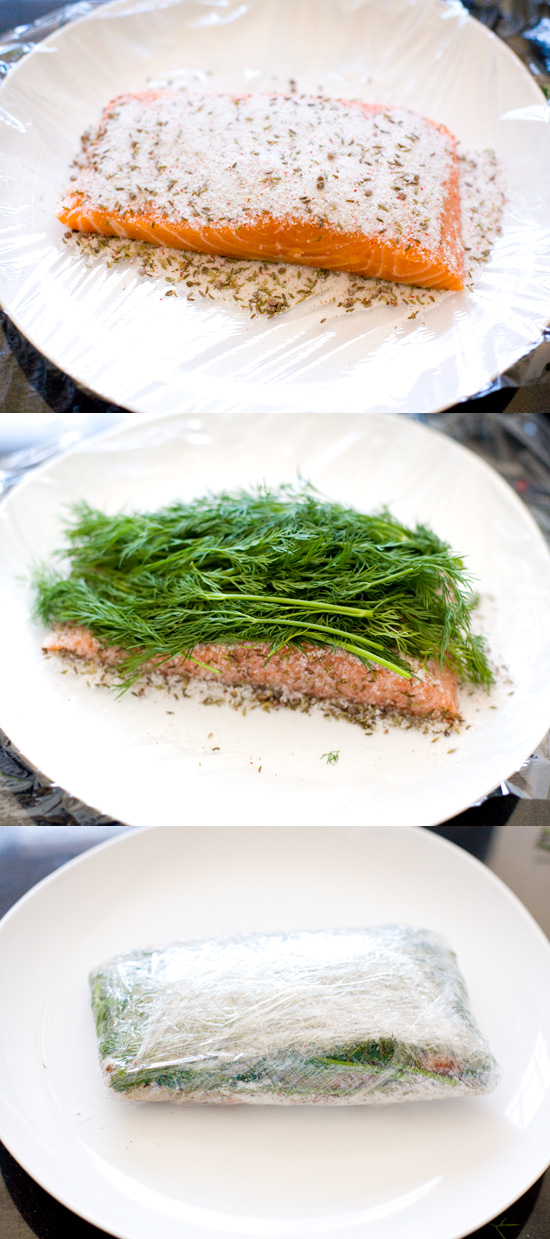 I guess I never realized before that lox was something you can easily make at home. (Gravlax, of course, not to be confused with Nova lox which is cold smoked, that might be a bit harder to reproduce at home). Gravlax is the traditional cured salmon, the name literally means "grave salmon", as fishermen would bury their catch in the sand just above the high-tide line. The salt in the sand would cure and preserve the salmon.
We can replicate this process at home by "burying" the salmon in a mixture of kosher salt, sugar, and herbs and spices. Dill is pretty common, and I admit that as a self-described dill hater, this is one of the few situations where it is acceptable to use the pungent herb. Use it quickly though, as even a day in the crisper will give your strawberries and lettuce an unmistakable eau-de-dill. Gross.
The recipe we followed called for white peppercorns, fennel, and caraway. White peppercorns not being something we had on hand, we swapped in some pink peppercorns we had picked up a while back and had yet to use. We also used a splash of gin, thinking the juniper flavor would pair nicely with the dill. But you can use aquavit (as called for in the original), I've also seen it done with whiskey. That's next on our list to try.
The result?
Let's just say grandma would be proud.
Homemade gravlax can only be described as buttery. Ever so sweet and buttery. A bit on the salty side, so it's best enjoyed with accompaniments like crackers and goat cheese. For a few days and less than $10 investment, we have ourselves one beautiful hunk of gravlax. For that price, it's perfectly acceptable to enjoy it for breakfast or lunch any old day, not just the special ones. Though a treat like this is enough to turn a normal day into a special one.
Homemade Gravlax
Ingredients:
2 tablespoons pink or white peppercorns
1 tablespoons fennel seeds
1 tablespoon caraway seeds
2/3 cup kosher salt
1/3 cup sugar
2-lb. center-cut, skin-on salmon filet
1 cup dill sprigs, plus 1/3 cup chopped dill
1?4 cup gin or aquavit (optional)
Directions:
In a small food processor, pulse peppercorns, fennel seeds, and caraway seeds until coarsely ground; combine with salt and sugar. Spread out one large piece of plastic wrap; sprinkle with half the salt mixture. Place salmon filet on top, skin side down. Cover with remaining salt mixture, dill sprigs, and gin. You want to be sure the entire fillet is covered.
Fold plastic around salmon; wrap tightly with more plastic wrap. Place the fish in a dish and refrigerate for 48–72 hours, flipping the packet every 12 hours. When fully cured, the gravlax will darken in color and be firm to the touch at the thickest part.
Unwrap salmon, discarding the spices, dill, and brine. Rinse the filet under cold running water and pat dry with paper towels.
Place gravlax skin side down on a cutting board. With a long, narrow-bladed knife, slice gravlax against grain, on the diagonal, into thin pieces. Refrigerate any remaining gravlax, wrapped in plastic wrap, for up to 2 weeks.
Did you make this recipe?
Let us know what you think!
Leave a Comment below or share a photo and tag me on Instagram with the hashtag #loveandoliveoil.