I'm sure I'm not the only one who regularly smuggles candy into the movie theater. Heck, I've even stuffed bags full of popcorn into my purse to bypass the ridiculously overpriced and overbuttered snacks they sell there. But that's beside the point.
Sixlets used to be my stand by movie candy. I'd stop by the market before showtime and grab a pack or two of the colorful little bits. Granted, it was probably not the most inconspicuous of choices, seeing as they come in little cellophane sleeves that crinkle like cracked leaves as you slide the candies out with your teeth. Sorry, fellow movie patrons. My bad.
Eventually I grew up and graduated to more "mature" movie candies like Jr. Mints and Milk Duds. I'll admit it had probably been 10 years since I had a sixlet.
So when I discovered recently that you could buy them in bulk, in much prettier colors, I couldn't resist.
Other than just eating them right out of the (non-cellophane-wrapped) bag, I tried to think of what else I could do with them. And swapping them for chocolate chips in a massive, chewy cookie seemed like a fabulous idea.
While the end product was incredibly tasty, the sixlets aren't quite as oven-friendly as chocolate chips or even m&ms. They bleed. In fact, I almost called these "Paintball Cookies" because the melted sixlets oozed into the surrounding cookie much like a splattered paintball. A delicious. Candy coated. Chocolate paintball.
Jumbo Sixlets Cookies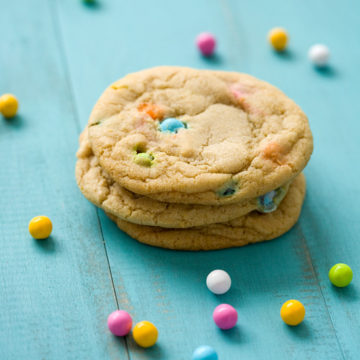 Ingredients:
2 cups all-purpose flour
1/2 teaspoon baking soda
1/4 teaspoon salt
3/4 cup (1 1/2 sticks) of salted butter, melted and cooled to room temperature
1 cup brown sugar
1/2 cup sugar
1 egg + 1 egg yolk, at room temperature
2 teaspoons vanilla extract
1 cup sixlets (substitute m&m's or chocolate chips)
Directions:
Preheat oven to 325 degrees F. Line baking sheets with parchment paper.
Sift together the flour, baking soda and salt; set aside. In another bowl, mix together the melted butter and sugars until smooth. Add the egg, egg yolk, and vanilla. Mix in the dry ingredients until dough comes together. Stir in sixlets.
Roll dough by the 1/4-cupful into golf-ball size balls. Arrange on prepared cookie sheets, leaving about 2 inches between then.
Bake for 15 to 17 minutes (or about 10 to 12 minutes for smaller cookies), until the edges are lightly golden and center is puffed. Allow to cool on baking sheets for a few minutes, then transfer to wire racks to cool completely.
Did you make this recipe?
Let us know what you think!
Leave a Comment below or share a photo and tag me on Instagram with the hashtag #loveandoliveoil.