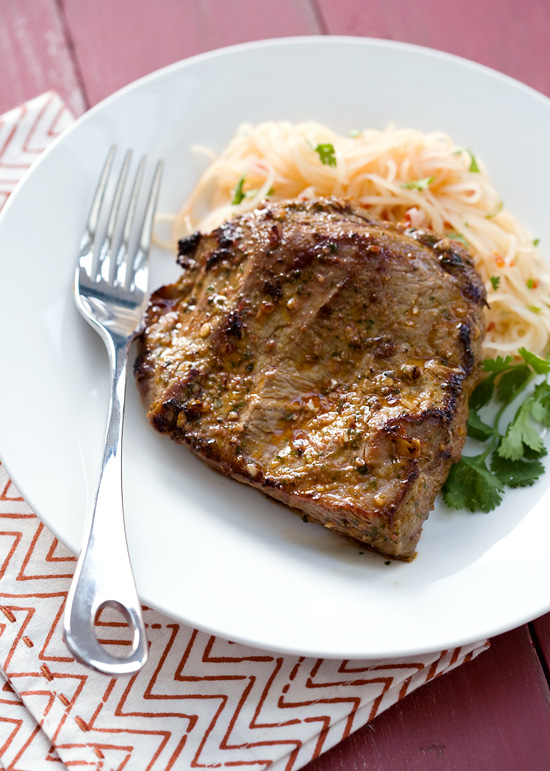 I've made it my goal to sift through my skyscraper of food magazines. The ever-growing pile that sits in our living room. It had been nicely arranged on the shelf, but when my dishes and props collection rapidly expanded during the shooting of my cookbook, the magazines were relegated to the corner to make room for stacks of plates. The intention was to go back through them, rescue the forgotten recipes, and recycle.
That was 6 months ago.
Although I have been shamefully lazy in completing this task, I do have to say that the system I discovered puts the 3-ring-binder of olde to shame. Enter, the iPad, and the recipe management app called Paprika. It's not a free app, but it's well worth the cost.
Typically, when a new issue of my favorite foodie rag arrives, I flip through it once, dog-earing any recipes that sound appetizing. If it happens to be a Monday night, when I'm usually planning our weekly meals, I'll include a few of those recipes on the menu. But then? What about the rest of the recipes that I may not have flagged the first time or used during that week? Lost and forgotten. Buried in a pile of glossy paper.
Thinking about all those lost recipes makes me sad.
One of these days, I'll actually make it through the pile. Saving and categorizing all of the appetizing recipes by magazine, category, season… whatever makes sense at the time. And then, during future meal-planning sessions, I can simply scroll through the digital skyscraper (which is so much more manageable than the glossy paper one), picking and choosing based on what we have on hand, what needs to be used up, what is fresh and seasonal at the market.
This was one of those recipes, forgotten the first time around, and rediscovered. We served the spicy beef (seared in a heavy skillet, but it could also be grilled as described in the original recipe) with a cellophane noodle salad, tossed with a dressing of soy sauce, fish sauce, sesame oil, and spice. Lost. And found. Cooked. And thoroughly enjoyed.
Now if I could just get through the rest of the pile…
Spicy Thai Steak
Ingredients:
2 tablespoons basil leaves
2 tablespoons cilantro leaves
4 peeled garlic cloves
1 tablespoon sambal oelek or other Asian chile sauce
1 tablespoon Asian fish sauce
1/2 teaspoon finely grated lemon zest
1/2 teaspoon finely grated lime zest
1/4 cup vegetable oil
2 flat iron steaks
Directions:
In a mini food processor, combine the basil, cilantro, garlic, sambal oelek and fish sauce and pulse until finely chopped. Add the lemon and lime zests and oil and pulse until fairly smooth.
Rub the marinade on the steaks and let stand at room temperature for at least 30 minutes or refrigerate for up to 24 hours.
Preheat a heavy skillet over medium-high heat. Sear the steaks for 3-4 minutes per side, or until medium-rare. Remove from heat and lightly cover with foil. Let rest for 5 minutes before slicing.
Did you make this recipe?
Let us know what you think!
Leave a Comment below or share a photo and tag me on Instagram with the hashtag #loveandoliveoil.