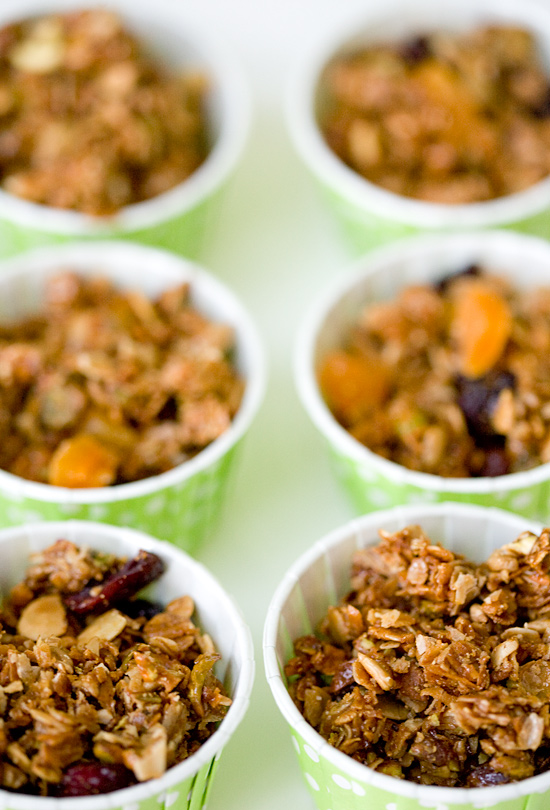 You may be surprised when I tell you that this treat was the first to disappear off the dessert table. Gone. All of it.
My friend and fellow food blogger Erin of Erin's Food Files offered to bring this addictive snack as soon as I revealed the theme of the party. And while it wasn't shocking green like the rest of the desserts, the olive oil flavor really shines through. The granola was a welcome salty escape from the sea of lime green sugar.
What Erin has to say about it:
I was thrilled when Lindsay invited me to her L&OO 5 year celebration, and honored when she asked if there was anything I wanted to contribute. I immediately knew I wanted to share this Olive Oil Granola, because it fit the "theme". Plus, it has been referred to as "crack" by people I have shared it with, so I knew I wasn't alone in liking it!
I like to say it was a fortunate mistake that this was the first granola I ever made. I was knocked away at how amazing it tasted. While I have tried a handful of other granola recipes since that first fateful occasion, and they've all been good, they pale in comparison to this recipe. It's like your first time on an airplane, you fly in a private jet. And so, I've made this many times, each time doing something a little different. Sometimes I've used all honey, sometimes I've used all maple syrup, for the batch I took to Lindsay's I used both, and a touch of sorghum too. I also added dried apricots & pepitas to that batch as well. The olive oil and salt are what really set this apart from other recipes. The olive oil adds a rich full bodied flavor, and the salt balances the sweetness and brings out the flavors. The cardamom adds an extra "hmm… what is this?" flavor, so don't skip the cardamom!
Olive Oil Granola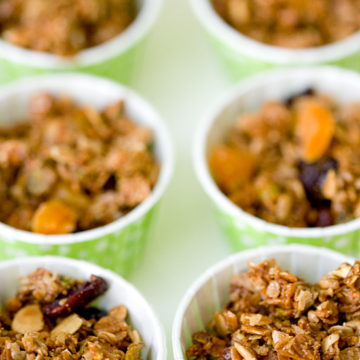 Ingredients:
2 cups old-fashioned rolled oats
1 cups raw pistachios, hulled & coarsely chopped
1/3 raw sunflower seeds, hulled
1/4 cup pepitas
1/2 cup coconut flakes (sweetened or unsweetened, your preference)
1/4 cup pure maple syrup
1/4 cup honey
1/4 cup extra virgin olive oil
1/4 cup packed light brown sugar
1/2 teaspoon + 1/4 teaspoon kosher salt
1/4 teaspoon ground cinnamon
1/4 teaspoon ground cardamom
1/2 cup chopped dried cherries
1/3 cup dried apricots coarsely chopped
Directions:
Preheat oven to 300 degrees. In a large bowl, combine oats, pistachios, sunflower seeds, pepitas, coconut flakes, maple syrup, honey, olive oil, brown sugar, salt, cinnamon and cardamom. Spread mixture on a rimmed baking sheet in an even layer and bake for 45 minutes, stirring every 10 minutes, until golden brown and well toasted.
Transfer granola to a large bowl and add dried cherries & apricots, tossing to combine. Serve atop greek yogurt, fresh ricotta, or anything you'd like.
Did you make this recipe?
Let us know what you think!
Leave a Comment below or share a photo and tag me on Instagram with the hashtag #loveandoliveoil.