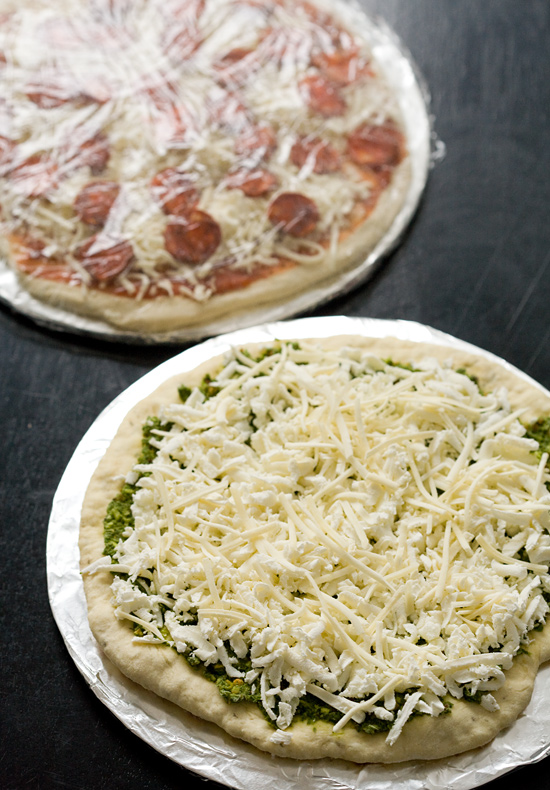 Taylor and I have a tradition of always having an "Emergency Pizza" on hand. Dubbed as such after one evening where we were both hungry and cranky and could not agree on where to go eat and did not want to cook. We wanted real pizza but ordering it would cost more than two college kids really wanted to pay for an impromptu dinner. Finally, after probably a good 30 minutes of bickering, we found a frozen pizza buried in the freezer. We joke that that frozen pizza saved our relationship.
Since then, we've made sure there was always a frozen pizza stashed away for nights like that one. The problem with frozen pizza, however, is that it always seems to taste like frozen pizza. Shocker, I know.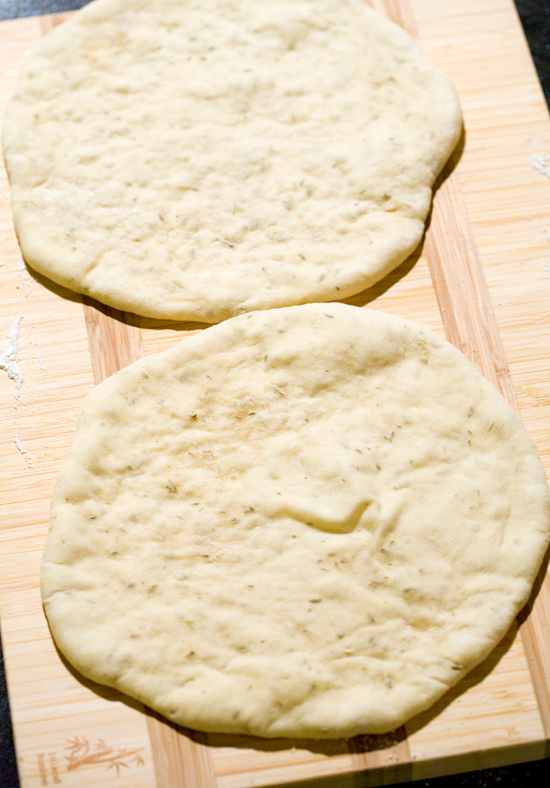 So when I signed up for a meal train for a food blogger friend and new mommy, Beth, I started wondering if something as mundane as frozen pizza could be made from scratch. Grocery store frozen pizza can't hold a candle to a fresh, homemade pie, and I wanted to see if was possible to freeze it, toppings and all, without losing the integrity and flavor that makes homemade pizza so gosh darn delicious.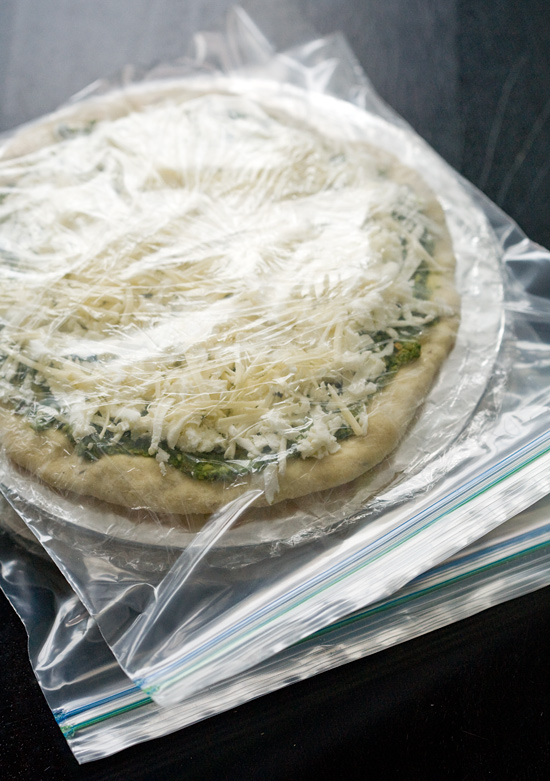 Turns out, it's way easier than you might think.
The trick, I think, is to pre-bake the crust ever so slightly. Just a few minutes on a hot pizza stone is more than enough. But the difference between a pre-baked crust and a raw crust, after being frozen and baked fully, was night and day. Pre-baking was the difference between a rubbery and lackluster mess, and a deliciously golden and crispy foundation. You could use your own favorite pizza crust recipe, but if you're wondering, I've printed mine below. It's thin and crispy, Neapolitan style, speckled with fennel seed and dried thyme.
As for toppings, I think Beth and her husband are a lot like Taylor and I (and probably many of you and your significant others) in that our tastes in pizza toppings are polar opposites. I like light and white, cheesey and green. Taylor likes what most boys like, marinara and meat.
So we made two pizzas, a his and hers of sorts. Hers was topped with a spicy arugula and pistachio pesto, and ricotta, mozzarella, and parmesan cheeses. His was a classic marinara, mozzarella, and pepperoni. A solution that made everyone happy, proving, once again, that the key to a lasting relationship is, in fact, pizza.
Homemade Frozen Pizza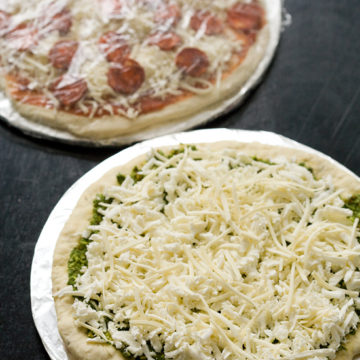 Ingredients:
For Crust:
2 1/4 cups bread flour
3/4 teaspoon salt
1/2 teaspoon instant yeast
2 tablespoons olive oil
1 teaspoon whole fennel seed
1/2 teaspoon dried thyme
7/8 cup (7 ounces) cold water
Cornmeal, for dusting
Directions:
Stir together the flour, salt, and instant yeast in the bowl of an electric mixer. Add the oil and the cold water and stir on low speed until the flour is all absorbed. Switch to the dough hook and mix on medium speed for 5 to 7 minutes, or as long as it takes to create a smooth, sticky dough. The dough should clear the sides of the bowl but stick to the bottom of the bowl. The finished dough will be springy, elastic, and sticky, not just tacky.
Transfer the dough to floured work surface. Lightly oil a baking dish or platter. Cut the dough into 3 equal pieces, and gently shape each piece into a ball. Arrange the dough balls on the prepared dish. Cover with plastic wrap and refrigerate overnight. At this point the dough balls can also be frozen; simply wrap each ball individually in plastic wrap and place inside a zippered freezer bag. Transfer to the refrigerator the day before you plan on baking them.
Remove dough from refrigerator and let rise at room temperature for 2 hours.
At least 45 minutes before making the pizza, place a baking stone either on a rack in the lower third of the oven. Preheat the oven to 500 degrees F, allowing the baking stone to heat for at least 30 minutes.
On a lightly floured work surface, gently press and stretch the dough into disks about 9 inches in diameter. Generously dust a peel or the back of a sheet pan with semolina flour or cornmeal. Lay the stretched dough on the peel or pan, making sure there is enough semolina flour or cornmeal so it doesn't stick. Gently slide the crust on to the hot stone (or bake directly on a sheet pan). Bake until crust just starts to puff, about 3 minutes. Remove from the oven and cool completely. Repeat with remaining dough balls.
Once crusts are cooled, arrange them on a baking sheet that has been lightly dusted with cornmeal. Top with desired toppings. Place pizzas in the freezer, uncovered, until completely frozen, 4-6 hours, then wrap in a double layer of plastic wrap and place inside a large zip-top freezer bag, removing as much air as possible. I also found that using a 9-inch cake round covered in foil worked well as a sturdy base for the pizza.
To bake, preheat oven to 425ºF. Transfer frozen pizza to a pizza pan or baking sheet. Bake for 10 to 12 minutes or until crust is golden and cheese is bubbly and starts to brown.
Did you make this recipe?
Let us know what you think!
Leave a Comment below or share a photo and tag me on Instagram with the hashtag #loveandoliveoil.