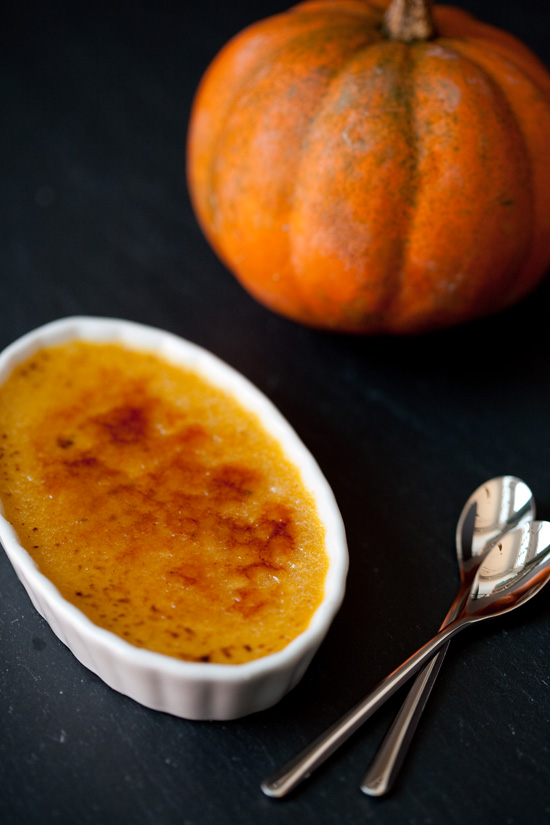 I finally cracked open a can of pumpkin.
I figure if it's cold enough to have the heat running, I can stop holding on to the last rays of summer light and finally accept that it's gone, and subsequently drown my sorrows in canned pumpkin. It's the only thing that makes fall bearable, in my opinion.
Pumpkin crème brûlée seemed like an obvious choice, especially now that I finally have a crème brûlée torch to my name (yay, cookbook for giving me an excuse to get one!) Throw in some swoon-worthy Uganda vanilla beans from my Food Blog Forum swag bag (thanks, Beanilla!) and you have yourself one heck of a fall dessert.
Call it a gateway dessert, if you will, paving the way for many more sweet amber treats to come. I have a feeling there will be a lot of them.
Pumpkin Crème Brûlée
Ingredients:
1 cup heavy cream
1/2 vanilla bean
2 egg yolks
1/4 cup light brown sugar, packed
1/2 cup canned pumpkin
1/4 cup turbinado or granulated sugar
Directions:
Preheat oven to 300 degrees F. Bring a pot of water to a gentle boil (this will be used for the water bath later).
Scrape out the seeds of the vanilla bean with a paring knife. In a small bowl, whisk together egg yolks, brown sugar, pumpkin, and vanilla until light in color.
Heat cream in a small saucepan until it starts to steam. Gradually pour warm cream into bowl with egg yolks, 1/4 cup at a time, whisking vigorously, until incorporated. Skim off foam. Pour into 4 (4-ounce) shallow ramekins. Arrange ramekins in a baking pan and place pan on oven rack. Carefully pour in just enough boiling water to reach halfway up the sides of the ramekins.
Bake for 25 to 30 minutes or until just set. Remove from water bath and allow to cool to room temperature. Cover and refrigerate for at least 3 hours or overnight.
Just before serving, sprinkle a generous tablespoon of sugar evenly over the top of each ramekin. Use a kitchen torch to caramelize the sugar, moving torch evenly across the tops of the custards to keep the sugar from burning. Alternatively, you place the custards on the top rack of a broiler set to high, and broil until sugar is golden brown and caramelized, 2 to 3 minutes. Serve immediately.
Did you make this recipe?
Let us know what you think!
Leave a Comment below or share a photo and tag me on Instagram with the hashtag #loveandoliveoil.