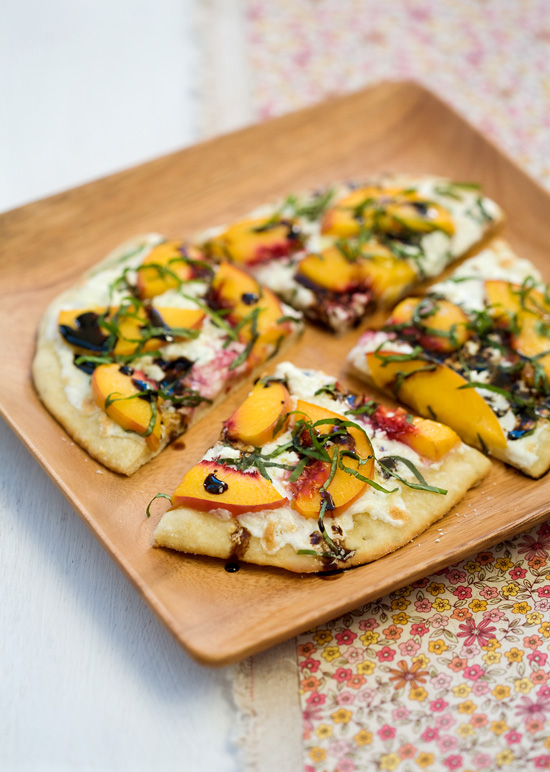 To me, this is pizza. To Taylor, it's flatbread. Fancy fruit-topped flatbread. Then again, I think anything without tomato sauce or pepperoni is flatbread in Taylor's mind. But whatever you decide to call it, it's delicious.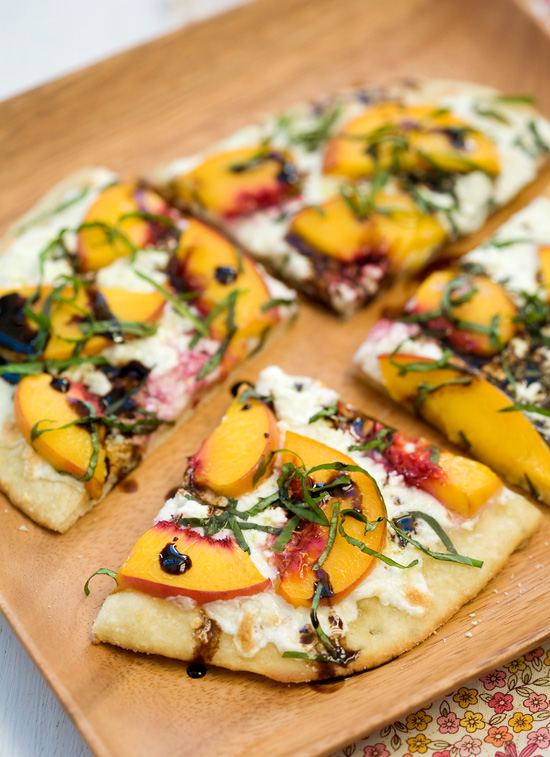 The sweetness of the peach, the richness of the cheese, with bright and tart accents of basil and balsamic vinegar… yup. Good stuff.
If you happened to have, say, 50 year old balsamic vinegar handy, it would be pretty spectacular. But if you don't, don't fret, reducing your everyday balsamic vinegar until it is almost syrupy is a good substitution. The process of reducing concentrates the flavor and the sweetness and makes it perfect for drizzling over just about anything (heck, even ice cream could benefit from some of this manna!)
Summer Peach and Balsamic Pizza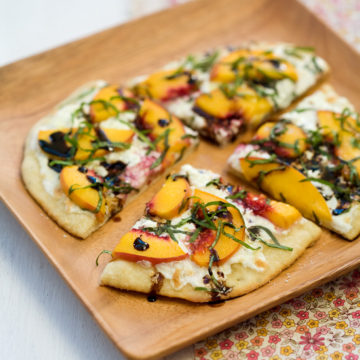 Ingredients:
1 batch pizza dough (use your favorite recipe, or use mine here)
1 cup balsamic vinegar
2 tablespoons olive oil
8 ounces fresh mozzarella, sliced or grated
2 ounces soft goat cheese, crumbled
4 peaches, pitted and thinly sliced
1/2 cup coarsely chopped basil
Directions:
To prepare the balsamic reduction, pour balsamic vinegar into a small saucepan, bring to a simmer over medium-high heat. Reduce heat to medium-low, and simmer until the vinegar has reduced to 1/4 cup, about 20 minutes. Set aside and let cool.
Preheat the oven to 500 degrees F or as high as your oven will go. If you have a pizza stone, preheat the stone in the oven for at least 30 minutes to allow it to get thoroughly hot.
Divide dough into tennis-ball sized pieces. Take one piece of dough and punch it down on a lightly floured surface. Roll the dough out into a circle approximately 1/4-inch thin. Place the pizza on a pizza peel or pan that has been generously coated with corn meal. Lightly brush with 1 tablespoon of olive oil. Top with mozzarella, goat cheese, and peach slices. Drizzle the pizza with balsamic reduction. Repeat for remaining pizzas.
Place the pizza in the oven-directly on the pizza stone, if using one, or on the oven rack. Bake for 8 to 10 minutes or until pizza crust is golden and cheese is melted. Remove from oven and top with basil and drizzle with balsamic reduction. Cut into slices and serve.
Did you make this recipe?
Let us know what you think!
Leave a Comment below or share a photo and tag me on Instagram with the hashtag #loveandoliveoil.