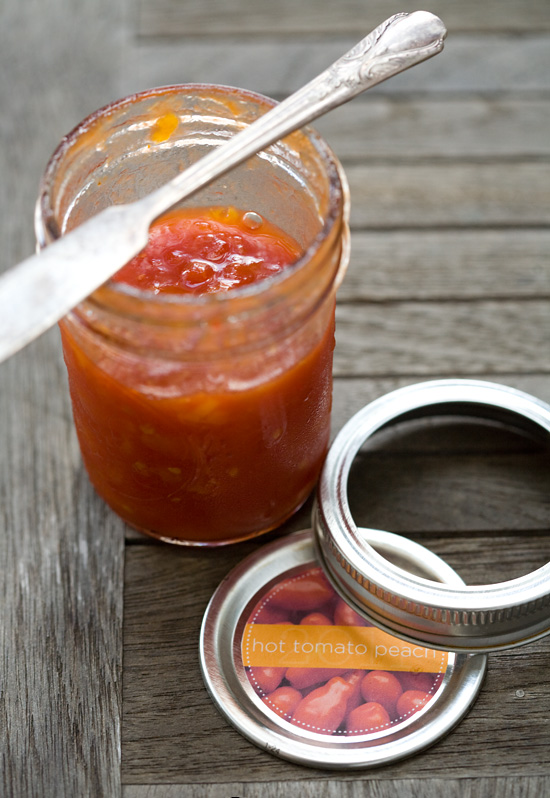 Free choice tomatoes.
Those three little words make me giddy.
Let me explain. Our CSA isn't organized in your typical get-a-box-of-veggies-each-week way. Rather, you bring your bushel basket to the weekly pickup, and can fill it up with the veggies, herbs, and greens of your choice. You have a set quota (say, 5 potatoes, 1 melon, 1 handful of basil, and so forth) based on what is available, but if you really hate radishes (and let me tell you, after an unfortunate incident with a daikon radish last summer, we really hate radishes) you don't have to take them. Less food is wasted and everyone is happier (oh, how glad we are not to have to take radishes).
But some weeks, there is such an abundance of something that any and all quotas are thrown out the window. You can take as much as you want.
That, my friends, is free choice.
Not quite as exciting when it is free choice summer squash or potatoes, but tomatoes? When the tomatoes are overflowing their crates… it's like Christmas.
So when free choice tomatoes appeared a few weeks ago, I loaded up my basket with dozens of gorgeous romas with the complete intention of shoving them into jars and stashing them away for the winter months.
However, my original plans of tomato sauce were quickly put by the wayside as soon as I saw this: spicy tomato jam with peaches. Tomato jam? I've never heard of such a thing, but it sounds incredibly dreamy.
It's savory and it's sweet, it's spicy and it's sublime. Screw tomato sauce, I happily used every one of my precious free choice tomatoes in this lovely, truly lovely concoction.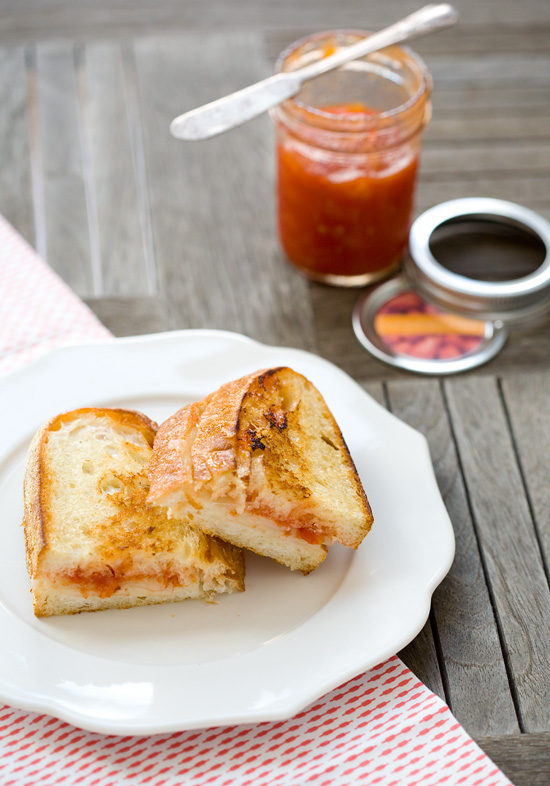 Do you know what this is? It might look like a grilled cheese sandwich, and, well, technically, it is; but smeared with a generous amount of this tomato peach jam, it's like having a toasty grilled cheese with a steaming bowl of tomato soup, all in one. Instead of on the side, the soup is inside the sandwich. A marvelous mashup. A divine convergence of two of the world's most comforting foods in one compact package.
Spicy Tomato Peach Jam
Ingredients:
3 lbs roma (paste) tomatoes
2 peaches
2 hot red peppers (jalepeños, thai chilies, etc), finely minced
juice of 1 lemon
1 1/2 cups granulated sugar, divided
2 tablespoons low sugar powdered pectin
Directions:
Prepare canner and wash/sterilize 5 half-pint mason jars. Keep jars in hot (not boiling) water until ready to use.
Bring a large pot of water to a gentle boil. Cut an x-shaped slit in the ends of tomatoes and peaches. Boil for 30 seconds. Remove with a slotted spoon and place immediately in an ice water bath to stop the cooking process. When cool to touch, the skins should peel off easily. Coarsely chop, reserving juices. You should end up with approximately 4 cups of chopped tomato. Do the same thing to peel peaches; then chop.
In a small bowl, whisk together 1/4 cup of sugar and pectin. You can choose to use more or less pectin depending on how "set" you want your jam. I used 2 tablespoons and the jam was very loose. If you prefer more, use up to an additional 2-3 tablespoons as desired.
In a saucepan, combine chopped tomatoes, peaches, peppers, and lemon juice. Bring to a boil over medium heat. Cook until reduced by approximately 1/3, about 30 minutes, stirring regularly.
Stir in pectin mixture. Bring to a full rolling boil that cannot be stirred down. Quickly stir in remaining sugar. Return to a boil, and boil for exactly 1 minute, stirring constantly. Remove from heat. Skim off any foam.
Ladle hot jam into jars, leaving 1/4-inch of headspace. Wipe jar rims and threads. Screw on lids and rings. Process in a boiling water bath for 10 minutes. Remove from water and let cool completely, 12 to 24 hours. Check seals. Any unsealed jars should be refrigerated and used within 3 weeks.
Did you make this recipe?
Let us know what you think!
Leave a Comment below or share a photo and tag me on Instagram with the hashtag #loveandoliveoil.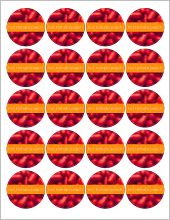 Bonus! You guys love your printables, that's for sure! Since I cannot bear to have an unlabeled jar, I figured I may as well share my labels with you. This jam is worthy of beautiful labels, that I know.
To use: View and download the label PDF by clicking the thumbnail to the right. Print out the labels onto full-sheet sticker paper. Cut out and adhere to your jar lids. They are perfectly sized for standard narrow-mouth canning jars. Need label paper? Try here or here.
Disclaimer: Copyright Love & Olive Oil. For personal use only. If you post about or share these labels, please credit appropriately and do not link directly to the downloadable file but rather to this post. Please do not distribute these downloadable files. Thank you much!