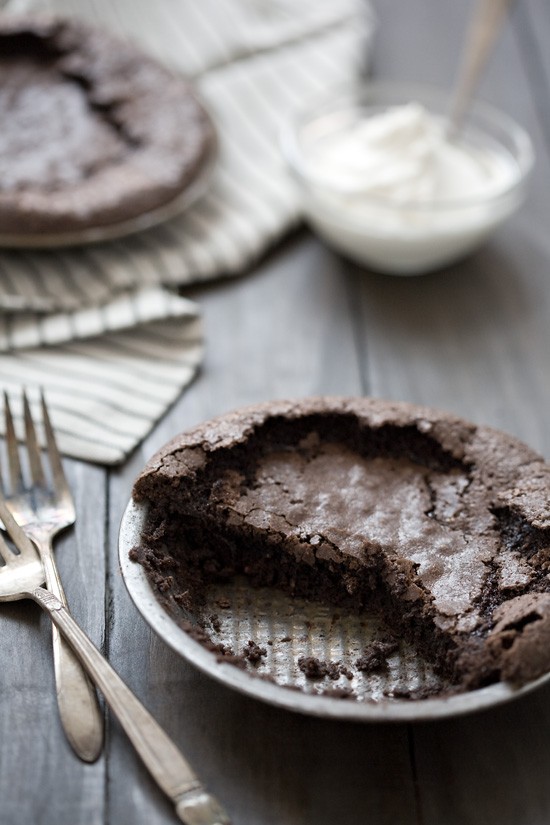 I've been meaning to make this for weeks. Craving it. Dreaming about it.
But you know what? I've been a hopelessly lazy baker lately. Chalk it up to the fact that the cookbook is done (done? for real? Indeed! And I hope to share more with you soon), and after months of stressful deadlines and baking nonstop all weekend long, I'm having a hard time getting my butt of the couch (but really, can you blame me?)
But finally the cravings got the better of me, and I made it. On a Monday night. In the middle of cooking dinner.
It's that easy.
The result is just what you think: a brownie in pie form. It's not fancy. It's not decadently rich. In reality, it's just right. Easy to throw together and even easier to eat half the pie before dinner is even ready (oops).
Brownie Pie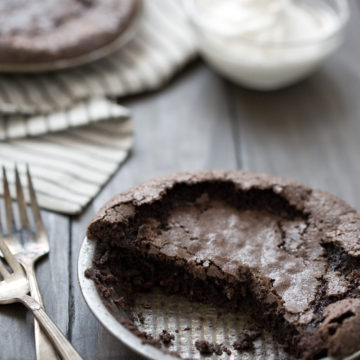 Ingredients:
1 1/2 cups granulated sugar
1/2 cup all-purpose flour
1/3 cup dark chocolate cocoa
1/2 cup butter, softened
3 large eggs
1 teaspoon vanilla extract
1/8 teaspoon sea salt
1/2 cup dark chocolate or semisweet chocolate morsels
1/2 cup chopped walnuts (optional)
1 cup freshly whipped cream (optional)
Directions:
Preheat oven to 325 degrees F. Generously grease a 9-inch pie plate or 3 to 4 mini pie plates.
Combine sugar, butter, eggs, vanilla and salt in a mixing bowl and beat at medium speed with an electric mixer. Beat in flour and cocoa. Stir in chocolate morsels and walnuts. Pour batter into prepared pans.
Bake for 40 minutes (30 to 35 minutes for mini pie plates) or until a toothpick inserted into the center comes out with a few moist crumbs. Let cool at least 30 minutes before slicing. Serve topped with whipped cream, if desired.
Did you make this recipe?
Let us know what you think!
Leave a Comment below or share a photo and tag me on Instagram with the hashtag #loveandoliveoil.