I think I went from having no time to having negative time. Which makes me even more thankful for another guest post, otherwise you all might start to worry Taylor and I fell of the face of the earth. This particular post is absolutely perfect, and once I have time the time and freedom to bake something fruity again (I'll explain later), it'll be on my list for sure. Because you know how much I love kumquats. Kumquats. Kumquats. Give a warm welcome to my friend and fellow food blogger Jaclyn of Food Plus Words. Kumquat.
I was so thrilled when Lindsay asked me to guest post for her site! You see, I'm kind of a huge fan of her.
As a blog reader, I've followed Love & Olive Oil for years before I dreamed of starting my own site. Professionally, she re-designed my website and pretty much went above and beyond anything I could have imagined in my wildest dreams. Personally, I've now spent time with her twice, at both Food Blog Forum and BlogHer Food. She's wonderful, funny, warm, and I'm so happy that she and I were able to forge a real friendship, all thanks to the internet!
When dreaming up a great recipe to share with both Lindsay and her readers, I couldn't help but think of something having to do with kumquats! As I'm sure you know, Lindsay is quite fond of kumquats, in all their teeny, tiny, tart-sweet glory. I knew I needed kumquats in my life after I saw her Kumquat Margaritas!
I first tried kumquats a few weeks ago, and I must confess that I'm completely and utterly obsessed. Honestly, I'm looking into buying a kumquat tree to plant in my backyard. This love affair is real, people.
I have Lindsay to thank for this newfound obsession, so a kumquat dessert is only fitting!
This kumquat tart is beyond simple to prepare, and trust me when I say that it's absolutely delicious! Don't tell my fiance, but I've adapted his favorite recipe for lemon bars to make a tart that's sweet, bright and perfect for summertime!
Don't have a tart pan? No worries, just use an 8 x 8 pan to make the most delicious riff on lemon bars you've ever had!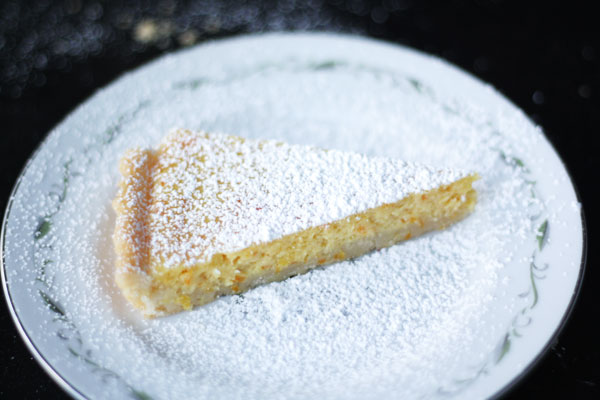 If you haven't yet tried a kumquat, I hope this is the recipe that urges you to do so. It's nearly foolproof, and the resulting tart is refreshing, tart and a perfect accompaniment to a mid-morning summertime picnic!
Or if you're like us, we enjoy it indoors, because Florida is really, really hot. Any way you slice it, this tart is absolutely fabulous!
Kumquat Tart
Ingredients:
For the Crust
1 stick unsalted butter, at room temperature
1/2 cup confectioners' sugar
zest of one orange
1/4 teaspoon kosher salt
1 cup all purpose flour
For the Filling
1/2 pint kumquats
4 large egg yolks
1 can (14 oz.) sweetened condensed milk
juice of one orange
1 teaspoon orange liqueur
Directions:
For the Crust:
Preheat the oven to 350 degrees F.
If using tart pans, butter them and set aside. If using an 8 x 8 pan, butter the pan, then line bottom with parchment paper, leaving an overhang on two sides. butter the paper, and set aside.
Either using an electric mixer or by hand, beat the butter and confectioners' sugar until light and fluffy, about 2 minutes. Add in the orange zest and salt, and mix to combine. Fold in flour until just combined.
If using tart pans, press dough into pans and up the sides, and prick all over with a fork. If using an 8 x 8 pan, press dough into the pan and halfway up the sides, and prick all over with a fork.
Bake in the oven for 15-20 minutes, or until lightly golden. Remove from oven.
For the Filling:
In the bowl of a food processor or a mixer, combine the kumquats, orange juice and orange liqueur. Pulse until kumquats are pulverized and creamy, about 30 seconds.
Transfer the kumquat mixture to a large bowl, and whisk in the egg yolks and sweetened condensed milk. Whisk mixture until combined, about 30 seconds. Pour mixture into prepared pan.
Bake at 350 degrees F for 25-30 minutes, or until filling is set. You'll know the filling is set if you jiggle the pan (wear an oven mitt!) and the center of the tart doesn't wiggle. Remove from the oven, and allow to cool completely on a cookie rack. Refrigerate the tart until filling is firm, at least two hours, or up to three days.
If using tart pans, cut into eight pieces and dust with confectioners' sugar. If using 8 x 8 pan, cut into 16 squares, and dust with confectioners' sugar. The tart will keep in an airtight container, stored into the fridge up to five days.
Did you make this recipe?
Let us know what you think!
Leave a Comment below or share a photo and tag me on Instagram with the hashtag #loveandoliveoil.