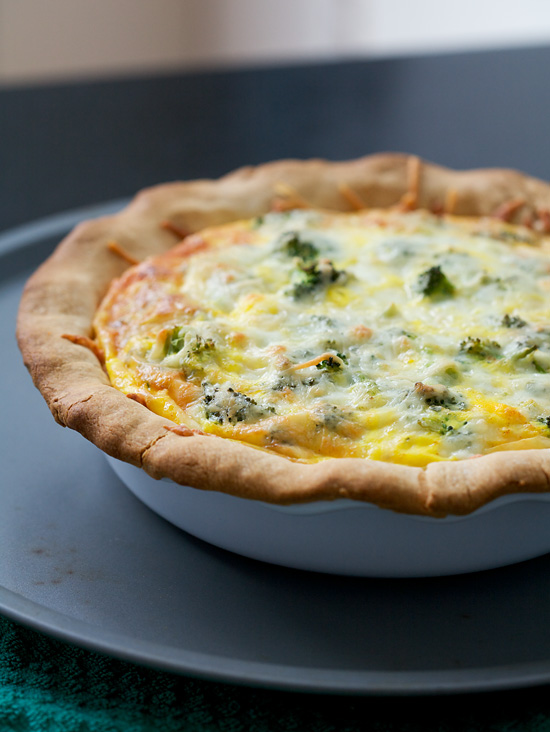 Kumquats. Quiche. Quinoa. Quesadillas. Is the letter Q staging an uprising? All we need is some quince and we'd have it covered. Because I don't think there are any other Q foods. That I can think of at least.
Quiche is one of those foods that gets a bad wrap. When I think of quiche, I think of finicky formal breakfast food. Too fancy for a normal meal. Something that needs white gloves and a mimosa on the side.
But if you really think about it, quiche is just a creamy fritatta. An omlette in a pie crust. And when you think of it that way, it doesn't seem so ridiculous to eat it on a tuesday night.
Especially if the quiche is dotted with chunks of garlicky broccoli and swirled with rich cheddar and parmesan cheese. With tasty filling like that it won't even matter if you burn your store bought crust, it'd be good regardless.
And finally, completely unrelated to quiche, but entirely related to cute cats (which I've been told I don't post nearly enough of)…

Boys.
And with that… have a happy Easter, happy Earth Day, and an all-around wonderful weekend!
Broccoli Garlic Quiche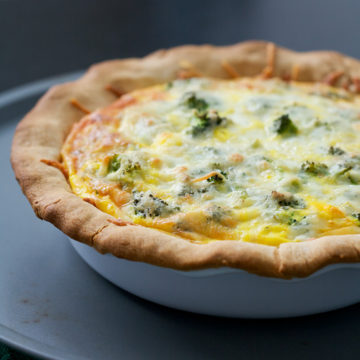 Ingredients:
1 9-inch pie crust (use your favorite recipe or buy one premade)
10 ounces bite sized broccoli florets
2 large garlic cloves
6 large eggs
1 1/2 cups half-and-half
1/4 teaspoon grated nutmeg
1/4 teaspoon cayenne
5 ounces extra-sharp Cheddar, coarsely grated (2 cups)
1/4 cup grated Parmigiano-Reggiano
Directions:
Preheat oven to 375°F with rack in middle.
Roll out dough on a lightly floured surface with a lightly floured rolling pin into a 13-inch round. Fit dough into a 9-inch pie plate, letting excess hang over edge. Fold overhang inward and press against side of pie plate to reinforce edge. Prick bottom all over with a fork. Chill until firm, about 30 minutes.
Line pie shell with foil and fill with pie weights. Bake until pastry is set and edge is pale golden, 20 to 25 minutes.
Carefully remove foil and weights, then bake shell until deep golden all over, 15 to 20 minutes more. Put pie plate in a 4-sided sheet pan. Leave oven on.
While shell bakes, cook broccoli in a 3-quart pot of boiling salted water 4 minutes. Drain broccoli and rinse under cold water to stop cooking, then pat dry.
Mince and mash garlic to a paste with a generous pinch of salt.
Whisk together garlic paste, eggs, half-and-half, nutmeg, cayenne, and 1/4 teaspoon salt in a large bowl until smooth.
Pour filling into pie shell and add broccoli, then sprinkle with cheeses.
Bake quiche until custard is just set, 45 to 50 minutes. (Center will tremble slightly; filling will continue to set as it cools.) Cool at least 20 minutes.
Serve quiche warm or at room temperature.
Did you make this recipe?
Let us know what you think!
Leave a Comment below or share a photo and tag me on Instagram with the hashtag #loveandoliveoil.