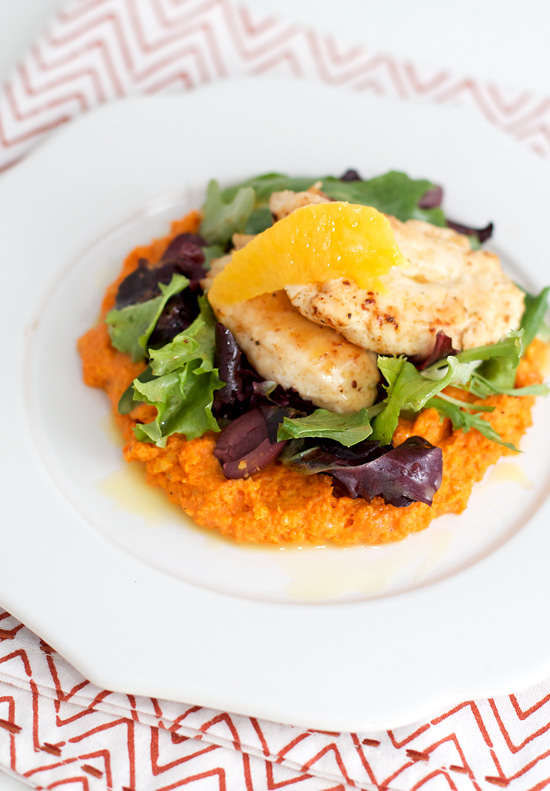 First of all, let me apologize in advance. These next few months are going to be nuts. I can't reveal all the details now, but let me just say I'm working on something… very sweet. It's good. So good I know that it will make up for a few months of scarce posting. You'll have to trust me on this one.
But for now, I give you this dish. This is one of those dinners that comes together beautifully; one of those meals you could see yourself enjoying in a restaurant.
Even better… it comes with a built in side dish.
I often spend so much time seeking out recipes to cook each week that I completely forget about sides. Which is ok with me, I'm a light eater. But poor Taylor often gets up from the dinner table still hungry. The main dish alone just doesn't fill him up. Or worse yet, we turn a side dish into a main dish and eat just that. For dinner. No wonder I regularly catch him breaking out the pretzels or popcorn at 9:00 at night.
But this dish did it all for me. Pairing a deliciously spiced chicken with a tart and buttery orange sauce, baby greens (or dandelion greens if you can find them), and a sweet carrot puree. Granted, it's not the easiest dish to put together, but would be uber impressive to serve for dinner guests.
The puree itself was an interesting concept. When I think puree I always think of the infamous pea puree incident from last season's Top Chef. (I'm totally going to have to make some pea puree this spring for that reason alone.) This carrot puree, on the other hand, is like candy. After boiling the carrots in broth, then tossing with some rich caramelized onions, the result is incredibly sweet, highlighting the the natural sugars from the carrots and the onions. It's a concept that could be carried far beyond just this dish.
Puree: not just for babies anymore.
Moroccan Chicken With Carrot Puree
Ingredients:
6 boneless skin-on chicken breasts, pounded 3/4″ thick
16 tbsp. extra-virgin olive oil
Kosher salt and freshly ground black pepper, to taste
4 cups chicken broth
2 lbs. carrots, cut into 1/4″ rounds
1 large white onion, minced
1 1/2 cups fresh orange juice
4 tbsp. unsalted butter
2 peeled oranges, segmented
3/4 cup plus 2 tsp. harissa
2 tsp. sherry vinegar
3 oz. dandelion greens or mixed baby greens
3/4 cup pitted oil-cured black olives, roughly chopped
2 shallots, thinly sliced
Directions:
Put chicken into a dish; drizzle with 3 tbsp. oil; season with salt and pepper. Set aside. Bring broth to a boil in a 6-qt. pan over medium-high heat. Add carrots; cook until tender, 15–20 minutes. Drain. Heat 1/2 cup oil in a 4-qt. pot over high heat. Add onions; cook until soft, 4–5 minutes. Add carrots; cook for 6–8 minutes. Puree in a food processor with 2 tablespoons oil. Season with salt and pepper; keep warm.
Heat orange juice in a 2-qt. pan over medium-high heat. Cook until reduced by half, 12–15 minutes. Whisk in butter; season with salt and pepper. Add orange segments; set sauce aside.
Heat oven to 400 degrees. Heat a grill pan or a heavy cast iron skillet over medium-high heat. Working in 3 batches, add chicken, skin side down; cook until crisp, 8–10 minutes. Transfer chicken, skin side up, to a baking sheet. Brush with 3/4 cup harissa. Bake until cooked, 6–8 minutes.
In a bowl, whisk together remaining oil and harissa with sherry vinegar. Add greens, olives, and shallots; toss. Divide carrot puree between 6 plates; top each with salad and a chicken breast. Spoon sauce over each.
Did you make this recipe?
Let us know what you think!
Leave a Comment below or share a photo and tag me on Instagram with the hashtag #loveandoliveoil.