I don't think I've ever seen a prettier soup.
But for all you know, this soup could be nasty. You should have learned from the ugly pizza not to judge a book by it's cover.
But lucky for you, it's not. And you can. A beautiful presentation with an equally delightful taste.
Let me speak a moment about fennel. Because I've been using it a lot lately, and it's not exactly a common ingredient.
I love fresh fennel and in all its herbaceous glory. It's got the texture of celery, but the flavor of black licorice. You can thinly slice it and eat it raw as a nice crunch on a fresh salad; or you can cook it until it's caramelized and delicious. Not only that but the fronds make for a beautiful garnish.
You know what else? It's also damn expensive.
That's why when this past week, I saw a container of two bulbs (TWO!) at Trader Joe's for $2.49. Needless to say that got me excited. Considering I usually (and reluctantly) pass over every delicious sounding fennel recipe I find, knowing that most of the time these celadon bulbs run upwards of $5 or even $6 each. Look, folks, I may splurge on some fancy cheese or salami now and then, but I'm not one to spend $6 on a vegetable. Sorry.
But two for $2.49? That I can do. That I can do enough so that I'll grab a couple containers and hope they keep long enough to use them. Can you freeze fennel, I wonder?
The fennel in this soup comes through splendidly, albeit subtly. The real star here is the beet. Obviously. You don't look at this soup and think, "Fennel!". Nope. It's a beet soup, through and through. But the addition of the fennel and the kefir (a cultured milk that tastes pretty much like a thin yogurt) make it unique. Not that beet soup is dull or anything, but this beet soup is extra special.
I love it, and judging by the precious kefir hearts on the surface, it loves me too. Glad the feeling is mutual.
Beet and Fennel Soup with Kefir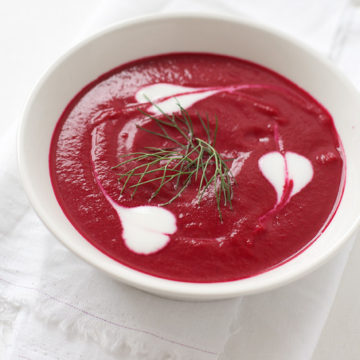 Ingredients:
2 tablespoons olive oil
1 cup chopped onion
1 cup chopped fennel bulb
1 1/2 teaspoons fennel seeds
2 large (2 1/2- to 3-inch-diameter) beets, peeled, cut into 1/2-inch cubes
2 cups low-salt chicken broth
1 cup unflavored kefir
Additional unflavored kefir
Fennel fronds (for garnish)
Directions:
Heat olive oil in large saucepan over medium heat. Add chopped onion, chopped fennel, and fennel seeds. Sauté until vegetables soften, about 5 minutes. Add cubed beets and stir to coat. Add chicken broth and bring to boil. Cover; reduce heat to medium-low. Cook until beets are tender, 18 to 20 minutes. Puree soup in batches in blender. Return to same saucepan. Whisk in 1 cup unflavored kefir and season soup with salt and freshly ground black pepper. Rewarm soup.
Ladle soup into bowls. Drizzle with additional unflavored kefir; garnish with fennel fronds.
TIP: To make the heart-shape design in this soup spoon small drops of kefir onto the soup. Run the tip of a paring knife through the center of the round drop of kefir, creating a heart shape.
Did you make this recipe?
Let us know what you think!
Leave a Comment below or share a photo and tag me on Instagram with the hashtag #loveandoliveoil.