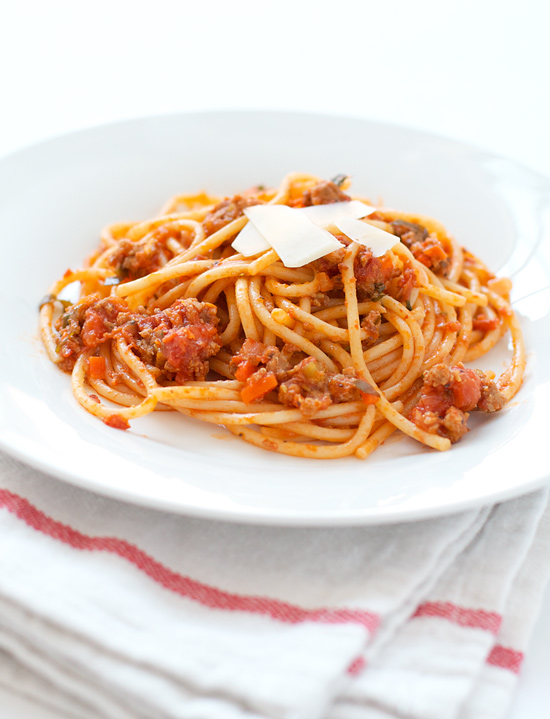 Apparently we have quite the reputation in our building.
We're the stinky neighbors.
We've been told that sometimes, when we're cooking something extra fragrant, you can smell it as soon as you step off the elevator. It only gets stronger as you go down the hall. Cookies, cupcakes, chicken broth, homemade bread… I can only imagine.
I'm surprised we don't get more random knocks at the door, hoping that we've got extra.
That's ok though, I'd much rather be the stinky neighbors than the noisy neighbors (and we have our fair share of noisy neighbors). Oh the joys of communal living.
I'm sure this particular dish drove our neighbors crazy. Whenever you've got pork and onion and fennel simmering away, there's no stopping the wonderful smells from wafting where they will.
We managed to score some fresh local italian sausage, sold in bulk (ie: not in the casings), which was perfect for this dish. It made for an incredibly rich and robust sauce, that was surprisingly delicate at the same time. Perfectly spiced, and lovingly simmered until the flavors were happily entwined.
Maybe next time we'll share with the neighbors.
Spaghetti with Fresh Soppressata
Ingredients:
4 garlic cloves
1 1/3 cups dry white wine
1 pound sweet Italian sausage, casings removed
1 teaspoon ground fennel
1/2 teaspoon coarsely ground black pepper
1/2 teaspoon crushed red pepper
1/4 cup extra-virgin olive oil
1 small onion, finely chopped
1 small carrot, finely chopped
1 celery rib, finely chopped
One 28-ounce can plus one 14-ounce can whole peeled tomatoes, crushed, with their liquid
Salt
1 pound spaghetti
1/2 cup freshly grated Parmigiano-Reggiano cheese
1/4 cup chopped basil
1/4 cup chopped flat-leaf parsley
Directions:
In a blender, puree the garlic with 1/3 cup of the white wine. Transfer the mixture to a medium bowl. Add the sausage, fennel, black pepper and crushed red pepper and knead lightly to combine. Cover with plastic and refrigerate overnight.
In a large, deep skillet, heat the olive oil. Add the sausage mixture and cook over high heat, breaking up lumps with a spoon, until lightly browned, 6 to 7 minutes. Add the onion, carrot and celery and cook over high heat, stirring frequently, until softened, about 4 minutes. Add the remaining 1 cup of wine and cook, scraping up any browned bits, until nearly evaporated, about 5 minutes. Add the crushed tomatoes and their juices to the pan and season lightly with salt. Simmer over low heat, stirring occasionally, until thickened and reduced to about 5 cups, about 40 minutes.
In a large pot of boiling salted water, cook the spaghetti until just al dente. Drain, reserving 1/2 cup of the cooking water. Add the pasta to the sauce and toss with the grated cheese, basil and parsley. Add the reserved cooking water and toss the pasta over moderately high heat, until nicely coated, about 2 minutes. Serve immediately.
Did you make this recipe?
Let us know what you think!
Leave a Comment below or share a photo and tag me on Instagram with the hashtag #loveandoliveoil.