Cookie Dough Cream Pie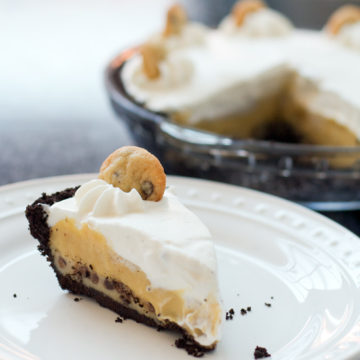 Ingredients:
For Pie Crust:
1 1/2 cups chocolate wafer cookie crumbs (about 7 oz of cookies, processed in a food processor)
6 tablespoons butter, melted
Cookie Dough:
1 1/4 cups all purpose flour
1/2 teaspoon salt
1/4 teaspoon baking soda
1/2 cup (1 stick) butter, room temperature
3/8 cup granulated sugar
3/8 cup packed brown sugar
1/2 teaspoon vanilla
2 1/2 tablespoons milk or soy milk
1/2 cup mini semi-sweet chocolate chips
For Filling:
3/4 cups light brown sugar
1/3 cup all-purpose flour
1/4 teaspoon salt
2 cups whole milk
3 egg yolks
1 tablespoon unsalted butter
1 teaspoon vanilla extract
Topping:
1 cup heavy cream
3 tablespoons sugar
1/2 teaspoon vanilla
Directions:
Preheat oven to 350 degrees F. In a small bowl, mix together melted butter and cookie crumbs. Firmly press into a 9″ pie pan (tip: use a flat bottomed measuring cup to press the crumbs on the bottoms and up the sides. It'll make a nice sturdy crust with clean corners). Bake for 8 minutes and remove from heat. Set aside and allow to cool completely. Keep oven on.
To prepare cookie dough, beat butter and sugars and in large bowl with electric mixer on medium speed until light and fluffy. Add milk and vanilla. Mix in flour, baking soda and salt and mix on low speed (or by hand) until incorporated. Stir in chocolate chips. Using some of the dough, make 8 small (1/2″ in diameter) balls. Place on a non-stick baking sheet or a baking sheet lined with parchment. Bake for 7-9 minutes or until edges are lightly golden. Allow to cool for a few minutes, then transfer to a wire rack to cool completely. Reserve remaining dough (dough can be made 1 day in advance and stored, covered, in the refrigerator. Bring to room temperature prior to using).
In a medium saucepan, mix sugar, flour and salt. Stir in 1 cup of milk, mix until smooth, and bring to a boil over medium heat, stirring constantly. Continue to stir until smooth and thickened, about 2 minutes, then remove from heat.
Beat the egg yolks with the remaining cup of milk. Temper the egg mixture with a small amount of the slightly cooled milk mixture then blend this into the larger saucepan with the cooling milk mixture.
Return saucepan to the heat and bring to a boil again, stirring constantly, lower heat and simmer until mixture is the consistency of thick pudding, about 1 minute. Remove from the heat and quickly stir in butter and vanilla. Set aside.
While filling is cooling, break off pieces of cookie dough and press them into the cooled pie crust. You want an even layer of dough approximately 1/2″ thick (you may have leftover dough, but remember, it's eggless! so enjoy it!)
Pour in filling on top of dough layer, leveling the top with a rubber spatula. Filling should come up about 1/2″ from the top of the crust. Refrigerate until completely cooled.
Whip cream until it begins to form soft folds. Add sugar and vanilla, and beat until cream holds stiff peaks. Gently spread all but 1/3 cup of whipped cream on top of cooled filling, smoothing top into a slight dome. With remaining cream, pipe or dollop mounds evenly around the pie, and garnish with mini cookies.
Did you make this recipe?
Let us know what you think!
Leave a Comment below or share a photo and tag me on Instagram with the hashtag #loveandoliveoil.