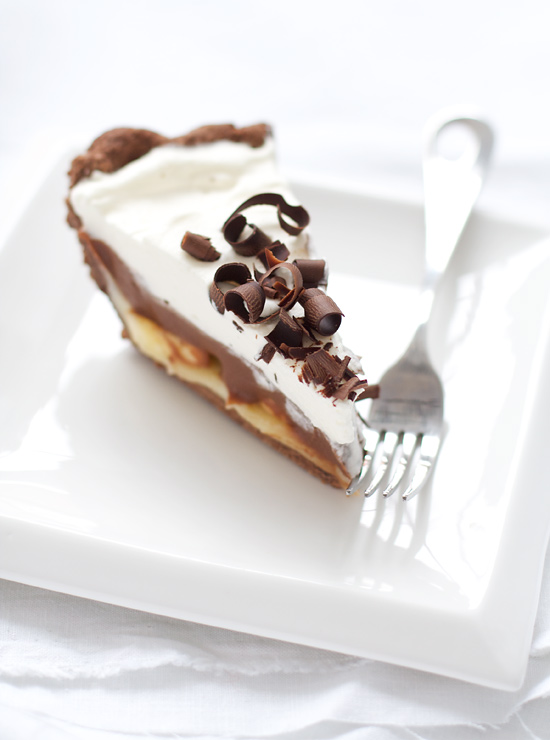 We're not very good at making decisions. It took us 3 months to pick out a sofa for our living room. Out kitten Sgt. Pepper was nameless for nearly a week. I ordered and returned 8 different pairs of winter shoes before I finally liked one enough to keep.
Decisions are not our strong suit.
I mean, who in their right mind can choose between chocolate or banana cream pie? Chocolate, is, well, chocolate. You can't go wrong with chocolate. But banana… something about it just makes me happy inside. I can't remember the last time I actually ate a banana cream pie, yet the memories of the flavor are fresh in my mind. Hard as I tried, I couldn't get the thought of its creamy goodness out of my head. At least I knew I wanted to make a cream pie, that was easy. But deciding between chocolate cream pie or banana cream pie? Impossible.
So, I did what any obsessive, indecisive, sweet-toothed baker would do when faced with such a dilemma.
I made both.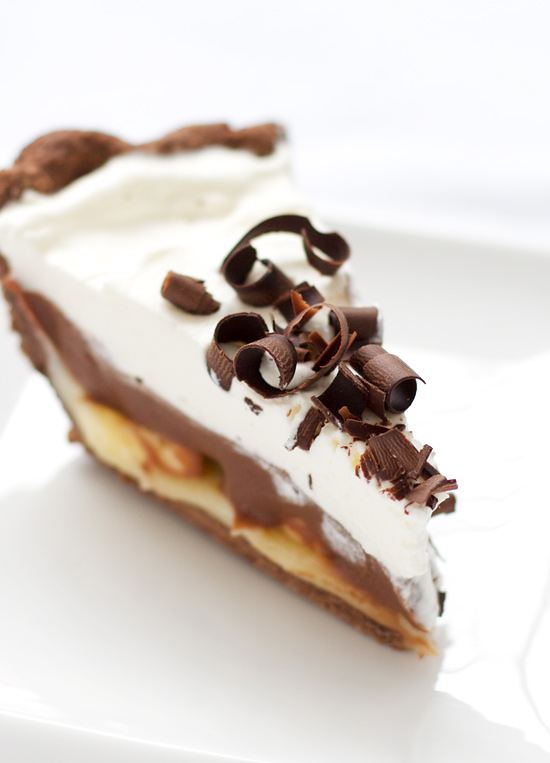 The results were incredible. So much so, in fact, that I'm planning to make a second pie this weekend. And maybe another pie every weekend after that. This pie is so good that I cannot picture my life without it.
This pie begins with a chocolate pastry crust, filled with a layer of rich vanilla cream. Topped with a layer of sliced bananas. Chocolate cream over that. And finally, topped off with a thick layer of freshly whipped cream and sprinkled with chocolate curls. Holy indulgence.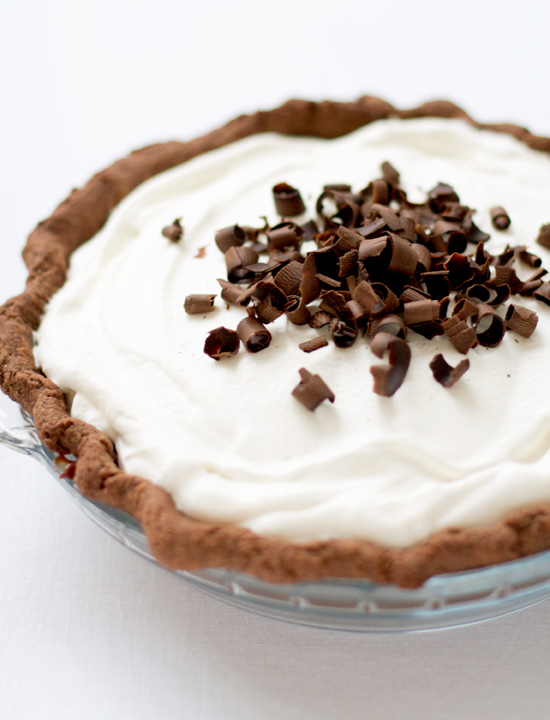 I know it's the New Year diet season and all, and your resolutions are probably still going strong. Sorry. I just couldn't wait to post this any longer. Consider this a reward after two weeks of good behavior.
You totally deserve it.
Chocolate Banana Cream Pie
Ingredients:
For Pie Crust:
1 cup plain all purpose flour
4 oz (1 stick) unsalted butter, chilled
1/4 cup water
1/4 teaspoon salt
1/4 cup cocoa powder
1/4 cup sugar
For Filling:
3/4 cups sugar
1/3 cup all-purpose flour
1/4 teaspoon salt
2 cups whole milk
3 egg yolks
1 tablespoon unsalted butter
1 teaspoon vanilla extract
1/4 cup semi-sweet chocolate chips
2 medium bananas, sliced
1 cup heavy cream
3 tablespoons sugar
1/2 teaspoon vanilla
Chocolate curls, for garnish (optional)
Directions:
Prepare pie crust according to the technique outlined here, adding in cocoa powder and sugar. Roll out and gently press into a 9″ pie pan. Place pan and crust in the freezer for at least 10 minutes prior to baking (or while your oven is preheating).
Line crust with foil or parchment paper and fill full with pie weights or dried beans. Bake at 350 degrees for 20 minutes. Remove from oven and carefully remove weights and lining. Bake an additional 10-15 minutes until set. Allow to cool completely.
In a medium saucepan, mix sugar, flour and salt. Stir in 1 cup of milk, mix until smooth, and bring to a boil over medium heat, stirring constantly. Continue to stir until smooth and thickened, about 2 minutes, then remove from heat.
Beat the egg yolks with the remaining cup of milk. Temper the egg mixture with a small amount of the slightly cooled milk mixture then blend this into the larger saucepan with the cooling milk mixture.
Return saucepan to the heat and bring to a boil again, stirring constantly, lower heat and simmer until mixture is the consistency of thick pudding, about 1 minute.
Remove from the heat and quickly stir in butter and vanilla. Transfer half of the filling mixture to a small bowl and set aside. Add chocolate chips to remaining filling and stir until melted and smooth.
Allow fillings to cool for 5 minutes, then pour plain filling into cooled pie shell. Arrange a single layer of banana slices on top of the filling. Pour chocolate filling on top. Refrigerate until completely cooled.
Whip cream until almost stiff. Add sugar and vanilla; beat until cream holds peaks. Gently spread whipped cream on top of cooled filling, smoothing top into a slight dome. Garnish with chocolate curls if desired.
Did you make this recipe?
Let us know what you think!
Leave a Comment below or share a photo and tag me on Instagram with the hashtag #loveandoliveoil.