Classic Whoopie Pies
Makes 8 large whoopie pies (about 4″), or 16 smaller (2″) pies.
Adapted from King Arthur Flour.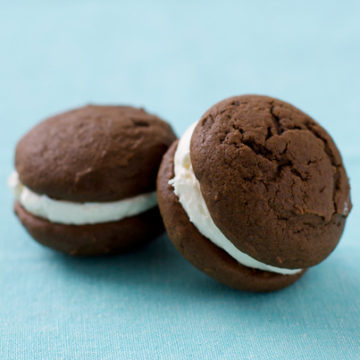 Ingredients:
Cakes:
1/2 cup butter
1 cup brown sugar, packed
1 teaspoon espresso powder, optional
1 teaspoon baking powder
1/2 teaspoon baking soda
3/4 teaspoon salt
1 teaspoon vanilla extract
1 large egg
1/2 cup Dutch-process cocoa
2 1/3 cups all-purpose flour
1 cup milk
Filling
1/2 cup vegetable shortening
1/2 cup butter, room temperature
1 cup confectioners' sugar or glazing sugar
1 1/3 cups Marshmallow Fluff or marshmallow creme
1/4 teaspoon salt dissolved in 1 tablespoon water
1 1/2 teaspoons vanilla extract
Directions:
Preheat the oven to 350°F. Lightly grease (or line with parchment) two baking sheets.
To make the cakes: In a large mixing bowl, beat together the butter, sugar, espresso powder, baking powder, baking soda, salt, and vanilla till smooth. Add the egg, again beating till smooth. Add the cocoa, stirring to combine.
Add the flour to the batter alternately with the milk, beating till smooth. Scrape down the sides and bottom of the bowl, and beat again briefly to soften and combine any chunky scrapings.
Drop the dough by the 1/4-cupful onto the prepared baking sheets, leaving plenty of room between the cakes; they'll spread. A muffin scoop works well here. For smaller cakes, use a cookie scoop.
Bake the cakes for 15 to 16 minutes, till they're set and firm to the touch. Remove them from the oven, and cool on the pans. While still lukewarm, use a spatula to separate them from the pan or parchment; then allow to cool completely.
To make the filling: Beat together the butter, shortening, sugar, and marshmallow till well combined.
Dissolve the salt in the water, and add to the marshmallow mixture. Add the vanilla, and beat till smooth.
Spread the flat side of half the cakes with the filling. Top with the remaining cakes, flat side towards the filling. Wrap individually, in plastic wrap, till ready to serve.
Did you make this recipe?
Let us know what you think!
Leave a Comment below or share a photo and tag me on Instagram with the hashtag #loveandoliveoil.