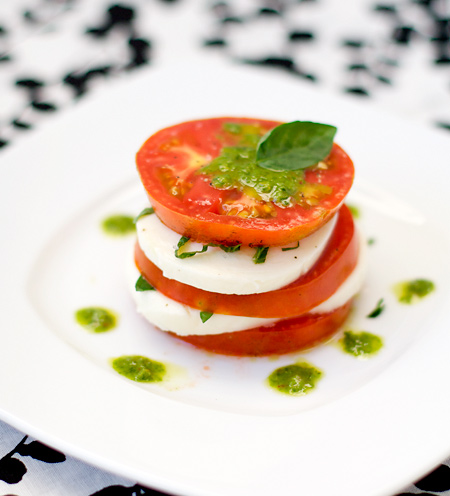 Tomato season is in full swing. And we are enjoying it's juicy goodness to the best of our abilities. There's nothing better than a ripe heirloom tomato on a piece of crusty bread smothered in goat cheese (one of our all-time favorite summer meals), or a refreshing tomato bruschetta on a hot day.
But probably the most popular (and for good reason) use for perfectly plump, vine ripened tomatoes is the caprese salad. Something about basil, mozzarella, and tomato just works like very few things do. This particular recipe takes it a step further with a sassy basil vinaigrette to top it all off.
This is one situation where you should definitely spring for the good stuff. Get a nice ball of the freshest mozzarella you can find. If you happen to have a local artisan cheese seller like The Bloomy Rind here in Nashville, that is very easy to do. A delicate, fresh mozzarella makes all the difference here.
Tip: slicing fresh mozzarella can be tricky indeed. Rather than a knife, try using a piece of fishing line or unflavored dental floss for clean, uniform slices.
Speaking of tomatoes, this weekend just happens to be Nashville's Tomato Art Fest. During the event last year, we devoured some tasty heirloom BLT's, cooled down with some different and delicious tomato citrus sorbet, and saw more than our fare share of tomato-costumed folks celebrating this summer fruit. We'll be there, NOT dressed as tomatoes (my love for tomatoes only goes so far), but enjoying the sights and tastes nonetheless.
Caprese Salad with Basil Vinaigrette
Ingredients:
4 large tomatoes, sliced into thick slices
1 pound fresh mozzarella, sliced into thick slices
1/2 cup loosely packed basil leaves
sea salt & freshly ground black pepper
Basil Vinaigrette
1 small shallot, roughly chopped
1/4 teaspoon (or to taste) red pepper flakes
1 cup loosely packed basil leaves, torn
2 tablespoons water
2 tablespoons good white wine vinegar
1 teaspoon kosher or sea salt
6 tablespoons extra virgin olive oil
Directions:
For vinaigrette, add the shallot, basil, water, vinegar, pepper flakes, and sea salt in a food processor or blender. Puree, slowly drizzling in the olive oil, until smooth.
To assemble, layer the tomato, fresh mozzarella and basil leaves. Season with a bit of sea salt and freshly ground black pepper, and repeat with remaining layers for each tomato. Drizzle with vinaigrette and garnish with more basil leaves.
Extra vinaigrette can be stored in the refrigerator for up to 2 weeks.
Did you make this recipe?
Let us know what you think!
Leave a Comment below or share a photo and tag me on Instagram with the hashtag #loveandoliveoil.