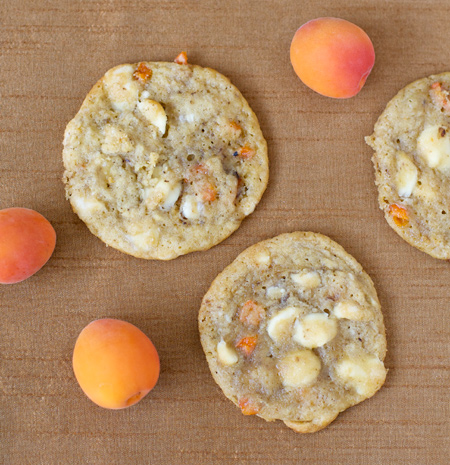 Never before in my life have I been so excited about fruit. The kind of excitement that borders on obsession, as in, there is fruit invading my dreams and I can't get the thought of it out of my head. The kind of excitement one usually reserves for, say, getting a new kitten. Except that kitten is actually an apricot.
Last week we took a trip to visit the inlaws in Colorado (didn't even know we were gone, eh? Ahh, the beauty of scheduled posts!) Don't ask me why, but it seems like we always chose to visit Colorado in the winter. In the snow. Yuck. But this year, our schedule just happened to work itself out, and we planned on a lovely July visit.
Colorado is beautiful in July. But what was even more beautiful than the scenery were the fruit trees. Maybe I never noticed them before because we always visited in the winter, but as soon as I saw the trees overflowing with bright orange apricots, I knew I had to bring some home.
So I did. About 7 pounds of them. Smuggled in my airline luggage. I had to seriously repack my stuff to do it, sneaking as many shoes and shirts into Taylor's bag as I could, but I managed to fit three large containers of apricots in there. And I swapped my purse for a cooler bag and carried a bagful of sour cherries on the plane with me too (I was totally ready for a smack down if someone had tried to take them from me at airport security). Yes, I'm a bonafide fruit smuggler.
I did it all for the fruit.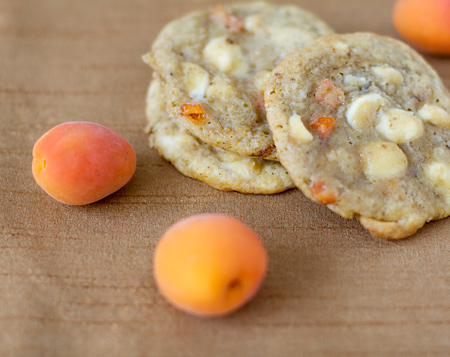 It was so totally worth it. If only for these cookies. They were so good, in fact, that I'm planning to make another batch tomorrow and freeze the dough, in an attempt to make them last even after the apricots are gone.
If you can't get a hold of your own contraband fruit, you could definitely substitute dried apricots here. Even better, try soaking and re-hydrating the apricots in some sort of tasty liquor (amaretto? bourbon?) prior to adding them to the batter. Mmm, tasty!
Fresh Apricot and White Chocolate Cookies
Makes about 3-4 dozen cookies. Recipe from Cakespy.
Ingredients:
2 1/4 cups unbleached all-purpose flour
1 teaspoon baking soda
1/4 teaspoon salt
1/2 teaspoon finely ground espresso powder or instant coffee
10 ounces white chocolate chips
1 cup finely diced fresh apricots, or 3/4 cup diced dried apricots
8 ounces butter, at room temperature
1 cup granulated sugar
1/2 cup brown sugar
2 eggs
2 teaspoons pure vanilla extract
Directions:
Combine flour, baking soda, salt, and espresso in a medium bowl. Mix with a whisk until evenly distributed. Add chocolate chips and apricot bits and mix well. Set aside.
Combine the butter and sugars in a stand mixer. Using the paddle attachment, mix on medium speed for about 5 minutes, until the mixture is smooth and pale in color. Add 1 egg at a time, mixing until incorporated. Scrape down the sides of the bowl, and then add the vanilla. Continue mixing until butter, sugar, eggs, and vanilla are all incorporated (about 1 minute). Scrape down the sides of the bowl.
Add the dry ingredients in 3 additions. Mix on low speed for no more than 1 minute. Remove bowl from mixture and do a final mix with a rubber spatula. Cover and chill for at least one hour.
Preheat oven to 350. Line two baking sheets with parchment. Scoop dough with a medium-sized ice cream scoop to form 1-inch balls. Leave at least an inch and a half around each cookie to allow for some spreading. Bake cookies for 15-18 minutes, turning about halfway to ensure even baking. Cookies should be golden at the edges but soft in the middle.
Did you make this recipe?
Let us know what you think!
Leave a Comment below or share a photo and tag me on Instagram with the hashtag #loveandoliveoil.