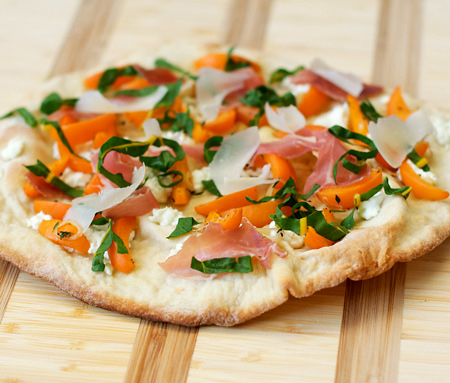 I hereby declare this the week of the apricot.
Moving from sweet to savory, this pizza (or, as Taylor likes to call it, flatbread with topping – to him, anything without a serious sauce is not considered a pizza), beautifully pairs sweet apricots and salty prosciutto on a thin and crispy crust. We made a few changes to the recipe, substituting swiss chard for arugula (it's what we had on hand), and now that I re-read the recipe realized we forgot the chives and parsley entirely, oops. Regardless, it was still a tasty and summery take on a typically heavy food.
To be honest this was one of the first things I thought of while stuffing apricots into my suitcase. It's a recipe I've wanted to make for some time now. You know, since the recipe showed up in early spring, when apricots are clearly out of season. Silly magazines.
Apricot and Prosciutto Thin-Crust Pizza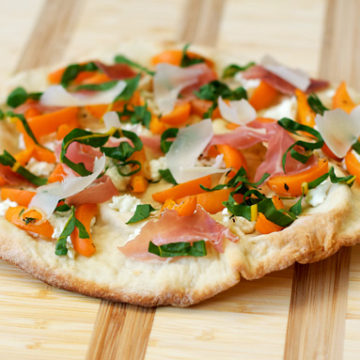 Ingredients:
1/2 cup warm water (100° to 110°)
1/2 teaspoon dry yeast
8 1/2 teaspoons olive oil, divided
1/2 teaspoon kosher salt, divided
6 ounces bread flour (about 1 1/4 cups)
Cooking spray
2 tablespoons yellow cornmeal
1 teaspoon chopped fresh thyme
1/4 teaspoon freshly ground black pepper
3-4 apricots, pitted and cut into wedges
2 shallots, peeled and thinly sliced
3/4 cup (3 ounces) crumbled goat cheese
1 1/2 tablespoons finely chopped fresh flat-leaf parsley
1 tablespoon minced fresh chives
1 cup arugula
1 ounce thinly sliced prosciutto
1 ounce shaved fresh Parmigiano-Reggiano cheese
Directions:
Combine 1/2 cup warm water and yeast in the bowl of a stand mixer with dough hook attached; let stand 5 minutes or until bubbly. Add 4 teaspoons oil and 1/4 teaspoon salt to yeast mixture. Weigh or lightly spoon flour into dry measuring cups; level with a knife. Sprinkle flour over yeast mixture; mix 2 minutes or until a soft dough forms. Place dough in a large bowl coated with cooking spray; cover surface of dough with plastic wrap lightly coated with cooking spray. Refrigerate 24 hours.
Remove dough from refrigerator. Let stand, covered, 1 hour or until dough comes to room temperature. Punch dough down. Roll dough out to a thin 12-inch circle on a lightly floured baking sheet, without raised edges, sprinkled with cornmeal. Crimp edges to form a 1/2-inch border. Pierce dough several times with a fork. Cover dough loosely with plastic wrap.
Position an oven rack in the lowest setting. Place a pizza stone on lowest rack. Preheat oven to 550°. Preheat the pizza stone for 30 minutes before baking dough.
Combine 1 tablespoon oil, thyme, pepper, apricots, shallots, and remaining 1/4 teaspoon salt; toss gently. Remove plastic wrap from dough; slide dough onto preheated pizza stone, using a spatula as a guide. Bake at 550° for 4 minutes. Top dough with goat cheese and apricot mixture. Bake an additional 5 minutes or until crust is golden brown. Cut pizza into 10 slices; sprinkle with parsley and chives. Toss arugula with remaining 1 1/2 teaspoons oil; arrange arugula over apricot mixture. Top with prosciutto and Parmigiano-Reggiano cheese. Cut into 10 wedges.
Did you make this recipe?
Let us know what you think!
Leave a Comment below or share a photo and tag me on Instagram with the hashtag #loveandoliveoil.