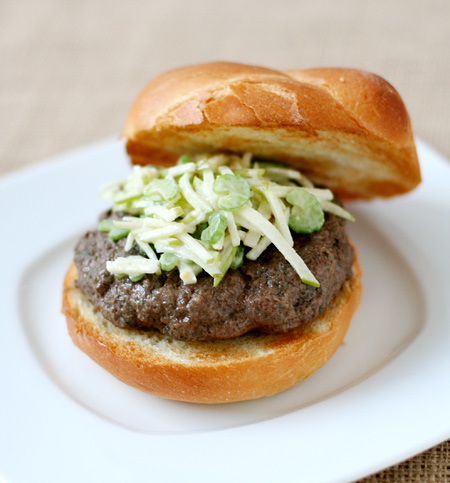 This one is dedicated to my dad, because it might be something he'd actually eat. Well, if you didn't tell him about the mushrooms, that is. :) To be honest probably 3/4 of the things we cook would be deemed inedible by my dad (desserts not included, of course). Always makes it tricky when he comes to visit, as we can't make anything with tofu, lentils, barley, or anything remotely hippie-sounding; nor can we use anything green except for lettuce, green beans, celery, and maybe the rare asparagus tip. Vegetation must be kept to a bare minimum.
But I think these buffalo burgers would be something he'd enjoy. We've never actually cooked buffalo before, and I'm not sure if we could really tell the difference between it and ground beef (then again, we are anything but experts when it comes to beef). But it was a whole $1 cheaper at Whole Foods, and the meat was significantly leaner than the ground beef we've cooked with. So it has that much going for it, at least.
If we made this again, we may add some caramelized onions to the top of the burger as well as chopped up inside it. I'm not sure if the mushrooms really added anything to it, and seeing as I battled with the food processor (the resulting 'paste' looked like some sort of gross volcanic mud), we may just leave them out completely next time, and instead season the meat with flavorful herbs and spices.
The slaw was tasty, our way of using the 6 stalks of fresh celery from our CSA (funny how when you've got a load of unusual produce to use up, your recipes tend to be based entirely off the use of one ingredient, in this case, celery). The combination of apple and fresh celery was unique, crisp and refreshing, a waldorf-inspired coleslaw, if you will.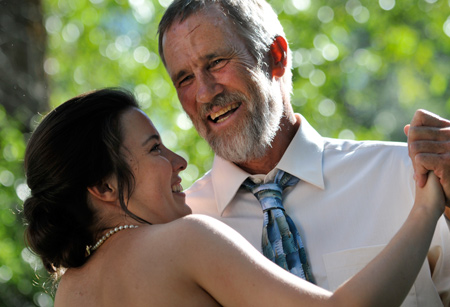 So this one is for you, dad, and just know that we will always happily go out of our way to cook especially for you when you visit. :) Happy Father's Day!
Portobello Buffalo Burgers with Celery Apple Slaw
Ingredients:
For burgers:
1 medium onion, chopped
10 ounces portobello mushrooms, trimmed and quartered
2 tablespoons plus 2 teaspoons olive oil, divided
1 pound ground buffalo
For slaw:
2 celery ribs
1/2 Granny Smith apple, cored (left unpeeled)
1 tablespoons mayonnaise
1 1/2 teaspoons cider vinegar
1 teaspoon olive oil
1 teaspoon whole-grain mustard
Rounded 1/4 teaspoon sugar
4 hamburger buns or brioche rolls, split and toasted
Directions:
Pulse onion and mushrooms in a food processor until finely chopped. Heat 2 tablespoons oil in a 10-inch heavy skillet over medium heat until it shimmers. Add mushroom mixture, 3/4 teaspoon salt, and rounded 1/4 teaspoon pepper and cook, stirring occasionally, until vegetables begin to brown and liquid has evaporated, 8 to 10 minutes. Transfer to a bowl and cool to warm, stirring occasionally, about 15 minutes.
Meanwhile, cut celery and apple into 2-inch-long thin julienne with slicer.
Whisk together mayonnaise, vinegar, oil, mustard, sugar, rounded 1/8 teaspoon salt, and 1/8 teaspoon pepper in a medium bowl. Add celery and apple, tossing to coat. Let stand 15 minutes to develop flavors.
Mix buffalo into cooled mushroom mixture with your hands until well combined. Form into 4 (4-inch) patties. Heat remaining 2 teaspoons oil in a 12-inch heavy skillet over medium-high heat until it shimmers. Cook burgers, turning once, about 8 minutes total for medium-rare. Pay attention, since buffalo meat is not as fatty as ground beef, it is not as forgiving to overcooking.
Serve burgers, topped with slaw, on toasted buns.
Did you make this recipe?
Let us know what you think!
Leave a Comment below or share a photo and tag me on Instagram with the hashtag #loveandoliveoil.